2011 Wimbledon
Wimbledon 2011 Results: Live Updates Before Men's Quarterfinals
Julian Finney/Getty Images
June 28, 2011
Wimbledon 2011 Results For Federer, Nadal, Djokovic, Murray
On the men's side of the game, the last four Grand Slams have featured some pretty familiar faces.
Beginning with the 2010 Wimbledon championships, some combination three of the four semifinalist spots have been given to Roger Federer, Rafael Nadal, Novak Djokovic and/or Andy Murray.
It's a good bet that that streak continues at this year's edition of Wimbledon.
Murray, Nadal, Federer and Djokovic have each reached the quarterfinals and each is expected to advance to the semis yet again.
Nadal, the reigning French Open champion, has not had an easy time defending his 2010 Wimbledon crown. After coming back from a surprising early deficit in his opening-round match, he struggled in the second set of his fourth-round match against Juan Martin del Porto.
An injured foot that remains problematic was no help, either. American Mardy Fish will test that foot's durability in a quarterfinals showdown with Nadal.
The three men directly behind Nadal on the ATP world rankings have had a much smoother entree into the quarters.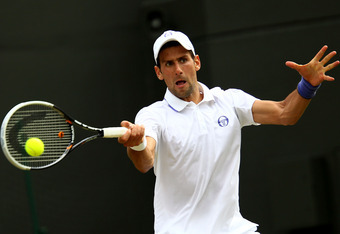 Julian Finney/Getty Images
Novak Djokovic, the reigning Australian Open champion who has just one loss all year, has been fairly dominant (Aside from dropping one set to Marcos Baghdatis in the third round) throughout and would seem to have the easiest path to the semis: His next opponent is the unseeded 18-year-old Bernard Tomic.
A triumph for Djokovic very well might give him a shot at redemption. In the French Open, Federer dealt Djokovic his only loss of the entire 2011 year, ousting him in the semis. Should the third-seeded Federer get by his quarterfinal opponent, Jo-Wilfried Tsonga, the rematch will be on. (But don't give Federer the win just yet: Tsonga defeated the 16-time Grand Slam champion back in the quarterfinals of the 2009 Rogers Cup.)
Although plenty among the crowd at the All England Club will be backing Federer, Nadal and Djokovic, it's safe to assume that the most popular member of the field will be Andy Murray, the British/Scottish star who is ranked fourth in the world.
Murray has given his countrymen a good show at Wimbledon the previous two summers, reaching the semis in both 2009 and 2010. To make it a third straight year, he'll have to get by unseeded Feliciano Lopez, who already has a huge upset under his belt this month at Wimbledon, having taken down American Andy Roddick in the third round.
Like the new article format? Send us feedback!