Wimbledon 2011: How the Field Stacks Up Against Rafael Nadal and Roger Federer
June 17, 2011
Julian Finney/Getty Images
All-time tennis greats Roger Federer and Rafael Nadal have monopolized Wimbledon since 2003. One or the other has won the title every year, and they also played in three championship matches against each other.
Only one other player has even come close to stopping their domination at the All-England Club. Andy Roddick has made three finals himself since 2003 and probably outplayed Federer in the 2009 final but couldn't knock off the champion.
Federer and Nadal are just coming off runs to the championship match at the French Open two weeks ago, again proving that they set the standards on the biggest stages.
What does this mean for the rest of the men's field at the 2011 Wimbledon Championships? Well, certainly nothing good.
Tomas Berdych is the only other player besides Federer, Nadal, Roddick and the retired Mark Phillippoussis to even reach a Wimbledon final during the Federer-Nadal dominance, and that was last season.
After his heartbreak loss in 2009 to Federer, Roddick has almost disappeared on the grand slam stage, as he hasn't reached the semifinals at any major. He is now past his prime and it would take an extremely large effort for him to make another deep run this year.
The story has been similar for Berdych, and his run last year is looking more like a fluke than a sign of things to come.
So there's a glimpse into what's happening with players who have made the finals at the All-England Club. Now a look at a few of the other top contenders and what they may have to offer to stop this run by Federer and Nadal:
World No. 2 Novak Djokovic has owned them both this year
This year's Australian Open champion began two weeks ago from today undefeated on the season, including seven combined wins over Federer and Nadal.
However, after losing to Federer in Paris at the semifinals, he now heads into the season of his worst favorite surface on a negative note. He did make the Wimbledon semis a year ago, however, losing to Berdych.
Serving is a big key of grass-court tennis, and Djokovic's serving in 2011 is much better than it's ever been before. In previous years it was sometimes even a liability for for him, but his issues seem to be long gone.
The big key for his Wimbledon run event this year will be mental. If he is able to quickly put behind what happened in Paris, he has a legitimate chance (and best of anyone) to keep Nadal and Federer from winning this title based on his seven wins against them this year.
World No. 4 Andy Murray is riding momentum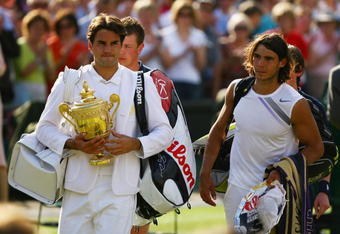 Ryan Pierse/Getty Images
The two-time Wimbledon semifinalist is looking to make the next step in his career of finally winning a major and also bringing a hometown title to his faithful fans.
Murray will be riding some strong momentum into this event as he had his best clay-court season so far and also won the warmup tournament at Queens Club.
His problem is that he will likely have to take out Nadal in order to fulfill his goal. He is 4-11 lifetime against Nadal, including semifinal losses at this year's French Open and last year's Wimbledon.
He has beaten Nadal at a grand slam event before (2008 U.S. Open and was also leading Nadal when he retired from the 2010 Australian Open), but that was on a hard court, Murray's worst surface and Nadal's best.
Murray will have to do a better job of taking care of his service games especially against Nadal, if he is going to come through at this tournament. In their encounter in Paris two weeks ago Murray did a better job than he had done before of disrupting Nadal's serve, but he was also broken a handful of times.
2009 U.S. Open Champion Juan Martin del Potro has beaten both in the same grand slam
While the Argentine hasn't yet produced his best stuff on a grass court, he is someone to be reckoned with, as he has the talent to take out the top players on any given day.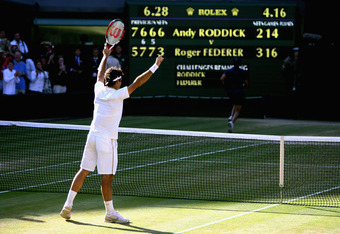 Paul Gilham/Getty Images
In winning his only grand slam to date, del Potro destroyed Nadal in the semifinals and then defeated Federer in five sets, becoming the first man to ever defeat Nadal and Federer in one grand slam event.
Looking at the draw, a fourth-round clash with Nadal is likely. The Argentine is one of few players who has the ability to hit Nadal off the court even if Nadal is playing well, and would certainly have a chance of an upset there.
However, del Potro has to polish his grass-court game in order to even get to the fourth round. His two previous Wimbledon runs have ended in the second round.
The depth in men's tennis right now is pretty lacking. Over the course of the last four grand slams played, at least three of the big four (Nadal, Djokovic, Federer, Murray) have made the semifinals, with all four making it in Paris.
If anyone else besides one of them were to win this title (except maybe Roddick), it would come as a pretty big shock to the tennis world.
The lack of depth also increases the chances that the top two grass-court players of their era will continue their unprecedented runs on the lawns of the All-England Club in 2011.