Why Roger Federer Deserves to Win at Wimbledon
June 17, 2011
Pool/Getty Images
We are at the threshold of yet another tournament at the All-England Club. It's that time of the year again, a fortnight-long ritual history lesson on hallowed turf—the hallowed turf, for most people. But since the early Open era, grass isn't played on nearly as much as it used to be.
Indeed, for eight straight years we had a king of grass, who could swagger around Centre Court in true royal fashion. Taking up his throne at the first offering, Roger Federer opened proceedings at SW19 every single year from 2004-2010. He was lucky in 2009, because that true honour should have gone to the defending champion, Rafael Nadal, who had to retire before the first proceedings even opened.
This year, however, will mark the first time in these eight years that Roger Federer won't be commencing play on Centre Court. In fact, there is a valid argument to be made that he is no longer the king, and even here, on his beloved grass, he will next week have to play second (really third) fiddle.
That new man, of course, is Rafael Nadal, who is unbeaten in 14 matches here. He downed Federer just two weeks ago at the final of the French, re-enacting, it seems, the famous scenes of the epic of the Fedaliad. The script, as it is written, should see Federer win at Wimbledon and, most would hope, do so by defeating Nadal in the final.
One might easily forget that there was a time—that is to say, just a few years ago—when Roger Federer could carve up anyone on this surface as easily as a Swiss army knife. He was unbeatable on grass and, from the years 2004-06, was practically invincible.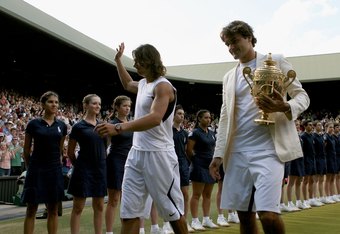 Clive Brunskill/Getty Images
It helped naturally that he played king from the start—beginning Wimbledon in the first round, as the defending champion, as stressful an exercise as it will always be, became for Federer a source of renewal.
It helped also, of course, that his was a game most uniquely suited to the trials of grass. The slip and fall, so often a feature of the youthful grass of the first week, was in Federer swiftly rectified by a switch in footing. His slice (return, most of all) typically played low, and was amply contrasted by the variety of spins he imparted on the ball, which colour, on their own merit, could bewilder an opponent at the instantaneity with which he had been out-manoeuvred.
Then, the players got better. Nadal was first, who inflicted his first defeat in 41 matches at Wimbledon in 2008; but several others have since emulated the variety of Federer, and whose games blend in on grass no less seamlessly. Andy Murray and Novak Djokovic have reached the semifinals in the last few years, with scarcely any of the trouble or stress of those in the past who would have died for a place in the last four (Ivan Lendl, most notably).
Maybe it has become all too easy. Roger Federer has made things all too easy; but there is no doubt that, for all his genius on grass, he faces his greatest task at Wimbledon 2011.
For one, there is the oft-quoted issue of age (or ageing). Federer turns 30 in a few months, and these critics have made especial mention of the barrier that is 30-plus. Few others have ever won Slams so late, but Federer will have none of it. "I don't feel like I'm 35 like you guys make me sound I am...I'm still only 29, and I have many more years left."
He has the same line on the second-biggest problem at Wimbledon 2011: his rivals. His cause is just, however, because he did play unbelievable tennis at the French Open to end Novak Djokovic's 43-match winning streak, and push Nadal as hard as ever in the final.
One, perhaps, needs to say little about the rivals Federer faces—Nadal, Murray, Djokovic—as so many have bored through these questions, and indeed, bored us.
Less has been asked of why Federer ought to win Wimbledon again. Forget the "How many times do I need to win this tournament?" conundrum that faces the very best, at their best, some day; Federer is over that stage, some might say. He is also such a character as likely not to encounter such a question as this, for a while. Witness the French Open: the desire is well there.
For one thing, there is that seventh title. Only Pete Sampras, that venerable King of Swing, has ever managed such a number in the Open era, and it would seem fitting for Federer, and his rivalry with Nadal, that he should equal the record for the greatest haul of Wimbledons, as Nadal had just two weeks ago equalled Borg's for the greatest haul of French Opens.
He stands to add much lustre to his long-term legacy—a 17th major, (the most important of all, perhaps), a second as a father, extending his slam-a-year streak to nine years, and compile a record on grass that is likely to be the very best ever.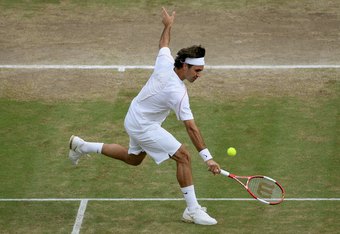 Clive Brunskill/Getty Images
Of course, Roger Federer remains a pragmatist at heart, as all successful tennis players have been. Wimbledon is his spiritual home, and a win here would do much to regain for him that intangible impress of invincibility, which he used to wear like the insignia of top military brass.
There is, next, the goal of regaining his world No. 1 ranking, and hold it just long enough more to eclipse another record of Pete Sampras—that for the most weeks at No. 1, where the latter now stands at 286, to Federer's 285.  
Finally, it would somehow have to involve a second Novak Djokovic-halting act (by Federer or another), and the diminution of Rafael Nadal. British hopes will have to be suspended, too, for yet another year.
Most of all, Federer needs to Wimbledon because, as I mentioned above, he is the most qualified to do so. He is the finest player on green turf of this generation, and, as far as he is concerned, this generation hasn't quite transitioned into the next, yet. It would be a fitting chapter in his glorious dominance on this surface for him to rack up more records and kudos; in fact, to further adorn this golden age of tennis.
It is simple at the end, however. Roger Federer is the king of grass, and he would do well to return to the throne he so rightfully deserves.