Wimbledon 2011: 10 Bold Predictions for the Grass Court Championship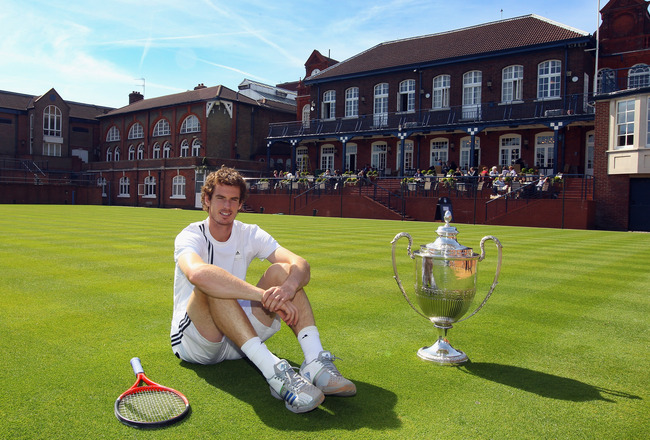 Julian Finney/Getty Images
With exactly a week to go before the 125th Wimbledon Championships commence in London, it's time to get your predictions in.
Will Rafael Nadal win his second in a row?
Will Serena Williams win her fifth Wimbledon title?
Will Venus Williams win her sixth?
Will Roger Federer and Novak Djokovic bounce back?
How far will Andy Roddick go?
And what about the other Andy who graces the primary photo of this article? Why is he there?
Keep reading to find out, as I present to you my ten bold predictions for this year's Championships.
10. BBC's 3D Coverage Will Go for a Toss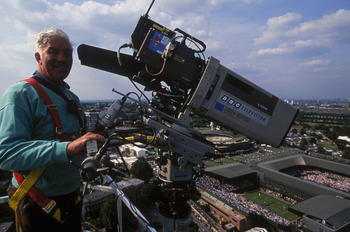 Mark Thompson/Getty Images
To commemorate the 125th anniversary of the Championships, the BBC have announced that the Gentlemen and Ladies Singles final will be broadcast in 3D for the first time to homes across the UK.
Negative.
The broadcast will be interrupted due to "technical difficulties" caused most likely by the adolescent pigeon.
Expect a lot of sore eyes across the UK after the finals.
You read it here first!
9. John Isner Will Not Play Five Sets, But...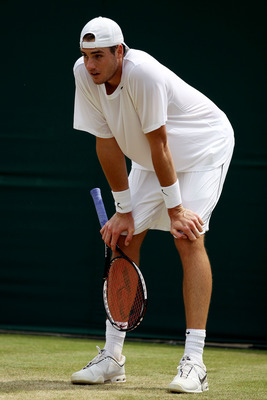 Clive Brunskill/Getty Images
John Isner has been practicing for Wimbledon with fellow American James Blake (really?) at his hometown Tampa, Florida. The 6'9" American's serve should be a major threat on the sliding grass at SW19.
Isner is a crowd favourite at SW19 after his 11-hour, five-set marathon match against Nicolas Mahut last year, which lasted three rain-interrupted days. The American also recently endured a draining five-setter against Rafael Nadal in the opening round of the French Open.
When the tournament begins, Isner will thank his stars after receiving a first round walkover this time around.
Isner will then beat a top-ten seed in four sets in the second round to make his first third round appearance at Wimbledon.
There, Isner will play over three days again and lose in three sets after getting frustrated by the weather conditions.
Don't you just love the London weather?
8. The Top Four Women's Seeds Will Make the Semis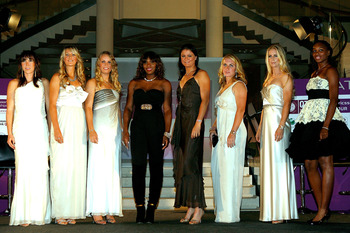 Matthew Stockman/Getty Images
It's been a while since the top four seeds of the women's draw made it to the semifinals of a Grand Slam. In fact, the ladies have made a right mockery of the WTA rankings system of late.
In last month's French Open, there wasn't even a single top four seed in the semifinals.
That's all about to change in the 2011 Wimbledon Championships.
According to the current WTA world rankings, the four top-ranked players are Caroline Wozniacki, Kim Clijsters, Vera Zvonareva and Na Li.
But if defending champion Serena Williams makes a comeback from her long layoff due to injury and illness, she could shuffle around the top four seeds at Wimbledon later this month.
7. All the Top Four Men's Seeds Will Not Make the Semis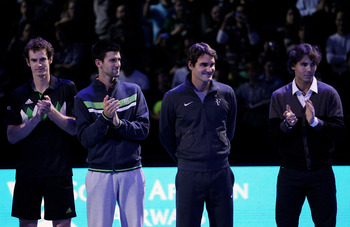 Clive Brunskill/Getty Images
Men's tennis, on the other hand, has been pretty consistent in terms of rankings.
The top four men's seeds did make it to the semifinals of last month's French Open and it's been like that for quite some time now, with the top five putting in steady performances.
But the 2011 Wimbledon Championships could see a change in the drift, and my prediction is that only three of the top four seeds will make the semis.
Who's the unlucky one to miss out? Keep reading to find out...
6. Williams Will Not Win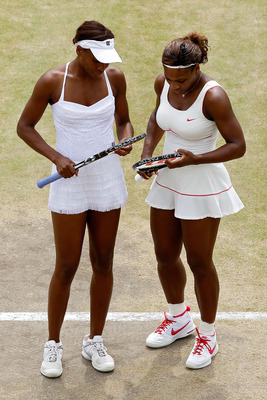 Matthew Stockman/Getty Images
The Williams household at Palm Beach Gardens, Florida, is home to nine of the last 11 Wimbledon titles. In fact, a Williams has featured in ten of those 11 finals.
Venus and Serena Williams are favourites every year at the Wimbledon Championships, and it will be no different this year, provided they play.
Both sisters are coming back from long layoffs due to injuries. Venus hasn't played a match since her third round exit at the 2011 Australian Open, whereas Serena's last competitive game was when she won the Wimbledon title last year.
Venus and Serena both have enrolled in the pre-Wimbledon Eastbourne tournament for the first time in their careers as they look to make a return to the game and be fit for their favourite Grand Slam.
But coming back from such a long break isn't easy, and it'll be interesting to see how the two sisters shake off that bout of inertia before the tournament.
5. Caroline Wozniacki Will Win Her First Grand Slam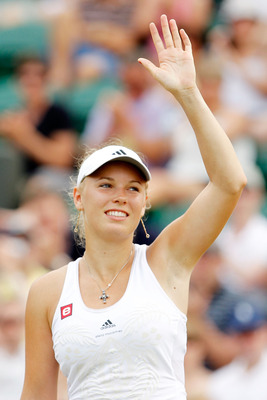 Matthew Stockman/Getty Images
Caroline Wozniacki will break her Grand Slam duck by winning the 2011 Wimbledon title.
Yeah, I said it! And there's nothing you can do to change my mind because I love her! If she fails, I'll say it again before the U.S. Open!
Blind, adolescent-esque love put aside, Wozniacki has won her fifth WTA title of the year in Copenhagen last week—without dropping a single set.
She's never made it past the fourth round at Wimbledon, but the World No. 1 is working hard towards improving her Grand Slam record.
It's only a matter of time...
4. Andy Roddick Will Finish Angry Birds
Watch this funny video interview of Andy Roddick after his 6-2, 6-2 thrashing of Fernando Verdasco in the quarterfinals of Queen's.
When asked about what he did during the rain-delay, Andy said that he was playing Angry Birds on his cell phone.
Given London's erratic weather, Andy is likely to have plenty of time to finish the game and then, perhaps, concentrate on his tennis.
After being swept away by the other Andy in the semifinals of Queen's, my take on Roddick's Wimbledon showing is as good as yours.
3. Rafael Nadal Will Bow out in the Semis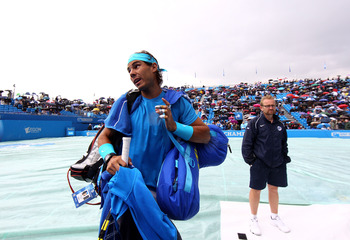 Clive Brunskill/Getty Images
Rafael Nadal did not have the best of starts to the 2011 French Open when he just scraped through the opening two rounds—including a hard-fought five-setter against John Isner.
Nadal's form improved as the tournament progressed, and he easily dispatched Robin Soderling and Andy Murray en route to the final.
The Majorcan met old foe and good friend Roger Federer in the final, where the duo battled it out for over three hours, with Nadal eventually prevailing in four draining sets.
The highly demanding clay season has clearly taken it's toll on the Spaniard, and it was visible as he bowed out to Frenchman Jo Wilfred Tsonga in the quarterfinals of the Queen's Club Championship.
Nadal, always the glass-half-full guy, took the loss as a positive as he has a few extra days of rest before Wimbledon.
Nadal played 26 sets on his way to a second Wimbledon title last year—including two strenuous five-setters. Whether he will be able to survive a similar onslaught this year will have to be seen, especially after coming through 24 demanding sets at the French Open.
He's got a shot at the title if he can come through the opening rounds unscathed. Otherwise, I predict a semifinal appearance at best.
2. Andy Murray Will Make the Final and Go on To...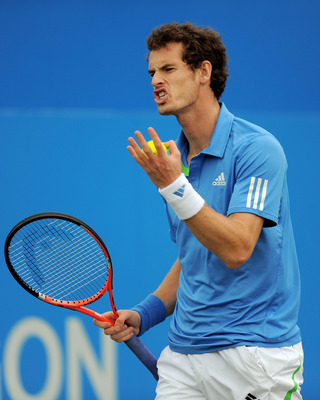 Michael Regan/Getty Images
Andy Murray will delight British fans by reaching the final of Wimbledon after beating, in most probability, Rafael Nadal in the semifinals.
Murray has never been in a Wimbledon final, having made two consecutive semifinal appearances before.
Murray has put in strong performances in the last month, when he's lost two consecutive semifinals to Novak Djokovic and Rafael Nadal, respectively.
However, both those matches saw Murray put in his best showing on clay so far in his career, and he has carried that form onto the grass season.
As I write this, Murray is in the Queen's final, where he is defending champion.
If Murray reaches the final at Wimbledon, he's most likely to be up against Roger Federer.
What will happen there? If you're going by the photo on the opening slide of this article, then you're absolutely...
1. ...Lose to Roger Federer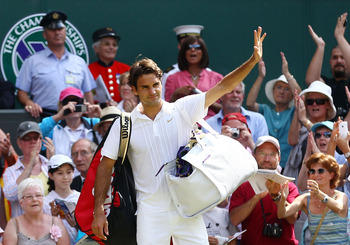 Julian Finney/Getty Images
WRONG!
My sincere apologies to Andy Murray fans (and Rafael Nadal's too, for that matter).
I am a thoroughbred Roger Federer fan, and it had to end this way.
Roger has taken a mini-break after his loss in the French Open final by pulling out of the Gary Weber Open in Germany, as he looks to shift his focus towards his favourite Grand Slam.
Roger is vying for Pete Sampras' record of seven Wimbledon titles and looks in good shape to retain the trophy he last won in 2009. A shock quarterfinal exit last year will spur him even further on to prove that he's not a fading force.
Wimbledon looks like Federer's best shot at a Grand Slam this year, with his game ideally suited to the grass surface. It has always been his priority ever since he first won it back in 2003 (also his first Grand Slam win), and it'll be no different this year.
What's Your Say?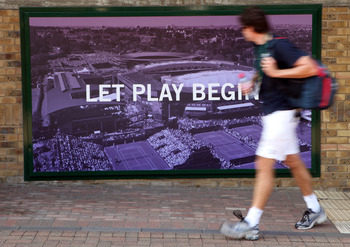 Oli Scarff/Getty Images
Well, I hope you've enjoyed going through my predictions, absurd as they may sound.
Feel free to shoot your predictions in the "Comments" section below and let me know what you think will happen at the Championships.
If I like your prediction, you'll get a virtual high-five from me (that's the best I can do!)
So, let play begin!
Keep Reading