Rafael Nadal and Roger Federer: Keen To Make Sure History Books Don't Forget Them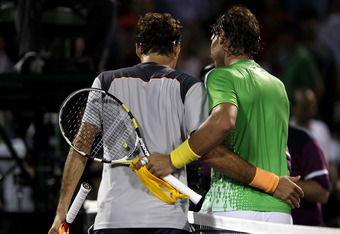 Clive Brunskill/Getty Images
The second major of the season is only 18 days away and while much is being said about a potential blockbuster final between the best man of the season, Novak Djokovic, and the clay-court king, Rafael Nadal, we should never underestimate the 16-time Grand Slam champion Roger Federer.
Of course, Djokovic has a good chance to become the new world No. 1 in a couple of months and all the credit must be given to him for being able to maintain such consistency in the Nadal-Federer era.
Until 2011 came around the Swiss and the Spaniard had an outstanding domination on men's tennis.
On the eve of the upcoming French Open I find it interesting to focus on the absolute domination of Rafael Nadal and Roger Federer over the last 10 years. These two great champions have printed their names on the history books.
If we take a closer look at the history of tennis, we can notice only one or two players have dominated a decade of tennis. In the '70s it was Jimmy Connors and Bjorn Borg who were on top of the tennis world and claimed numerous Grand Slams. In the '80s, it was Ivan Lendl, Mats Wilander and John McEnroe's turn. In the '90s Pete Sampras and Andre Agassi wrote the most wonderful moments of tennis.
It was then the turn of Roger Federer and Rafael Nadal to make history headlines since the beginning of the 21st century. However, there is a clear distinction between the Swiss and the Spaniard and the others since they have totally dominated the tennis world for the last five years.
It is also very surprising if we consider how today's general level of play has improved so much. Therefore, many specialists think it will be more and more difficult for players to dominate.
Still, one statistic is still stunning: Federer and Nadal have claimed 17 of the last 21 majors played. Taking the numbers one step further, over the last 29 majors, only five have not been claimed by one of these tremendous players.
Numbers tell the story for these two great champions, who managed to downgrade all players ranked under them, even if they are also very good. We have to look at the facts clearly. We are lucky to be in the most amazing era in the history of tennis.
We don't measure enough the dimension of this unparalleled situation. Two amazing players fight in order to mark history books time and again. They took away most of the majors and left an entire generation of very good players with small pieces of the pie.
It was unfortunate for anyone not named Federer or Nadal to fall in the same era. Of course I'm thinking of Nalbandian, Safin, Roddick or Davydenko, who would have had greater careers in another era. But they constantly had to face Roger or Rafa and gave up. After countless setbacks they had to be happy with being forced to win minor league events during their career.
Andy Roddick won the 2003 US Open but then had to be satisfied with reaching three Wimbledon finals and one US Open final since then; he has lost all four matches to Roger. Marat Safin met the man from Switzerland 12 times, but only managed to win a couple of times against him. Davydenko was a semifinalist in four majors and lost three times against Roger Federer.
As for the actual generation, they are also heavily punished by these two greats despite being very talented. Of course I'm thinking of Berdych, Söderling, Murray, Cilic and Del Potro.
The constant fight undergone by Federer and Nadal is exhausting for the body and the spirit. That is why they have not been at the peak of their form at the same time. Rafa often struggled with his fitness, while Roger had a lack of motivation. Yet, we have had the total domination of one, or the other in succession arguably since 2003.
2007 was a Federer year, where the Swiss won three Grand Slams. He then showed less motivation and let Nadal take the lead. 2008 was a Nadal year, where he won both the French Open and Wimbledon. The Swiss was said to be declining slowly. Some even thought he would retire.
In 2009, Nadal was injured and it was Roger's turn to take command of the ship. The man from Switzerland also managed to grab both the French Open and Wimbledon, claiming at the same moment his first Roland Garros crown and breaking another record by winning all four majors.
Some specialists are upset about the Spaniard's health. Many have speculated that Nadal's knees would not last long. In 2010 though, the Mallorcan made a very successful return to competition. He suffered from being out of the game for weeks and his motivation was huge.
Once again he managed to claim both the French Open and Wimbledon. However the Swiss is having trouble finding the same interest in the game after what happened in 2009. Federer's wife also gave birth to two twin daughters. Roger clearly was on a quest for a new motivation.
Nevertheless, if history repeats itself once more it should favour Roger Federer if a certain Serb does not spoil the party.
This article is
What is the duplicate article?
Why is this article offensive?
Where is this article plagiarized from?
Why is this article poorly edited?