Nadal vs. Djokovic: Madrid, Rome and Paris Key for No. 1 Battle Race
April 29, 2011
Clive Brunskill/Getty Images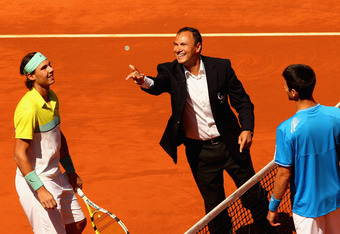 Clive Brunskill/Getty Images
The world No. 1 battle between Rafael Nadal and Novak Djokovic could take a crucial turn by the end of the clay court season.

We might have clear answers no later than next week as important matters will kick off at the Mutua Madrid Open with Nadal, Djokovic and Federer leading the field.

Madrid is important because it is the first time since Miami that both Rafa and Nole could face on the Spaniard's favorite turf.

Djokovic defeated Nadal at both Indian Wells and Miami finals, but it was on hard court.
If Djokovic found a way to beat Nadal in Madrid or Rome, it would give the Mallorcan few reasons for concerns, as Roland Garros will be looming.

Nadal is the defending champion of tournaments in Madrid, Rome, Roland Garros, Wimbledon, and the US Open.

In the meantime, Djokovic did not play in Madrid and followed his clay court season by being a quarterfinalist in Rome and Roland Garros.

Then the current world No. 2 was a semifinalist at Wimbledon and a finalist at the US Open.
Remembering these figures will give you a key indication as to when Djokovic could top Nadal for the top spot.

Tennis players have to defend the points they earned the previous year.

Djokovic doesn't have much points to defend until Wimbledon, while Nadal has to defend 4,000 points until the grass court major.

That is why the next six weeks will tell us if Djokovic can become the first Serbian tennis player ever to become world No. 1.
There is definitely no guarantee both players will meet next week or the other, as they would have to wait till the championship match before such an event happens.

However, Djokovic is at the prime of his tennis while Nadal has been undefeated on clay since his 2009 loss to Robin Söderling in Paris.
The serve, which is Djokovic's much improved asset since the start of the season, is not as important on clay as it is of the faster surfaces, which is why It's difficult to see the Serb upset the king of clay.

Elsewhere, the five-time Roland Garros champion has more patience and more time to hit his shots.

Nadal will make Djokovic run much more on a clay court than he could on the hard ones.

Also, Rafal leads Nole 9-0 in their head-to-head encounters that have happened on the dirt.

Moreover, Nadal's game was not yet at it's peak when they play in Indian Wells and Miami, while Nole could not have played better.

I could see Djokovic beat Nadal in Madrid or Rome in a best of three set format.

Nevertheless,  Roland Garros will be a much higher task with a best of five set format.
The battle between Djokovic and Nadal could also bring some hope to the Roger Federer camp.
In 2009, Federer won the French and Wimbledon after the top two exhaust each other physically during the clay court season.

It could certainly happen again and that's what Federer will be looking for in the weeks ahead.