Rafael Nadal's Monte Carlo: The Birth of a Tennis Legend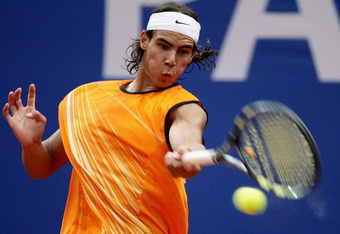 Clive Brunskill/Getty Images
It was one of those moments of good fortune, when the laptop was almost closed, the Skybox almost put to sleep, the day turned over to something more useful.
It was, after all, a mere filler in the broadcasting schedule at the end of a decent afternoon's tennis from Monte Carlo.
But it became instead a moment of hesitation, of curious interest, of captured attention.
And it revealed the moment when the career of the one of the world's great athletes was launched, when a slender, passionate young man stepped up to the line and walked into tennis history.
It was the spring of 2005, the centre court at Monte Carlo, Rafael Nadal.
At one end of the court stood the Argentine, Guillermo Coria, who had reached No. 3 in the world only the year before and was the title-holder in Monte Carlo. Coria had also reached the final of this Masters in 2003 and had some experience of the young player he was facing.
He had met Nadal, in 2003, at this very event and had beaten him, 7-6, 6-2, but the fresh-faced 16-year-old had still done well to take out Karol Kucera and Albert Costa.
Now 18, Nadal was also on a really hot streak. He had started to win titles—Costa Do Sauipe and Acapulco—and very nearly beat Roger Federer in a five-set thriller of a final in Miami. But the previous week's Valencia had been less impressive: Perhaps the youngster was running out of steam.
Clive Brunskill/Getty Images
If that was in Coria's mind, he was very soon disabused. Nadal rushed to a two sets lead, 6-3, 6-1. In 2005, the finals of Masters events were still best of five and so they played on.
Coria was thrown a life-line in the third, which he won, 6-0, and at this point, the commentary team began to talk of Nadal's tiredness, of his need to hold onto the fourth set or the match would slip from his grasp.
Little did they understand the significance of the player blossoming before their eyes, nor the transition that tennis was making in the shape of this athletic force of nature.
The Nadal of 2005 looked, in all kinds of ways, very different from the assured 24-year-old who stands at the top of his sport today.
It was the early days of the pirate pants and sleeveless shirts, when Nadal embodied youth and rebellion and breaking the mold. No one looked like Nadal, dressed like Nadal, strutted like Nadal: He was a breath of fresh air, a shot in the arm, a shock to the system.
This was, though, the days before Nike—or the teenager's corner—had 'tailored' the baggy, shapeless shirt into what would become the shoulder skimming, chest clinging, arm boasting version that was Nadal's signature look. Yet already, the raw material was there in spades: the burnished, glowering looks, the unshaven jaw, the straggling, drenched locks and the biggest left arm in tennis.
Michael Steele/Getty Images
The world's love affair with this extraordinary bundle of muscle and passion started right here and as the fourth set reached 4-4, the crowd roared their approval of both players.
Coria remained pugnacious and resilient, determined to break down his less experienced opponent.
Nadal dug deep to find those essentials that still underpin his game today: a massive lassoed forehand, a wide swinging serve to the outside of the ad court, an urgent defence of every point, a will to win unmatched by any competitor in the game.
From deuce, he fiercely held serve to lead 5-4. For possibly the first time—though certainly not the last—Peter Fleming in commentary remarked: "What a fighter…that point was just about guts and determination."
Coria continued to give no quarter and held his game to love. Nadal stepped up to the line with barely a pause—just three bounces of the ball—and played out a perfect game of cross-court top spin and angles that gradually drew errors from Coria.
Now leading 6-5, Nadal took on the "look" that he still does in key moments. His body tenses, almost twitches, with extra energy, the brow furrows and he pounces on every shot thrown at him.
With Coria serving to save the match, Nadal hurtled to the net to pick up a drop volley at full stretch to bring up two championship points. He then chased down another drop shot to make an outright forehand winner and fell to the clay to celebrate his first Masters title.
Clive Mason/Getty Images
Since that day, no one has beaten Nadal on a Monte Carlo court. He has won six successive titles and it's hard to see who will stop him taking a seventh next weekend.
Yet while that 2005 Masters was the first step to a historic run at this historic tournament, it was also the first Masters in a record-breaking total of 18.
Most significant of all, it launched Nadal into his most successful year in tennis. He was unbeaten for the remainder of the clay season, winning Barcelona, Rome and the French Open and, after the grass season, continuing his run in Bastad and Stuttgart. Indeed, he lost just one match on clay out of the 49 he played—the loss coming in the quarterfinals of Buenos Aires at the start of the season.
Along the way, he added the final of Miami and the titles in Toronto, Beijing and Madrid (then an indoor hard court Masters), reaching a grand total of 11 titles for the year.
He began 2005 at No. 50 in the world and by early March, he was at 30. In April, it was No. 17, in May No. 7, by June No. 3 and by July No. 2, where he stayed—his way blocked by Federer—until August 2008.
Still only 24, Nadal continues to cut a special figure unmatched by any other player, still roars his passion with the same intensity, still has the same "guts and determination" that Fleming found so compelling back in 2005. Alongside all this, he remains as popular as ever and as admirable a champion as any sport could wish for.
It was just a moment of dead airtime, but it was one inspired choice of tennis recapitulation: the moment that a great career took its biggest step in Monte Carlo.
This article is
What is the duplicate article?
Why is this article offensive?
Where is this article plagiarized from?
Why is this article poorly edited?