Tiger Woods: 10 Reasons Why He'll Hit Rock Bottom at the 2011 Masters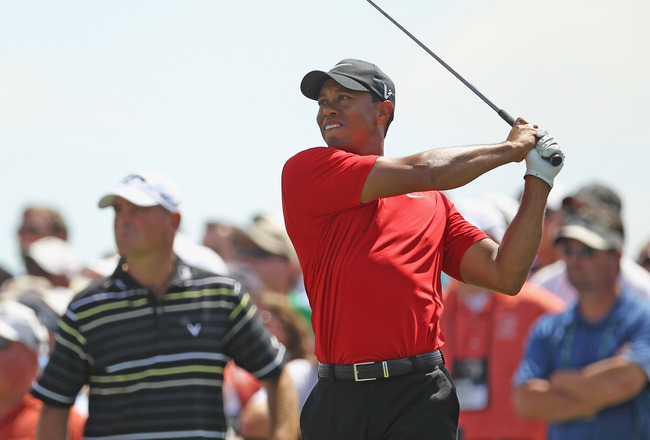 Mike Ehrmann/Getty Images
When the golf community thinks of Tiger Woods before his scandal, the words that will probably pop up in their heads are, "The Masters."
After all, he was the most dominant golfer on the course, along with the fact that he won this prestigious tournament in 1997 in his early 20s.
However, we are now in 2011, and Tiger has failed to win as much tournaments as he used to. People now wonder if this week's tournament at Augusta is the time he will finally turn things around and maybe regain his No. 1 spot in the World Golf Rankings sooner than people think.
But there are still fans who thinks Tiger won't even make the cut, and here are 10 reasons why he will at Augusta.
His Recent "Swing Changes"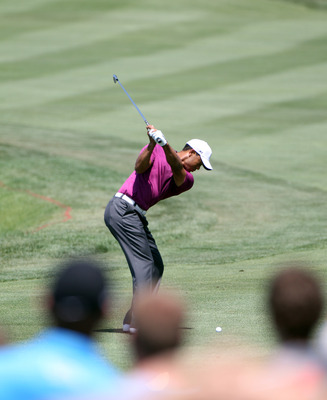 Sam Greenwood/Getty Images
It doesn't really sound right when a 14-time major gold championship winner decides to change his swing,
Well, Tiger Woods has tried this, and it certainly has not worked yet.
Golf legend Arnold Palmer had stated in an interview that a guy like Tiger is capable of winning at any time, though fans tend to disagree. After all, he hasn't won since November of 2009 at the Australian Masters.
Although 2010 was a tough, winless year for the formerly dominant player, I don't think his swing will be able to carry him over to a win at the Masters.
Changing a swing is surely difficult; Tiger should have just stuck to his old swing.
Still Recovering from a Mental Breakdown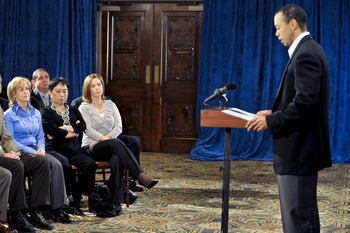 Pool/Getty Images
Think about this: You are a golfer. You are the one responsible for 25 percent of the audience out of the entire PGA Tour. You are a role model, making millions, inspiring kids. You are the face of golf, and EA Sports has your name as a brand name.
Then one day, the entire world finds out about a scandal, where everyone is shocked.
Is it ever possible you will come back from this problem, and one day be the face of golf again? Certainly.
But is it going to be a huge challenge to win at Augusta if it is bothering you? Yes, it will be.
Lack of Driving Accuracy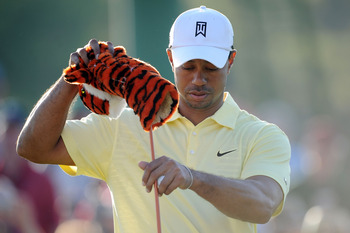 Harry How/Getty Images
Do you know the average of PGA Tour players for driving accuracy on hitting fairways? It's at 59.6 percent.
Not bad, correct?
Now, what about Tiger's? It's 44.64 percent.
'Nuff said.
One (Very) Cold Streak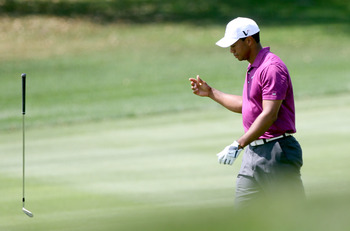 Sam Greenwood/Getty Images
A cold streak leads to another cold streak, and to another, until luck strikes.
Considering Tiger didn't win any event in 2010, and hasn't in 2011 so far, what makes it so certain that he will just turn things around at the biggest golf tournament?
Yes, I am aware when Tiger came back in 2010 to the Masters, he posted great numbers.
However, it's a new year and a whole new game, and a cold streak isn't going to help the cause.
Worse Average Score Than Rest of Tour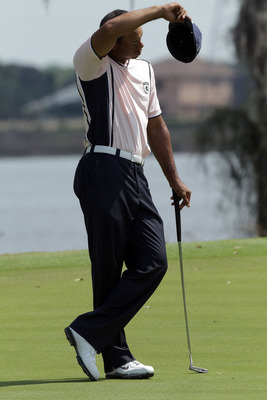 David Cannon/Getty Images
His overall average score per round is another problem, and this goes back to stats.
While the rest of the tour is hitting 70.34 shots on average, Tiger is at 71.75 so far this year. If my calculations are correct, that's over one shot of difference, which is a pretty big deal in golf.
Also, 70.34 is the average of everyone, not just the top players.
You can't win like that, and shows Woods is below average at this point.
Inconsistent Shots/Rounds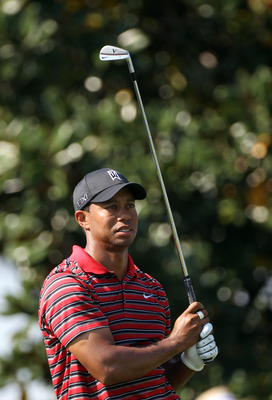 Sam Greenwood/Getty Images
Woods has had some decent shots recently, but they aren't good enough to finish first.
His inconsistent shots, which include his shots from the tee, are keeping him away from a higher ranking at the end of Sundays.
It just so happens that fellow golfer Ian Poulter felt the same way as me (purely coincidental). He said in an interview, "I don't think he'll finish in the top five; I think at the minute there's a couple of inconsistent shots."
Agreed.
Tough Competition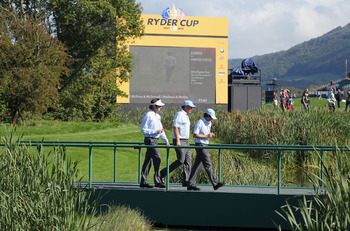 Pictured Above (Left to Right): Bubba Watson, Phil Mickelson, Rickie Fowler
Andy Lyons/Getty Images
Has anyone seen how the young guys have taken over the game of golf recently?
Some guys you might know of are Rickie Fowler or maybe Bubba Watson (pictured above). Nope? It doesn't ring a bell? Well, looks like somebody has to catch up on today's golf.
Along with the rise of young guns, there are always the solid veterans.
There is K.J. Choi, who many believe might win his first major at the Masters. The 6'4" Stewart Cink is also in the mix. No. 1 Lee Westwood might be able to also take a shot, while there is also the defending lefty Phil Mickelson.
As of right now, these guys all seem to have a better chance than Woods.
Pressure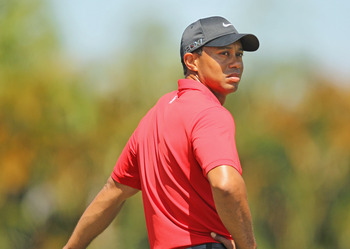 Mike Ehrmann/Getty Images
Non-golf fans say there is no pressure in swinging a stick trying to get the ball into a hole.
PGA Tour professionals know that is not true, and Tiger might know more about it.
Does anyone think he won't be pressured? He hasn't won since JBWere Masters in 2009. This isn't just anyone..
This is Tiger Woods, a person the world knows all about, and with time running out to prove himself, he might just crack and perform worse than ever.
His frustrations on the golf course, where he's prone to cursing and throwing clubs, doesn't help either.
This Is a Game of Patience, and He Sure Isn't Being Patient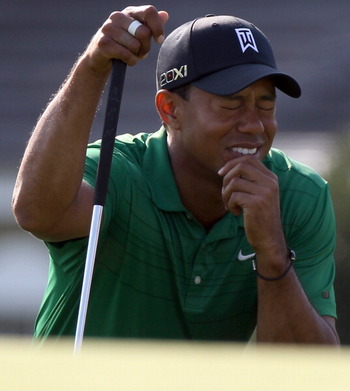 Sam Greenwood/Getty Images
Tiger Woods is rushing his shots more than ever. This means he probably is not being as concentrated.
If you do not concentrate, the wind could be misread, or the swing might not be as good as you want to be. This easily causes big problems, such as where the ball is going to end up.
Golf is one of the sports where you need extra focus if you are going to win.
Playing the Odds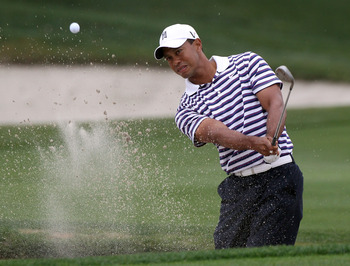 Sam Greenwood/Getty Images
Tiger has a +350 favorite on winning the Masters this year, according to Vegas handicappers.
Mickelson has +600 odds.
Westwood and Martin Kaymer each have +1200 odds of winning.
Ernie Els and Dustin Johnson have +2500 odds.
Even though odds are against him, some might say Woods can still win, by chance of course. But the chance of him losing is even higher.
The title might have seem silly, but it's true.
Keep Reading