College Football: Power Ranking the Top 25 Helmet Logos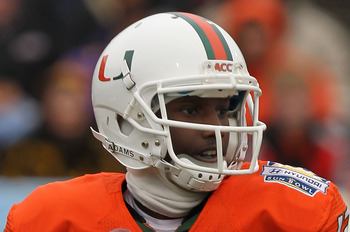 Ronald Martinez/Getty Images
In college football, we all know that winning is the ultimate goal. Every team is geared towards winning and becoming the best team in college football. Every team in college football will be remembered for their greatness or their mediocrity.
But, there's also something teams are remembered for: their logos. A team might be the most remembered for what they won, but fans remember them the most by the team's logo that they played for.
People remember Michael Jordan as a six-time NBA championship winner with the Bulls, and what do they picture? They picture not only the image of Jordan, but of the big, red, Chicago Bulls symbol he wore for all of those years he spent with the Chicago Bulls franchise.
College football is no different. People will remember former Auburn quarterback Cam Newton's success at Auburn by the logo, and the success and power he helped bring to that logo.
A logo must have great history, appeal to the masses, and hold some sort of significance in today's world of college football. And in this list of the top 25 logos, all of these teams have the logos to take them to the next level.
25: TCU Horned Frogs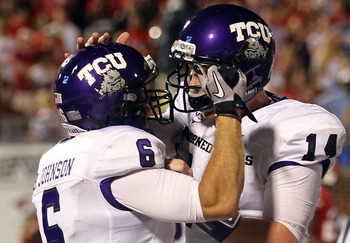 Ronald Martinez/Getty Images
A program that is steadily gaining attention, the Horned Frogs of Texas Christian University should certainly be proud of their purple, especially considering their phenomenal Rose Bowl win over the Wisconsin Badgers.
In a big football state like Texas, recruits will certainly love to sport their purple, horned frog helmets, especially if they keep winning the way that they do. That horned frog is certainly looking like something no one wants to play against.
24: Wisconsin Badgers

Jeff Gross/Getty Images
In a year in which Wisconsin sports saw some major strides, from Green Bay winning the Super Bowl to the Badgers basketball team putting on a good showing in the NCAA Tournament, the big, red "W" is starting to become a prominent figure in college sports once again.
While nothing too complicated, the red "W" says it all. In a season where you make it to the Rose Bowl, as they did just last season, that logo looks pretty enticing, especially up north, for those hopeful high school recruits who are looking to help Wisconsin take that next step.
23. Boise State Broncos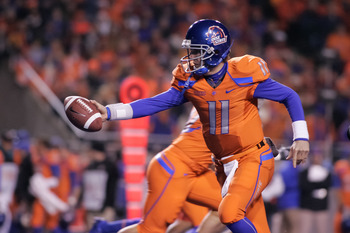 Otto Kitsinger III/Getty Images
Logos can be deceptive in drawing in the hidden gems during recruiting, and Boise State is a prime example of a logo that has certainly gained more power since their phenomenal win over Oklahoma in 2007 in the Fiesta Bowl. Their Statue of Liberty play remains one of the biggest plays in Fiesta Bowl history to this day.
Now, everyone in college football has learned to be wary of the steaming Boise State Broncos. Their logo is at its most powerful at home, on their all-blue football field, which is nigh impossible for any football team to replicate in practice.
The fiery blue bronco on Boise State's helmet is now fully representative of a tough-nosed, never-quit football team, which has further intensified the program's history given the special case of their blue football field.
22. Arkansas Razorbacks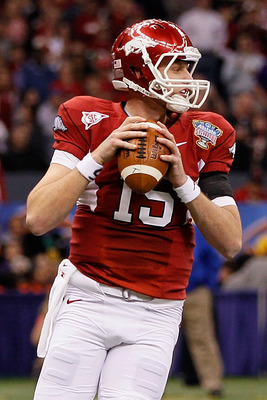 Kevin C. Cox/Getty Images
Since the arrival of Bobby Petrino in 2007, the Razorbacks have gone from the hunted to becoming the hunter, as evidenced by the past two seasons of nine wins or more.
And thus, the Arkansas Razorback may continue its ascent to the top of the logo food chain.
With the Razorbacks a bigger SEC West threat, their logo can finally gain some power and respect.
With an angry, aggressive razorback set into a solid, blood-red helmet, the Razorbacks can come charging into the SEC championship race with their high-octane, Petrino-coached offense and an assortment of underrated weapons at their disposal.
21. UCLA Bruins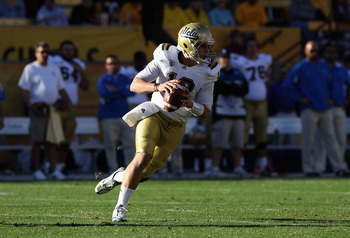 Christian Petersen/Getty Images
Set against golden helmets, the UCLA Bruin faithful wear a proud logo signed in neat cursive across the sides of their helmets, especially given their long-standing tradition as a once-major power in college football.
Now, with Rick Neuheisel on the hot seat, he must bring this once-proud logo of UCLA back to prominence. Despite their lack of recent success, this crafted helmet remains among the best in the Pac-10.
20. Auburn Tigers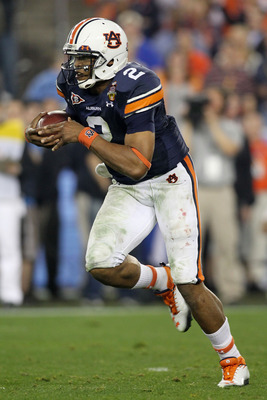 Jonathan Ferrey/Getty Images
One of several prominent Tiger programs in college football, Auburn brandishes the delicate white helmet with the orange and blue stripe down the middle, topped off with the university's symbol of the capital "A" within a big, capital "U."
The Auburn symbol has had its share of athletes on the football field to wear its logo proudly, with the most impressive being Bo Jackson, who became one of the greatest athletes of all time.
The proud Auburn logo certainly has its own way of attracting stellar athletes to its campus, that's for sure.
19. Oklahoma Sooners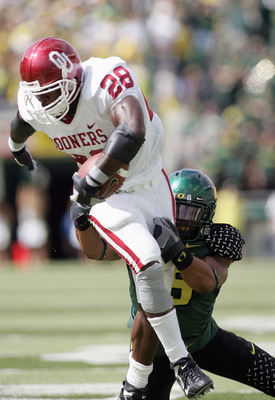 Jonathan Ferrey/Getty Images
A major team of the West, constantly competing with the likes of Texas, Texas Tech and other major teams out West looking for some glory. But the Sooners have plenty of glory in their symbol.
With an intertwined "OU" set in the dark red color of a Sooners helmet, teams are hard pressed to make a lot of ground against this Big 12 power on any given day, especially when they produce players like quarterback Sam Bradford and running back Adrian Peterson.
Good quarterbacks and running backs have since been enticed to don the Sooners logo and run wild against any who stand in their way.
18. USC Trojans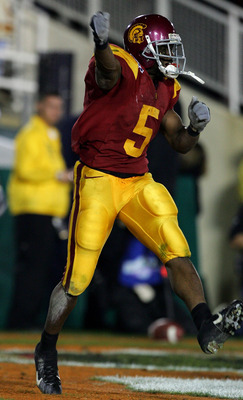 Harry How/Getty Images
USC is a team that represents its mascot and logo all too well.
With the mighty Trojan warrior as their logo, USC played as mightily as the warriors of Troy, winning one national championship and constantly placing among the elite teams in college football in the early 2000s.
With the emblem of a Trojan set against the red of battle, the Trojans were a football team to be feared.
While their logo has certainly been diminished with the departure of Pete Carroll and the NCAA violations, the Trojans will need some time to gather their strength in an attempt to return to rule the college football world once again.
But, for now, they must wait yet another year without a postseason due to violations. But you can bet they will continue to unite under the red and gold pride of the USC Trojans.
17. Clemson Tigers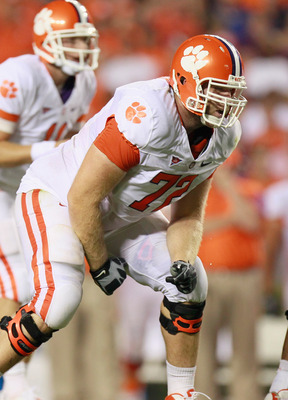 Kevin C. Cox/Getty Images
In the words of Clemson head coach Dabo Swinney, Clemson fans are "All In!"
With a white tiger paw stamped into a solid orange helmet, Clemson's logo is a recognizable symbol, but at the same time, has not been remembered for consistency for quite some time when it comes to execution on the field.
However, this does not completely diminish the power of a Clemson logo. The most telling story of Clemson's logo is most associated with their ritual of running down the hill for every home game, known as "The Most 25 Exciting Seconds of College Football," and ranks among the most historic of college football traditions.
It's a hard fight against a Clemson logo on a night game in Death Valley once the Tigers rush down the hill, touching Howard's Rock along the way down the hill.
It's a sight to see a Clemson logo on a "Solid Orange" game night, with the players clad in solid orange, and over 80,000 fans garbed in orange, so it appears as though the entire stadium is filled with an orange haze, lit brilliantly by the white tiger paw.
16. Virginia Tech Hokies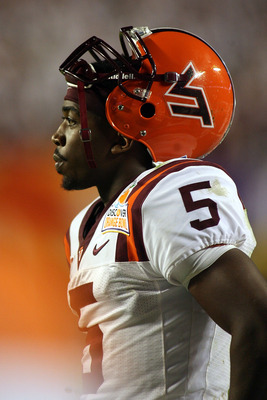 Marc Serota/Getty Images
It appears that, once again, the Virginia Tech logo defines college football in the state of Virginia.
Under head coach Frank Beamer and his brand of "Beamer Ball," the team has certainly brought plenty of unity around its logo.
With the ever-changing colors of maroon and burnt orange to use, the logo of Virginia Tech has certainly become more versatile in terms of their color use, and the ever-present VT remains maroon with the delicate orange outline.
Pretty enticing logo for players in Virginia, and it helps when you produce great athletes like Michael Vick.
15. LSU Tigers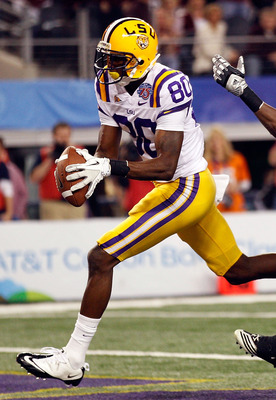 Chris Graythen/Getty Images
Down in Baton Rouge, LSU is the college football team of dominance in the state of Louisiana.
LSU helmet logos are proudly depicted with the assistance of a glorious, golden yellow and royal purple.
The golden yellow is the base color for the helmet, with LSU in royal purple across the sides, and the fierce LSU tiger drawn near to show a sense of pride in the three letters written just above it.
Their logo speaks power in not only football and wins, but also in the fact that they have a firmer hold on their stadium name of Death Valley, because of their winning ability.
14. Florida Gators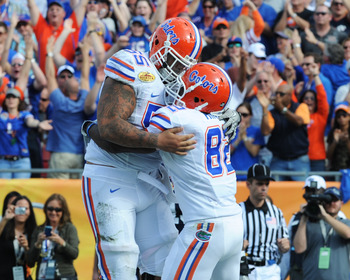 Al Messerschmidt/Getty Images
The old blue-and-orange have had it nice down in the swamp.
Known for the creation of Gatorade, the Florida Gators have become known for a lot more than that, most prominently winning and speed.
Speed is certainly something the Florida Gators logo can't say it doesn't have.
With helmets set with that proud, shining Florida orange, with a blue, cursive "Gators" written on the side, it still ranks among the best of college football logos in the state of Florida.
13. Notre Dame Fighting Irish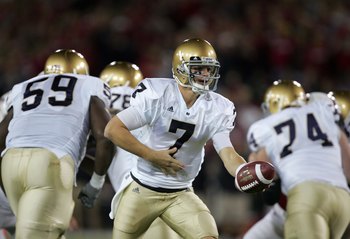 Ezra Shaw/Getty Images
Set with a simple yet rich, gold color that simply gets lost in time of their greatness, the Notre Dame symbol truly stands alone and away from the rest of the pack of college football logos, especially given the fact they're in a conference all by themselves.
Strong traditions produce strong logos, and Notre Dame needs no words on its helmet to describe the type of history and success they've been able to have united under their logo.
12. Nebraska Cornhuskers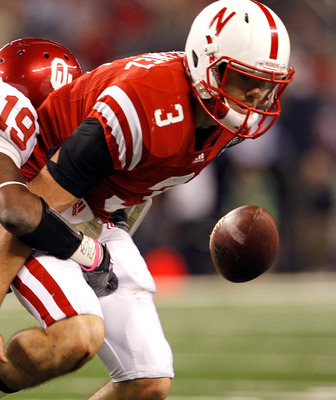 Tom Pennington/Getty Images
In a beautiful place like Nebraska, one needs the sport of football, a symbol for fans to unite under. That symbol is the one of the Nebraska Cornhuskers, who dominate the state of Nebraska.
They proudly sport the red and white, and with a red, proud Nebraska "N" set into an elegant white helmet—it is truly an underrated piece of work.
Nebraska's symbol will continue to rise among the top tier of symbols in college football.
11. Georgia Bulldogs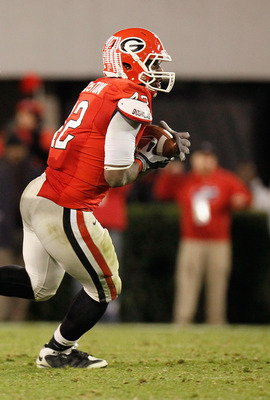 Kevin C. Cox/Getty Images
Another SEC classic: the Georgia Bulldogs.
Red is set perfectly for a team like Georgia, especially one that puts in so much year in and year out, able to draw in some of the best athletes in the Southeast.
Georgia proudly sports the colors of red, white and black, and are able to add substance to style with their logo. Set against a red helmet is Georgia's classic black "G" known all across the Southeast: a style that many players in Georgia greatly prefer.
It's a good thing for Georgia to attract so much attention, especially considering they hardly have to leave the state of Georgia just to find good talent.
A logo like Georgia's will be stamped into the heart of Georgia for a long, time.
10. Oklahoma State Cowboys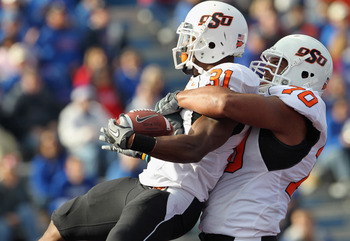 Jamie Squire/Getty Images
The West seems to have a knack for good logos, and Oklahoma State is no different.
With the proud western orange and milky white, Oklahoma State is a big factor standing in the Oklahoma Sooners' way of establishing some sort of consistent dominance in Oklahoma, and is among the top five teams out West in terms of logo presence.
Oklahoma State's logo is one of respect, one that even the Texas Longhorns must give their credit to. The Cowboys of Oklahoma State conflict with the Sooners' logo frequently for the heart of Oklahoma, and there's not enough room for both to maintain a long-enough hold on that position.
With its high-speed, high-octane offense, Oklahoma State's a great logo to wear proudly, and an offense for the best of wide receivers out West to become a part of.
9. Ohio State Buckeyes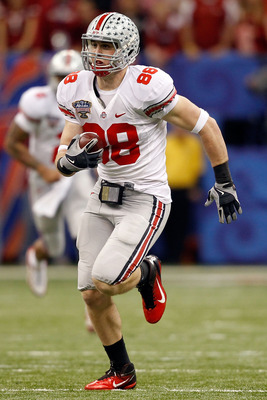 Matthew Stockman/Getty Images
If there's one thing Ohio State's got plenty of, it's style.
With a proud combination of scarlet and gray, the Buckeyes already have a good color system, not to mention the offsetting silver. But what truly makes it better and gives it style are the players' helmet stickers.
Whether its awarded for game-breaking plays or busting your butt in practice, an Ohio State player's helmet is sure to be littered with Buckeye stickers, which are truly enamoring to all who step on the field to see the numerous stickers on the quarterback's helmet.
It's enough to show you that he's a playmaker, and that he means business.
Ohio State's sense of style pulls off well with its use of substance, especially with its streak of 10 wins or more the past few seasons under Jim Tressel.
8. Penn State Nittany Lions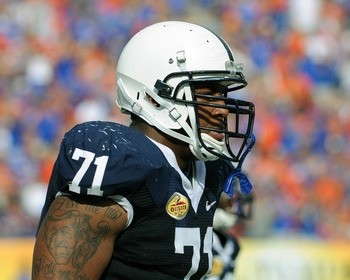 Al Messerschmidt/Getty Images
Penn State's logo has plenty of style. Similar to Notre Dame, it has little on it, other than a dark blue stripe down the middle.
That is what makes it even greater.
For the last couple of decades, Joe Paterno has become the second-winningest college football coach of all time. He's an old-fashioned guy, and he doesn't need props or words on his helmets to make the team look good. He's simply been making the plain white look good by winning.
There's a lot to look at in the plain, creamy white helmets. There's all the history that goes into those helmets, the hard toil of 45 years by Joe Paterno to make the program into the highly respected program that it has become.
Three words perfectly describe Penn State's logo: substance over style.
7. Michigan Wolverines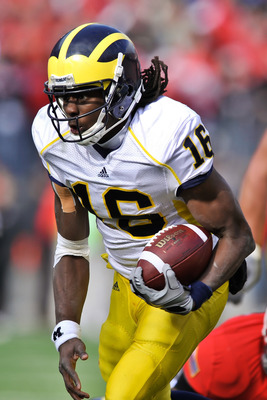 Jamie Sabau/Getty Images
Perhaps one of the most dominant of logos in the Big Ten goes to the Michigan Wolverines.
With strong football traditions, and outstanding assortment of talent, Michigan's symbol is known nationwide, and has reached south beyond its borders.
With the colors of maize and blue to complement one another, Michigan's symbol truly comes alive.
6. Tennessee Volunteers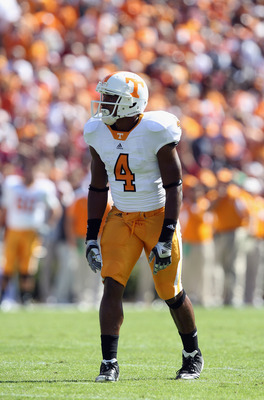 Streeter Lecka/Getty Images
While lacking in success for a long while, the Tennessee Volunteers' classic orange "T" is in the heart of every Tennessee native.
Using only light, sherbet orange and creamsicle white, Tennessee has created a masterpiece that defines not only college football in Tennessee, but the state of Tennessee itself.
The classic orange "T" set against the helmet of every Volunteer player holds plenty of pride for "Good Old Rocky Top."
And yet, despite a lack of success for quite some time, the Volunteers symbol holds an enticing aroma for hopeful high school players to make it at the next level.
There's always been something almost magical about Tennessee, and the logo forever holds and represents the magic of Rocky Top.
5. Texas Longhorns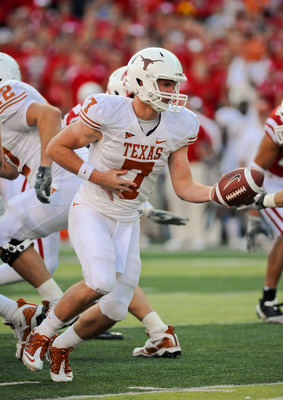 Eric Francis/Getty Images
A big-time favorite, the Texas Longhorns' helmet is a HUGE symbol recognized not only in the heart of Texas, but throughout the entire nation.
A classic, plain white helmet is elegantly topped off with the university's longhorn symbol, a true symbol for all of Texas.
There was a time when this logo dominated the West, but alas, with teams like TCU on the up and up, its been getting a little hard on the Longhorns to deliver.
But, nothing lasts forever, and you can bet that the team won't stay down and shall hold steadfast and strong over their symbol, which is the heart of college football in Texas.
4. Alabama Crimson Tide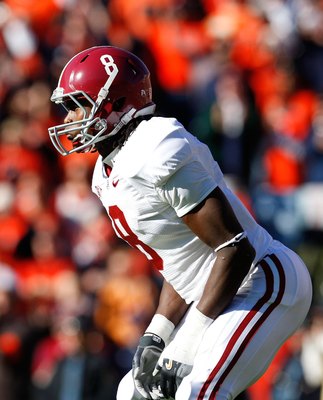 Kevin C. Cox/Getty Images
Simple, yet dominating and powerful are just three ways to describe the logo of the Alabama Crimson Tide.
Sticking to their classic crimson colors for their helmets the player's number is set on the side, perfectly unifying the bond between Alabama and its players.
This logo emphasizes a true bond between player and team, especially in a winning program like Alabama, where Bear Bryant became one of the greatest coaches of all time and made that logo famous throughout college football.
Of course, Nick Saban has brought the program back to national prominence, and their logo is one of the most dominant in the SEC.
3: Oregon Ducks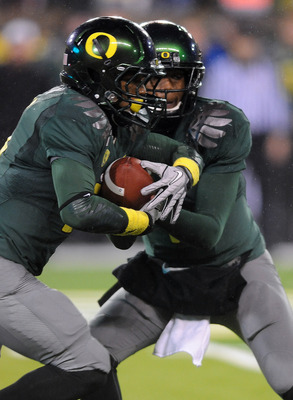 Steve Dykes/Getty Images
The Big O.
Once a bit of a laughingstock due to the mascot and uniform, the Ducks have surprisingly risen back to the top of the food chain, and their logo is looking a lot of what the kids are wanting to go for these days.
There is a lot of speed hiding behind that stylized "O" on the helmet. While the big "O" remains a fixture of their logo, there are plenty of variations added that give it a little flair and pizazz.
One week, the helmets may be silver, with some feather-like decor around the ever-present "O" symbol, which begins to gleam like a saffron gold as helmet colors shift.
Ever changing, fast paced, and hard to stop are perfect ways to describe Oregon football and its symbol, logo, and colors.
It helps to have Nike headquarters situated close by, and have an established alum by the name of Phil Knight to help bring Oregon's logo atop college football's best and most coveted by recruits.
2: Florida State Seminoles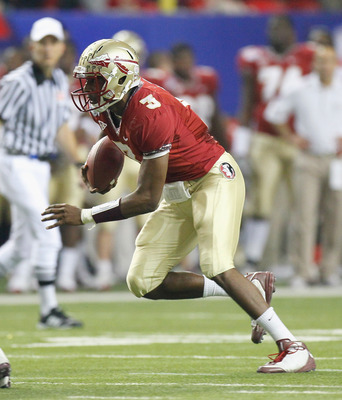 Kevin C. Cox/Getty Images
And then there were two.
Florida State, like its other football power counterparts in Miami (Fla.) and the University of Florida, has always had something that makes its logo seem to have more power than other college football logos.
For Florida State, it's simply that tough, hit-you-in-the-mouth mentality that drove them to have one of the more historic programs in college football.
The Seminole that rides onto the field every home game and stabs his burning spear right into the center of the field, preparing the mighty Seminole faithful for the inevitable war against the opponent who dares think they can come into Tallahassee and win.
With a fierce javelin point set against their gold helmets, its enough to make plenty of teams respect the all-powerful symbol that former coach Bobby Bowden molded for 34 years.
One of the most recognizable logos, its become a well-known one in college and the NFL, as FSU has long since been a major football factory for the NFL.
Notable players who hailed from FSU included Fred Biletnikoff, an NFL Hall of Fame wide receiver, Derrick Thomas, an NFL Hall of Fame linebacker, and Deion "Primetime" Sanders, an NFL Hall of Fame defensive back.
1: Miami (Fla.) Hurricanes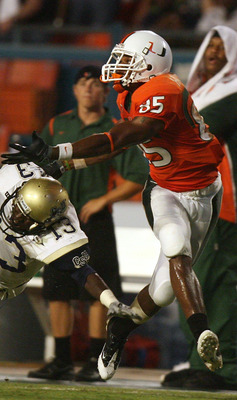 Doug Benc/Getty Images
Perhaps the biggest symbol known to any college sports fan is the "U," also known as the University of Miami.
This logo takes the cake. Over the course of its football history, Miami's logo has been long associated with one word: winner.
Long renowned for its five national championships since 1983, and the long-standing tradition within the program, its no wonder Miami always has among the best recruits sign with them year in and year out.
Miami is notorious for not only having some of the talented players in the country, but also sending them into the NFL.
The "U" has produced a wealth of many big-time NFL players, among them players like linebacker Ray Lewis, Ed Reed, Andre Johnson, and NFL Hall of Famer Michael Irvin, just to name a few.
When that logo hits the football field, you'd better be in for the long haul, as you can be sure "The U" has plenty of firepower on their side.
Keep Reading