Indian Wells: First ATP Masters Draws Tennis Elite—Nadal, Federer, Djokovic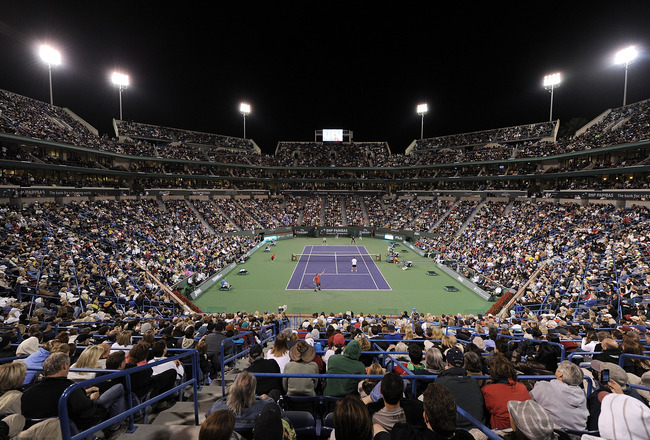 Harry How/Getty Images
The jewels in tennis's ATP calendar, its nine Masters events, are here at last. And in celebration, March is bursting at the seams with two of them: sun-drenched Indian Wells and Miami.
These are the last hard court events before spring ushers in the clay, and they will not appear again until the tour heads back to North America in late July. Little wonder, then, that the United States' hard court siblings draw the biggest crowds and the biggest prizes outside the Majors.
The first of them, Indian Wells, is set like a sapphire in the Californian desert, and attracts more people than any other Masters—a record 340,000 last year.
It's a place drenched in blue, wholly in tune with its watery origins. This popular stop on the tennis tour is as close to paradise as wealth can bring to the desert. It overflows with flowers, trees and fountains, and the courts sit like miniature Aegean Seas within their grass-green surrounds.
The pale violet and blue peaks of the Santa Rosa mountain range provide the serene backdrop to an oasis of a tennis garden spread out in the dry heat beneath cloudless skies.
The setting may be perfect, but the challenge is huge. Although matches are best-of-three-sets, the tournament is crammed into little more than a week, which means six matches are played virtually back-to-back, sometimes day, sometimes night.
The draw contains a quality of field matched only by the Majors—Indian Wells has every player in the top 10 and 45 of the top 50.
All three of the top seeds—Rafael Nadal, Roger Federer and Novak Djokovic—are past champions at Indian Wells.
Fourth seed, Robin Soderling, has been all but unbeatable in 2011, with 18 wins from 19 matches and three titles from four tournaments.
No. 5, Andy Murray, was runner-up at the Australian Open, won two hard court Masters last autumn and was runner-up in Indian Wells in 2009.
No. 6 David Ferrer has won 14 of his 16 2011 matches and has two titles so far this year.
On paper, then, this big title has all the big guns ready to fire. It's a close one to call…
Men's Quarter 1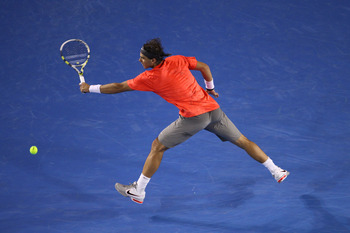 Julian Finney/Getty Images
Top seed Nadal returned to action in the Davis Cup last week after a five-week lay-off with a thigh injury. He's also just played a Nike exhibition in Oregon where he beat Federer 7-5, so he appears to be fighting fit.
He has a good record at Indian Wells: He has reached the semis or better in all six previous visits, and won the title in 2007 and 2009, beating top hard-court exponents Djokovic and Murray respectively.
Nadal has a record 18 Masters titles to his name already and, judging from his draw, he won't miss a 19th by much at Indian Wells. For there is very little, including no fewer than four qualifiers, to worry him in his eighth.
His scheduled quarterfinal opponent is David Ferrer, probably the least threatening opponent that each of the top four contemplates. Ferrer has had a great season thus far, but this is not his environment: He has never won a Masters event, never reached the final of a hard-court Masters, and went out in the first round last year.
There are only a couple of other players capable of disrupting the Nadal cruise. Gilles Simon, now high enough in the rankings to be seeded, has had some good performances this year, but he had a heavy schedule in last weekend's Davis Cup, where he lost, in more than four hours, against Jurgen Melzer.
Meanwhile, Jo-Wilfried Tsonga has lost to Nadal in their last four matches, all of them on hard courts. The Frenchman played poorly on home turf in Marseille last month and was not fit enough to play the Davis Cup tie last week. It's hard to see him turning the tables on Nadal should he reach the quarterfinal.
Semifinalist: Nadal
Double the Pleasure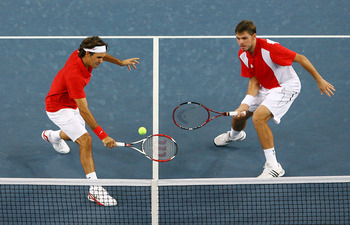 Julian Finney/Getty Images
There aren't many tennis tournaments that can boast nine of the top 10 ranked singles players in the doubles draw, but that is exactly what Indian Wells can do.
It's worth remembering, of course, that Nadal won this event last year with friend Marc Lopez. What's more, they have already won the Doha doubles title this year, so could spring a surprise against the fourth seeds in the opening round.
Drawing the sticky end of the lollipop is Swiss duo Federer and Stan Wawrinka, the Olympic gold medal winners.
Wawrinka is not Federer's usual doubles partner: that honor falls to close friend Yves Allegro, as in Rome and Halle last year. But it may be no coincidence that Federer has just announced he will play Davis Cup this July, and we may see Wawrinka opt to do the same. Those Olympics are on the horizon, and both need to qualify.
Whatever the motive, their first round confrontation with No. 2 seeds Max Mirnyi and Daniel Nester, who won in Memphis last month, should be great fun.
Djokovic, pairing up with Viktor Troicki for the first time in a year, has a better draw, with the prospect of no major hurdles until the quarters, unlike the Scandinavian duo of Soderling with Jarkko Nieminen.
They face Australian Open champions and top seeds, the Bryan brothers. Bob and Mike have reached the Indian Wells finals twice but are bidding for their first title this year.
The other top men to venture into the fast and furious cauldron of doubles tennis are Murray with brother Jamie, Tomas Berdych with Janko Tipsarevic, and Ferrer with the man he beat in Acapulco last week, Nicolas Almagro.
The last pair face a daunting opener against Wimbledon champions Melzer and Philipp Petzschner who, in their present form, could well march all the way to the Indian Wells final.
Men's Quarter 2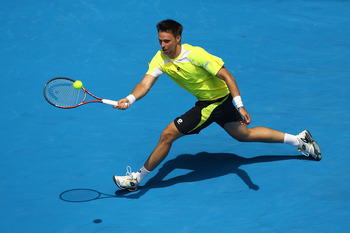 Quinn Rooney/Getty Images
This is a far more interesting quarter than Nadal's, placing man-of-the-moment Soderling at the top against—at the bottom—a Murray just returning to the tour after a break to recuperate a sore wrist.
Since the two of them met in the quarters in Indian Wells last year—Soderling won in straight sets—they have swapped positions in the rankings and the Swede is enjoying a real surge of form. He does, though, face one of the toughest eighths in the draw.
The exciting newcomer in the rankings, Alexandr Dolgopolov, shocked Soderling in the Australian Open and is a potential opponent in the last 16. That's always supposing the returning Juan Martin Del Potro, who won in Delray Beach last week, doesn't beat Dolgopolov to it in the third round.
Murray should have no problems against Fernando Verdasco or Sam Querrey—neither is playing reliable tennis. Indeed fast-rising Wild Card Richard Berankis has the potential to upset both of those seeds on his way to the last 16.
But expect a Murray-Soderling quarter.

Semifinalist: Soderling


Sibling Rivalry: Indian Wells and Miami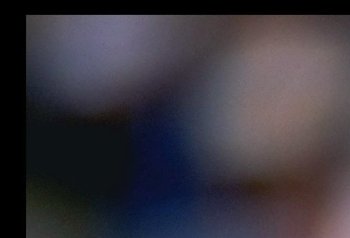 Harry How/Getty Images
They sit shoulder to shoulder in the calendar: the first Masters of the year and the last hard courts for four months.
One is played in the hot, dry desert where the temperature soars in the day but sinks at night. The second is in the hot and damp Technicolor of tropical Miami, where storms can blow and humidity can soar.
This explains why the double-crown—success in both tournaments—is so rare. Not only do the players have to master contrasting conditions but, to win both, they have to play back-to-back matches for the better part of a fortnight with just a few days' respite in the middle.
Federer is the only active player to manage it—he did it twice in 2005 and 2006. Andy Roddick almost did it last year, reaching the finals in the desert and taking the title in the Keys. Murray and Djokovic did the same in 2009 and 2007 respectively.
One other player who did win both in a month—Michael Chang—is also one of only three to have won Indian Wells three times. The others are Jimmy Connors and—that man again—Federer.
But if the stats help to predict who might win one or the other of the these two Masters, look no further than the Australian Open. In the past 10 years, the winner in Melbourne has won Indian Wells five times and Miami three times.
So which one will Djokovic win in 2011?
Men's Quarter 3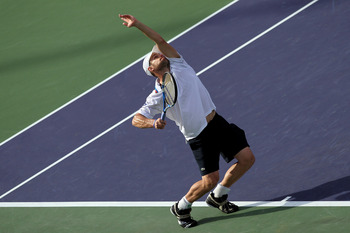 Jeff Gross/Getty Images
Djokovic has the No. 2 ranking in his sights after a stunning opening to 2011. He is on a 12-match winning streak, including back-to-back wins at the Australian Open and Dubai, and he won in Indian Wells in 2008.
The Serb can take overtake Federer if he wins the title next week, or if he reaches the final and Federer does not, or if he reaches the semis and Federer loses before the quarters.
He will probably be the favorite in his quarter, though a strong challenge may come in the second round from Andrey Golubev, a young player making a sure and steady impact on the rankings.
At the other end of this quarter, however, is Roddick, who always performs well in March's American double-header: He was a finalist in Indian Wells and the winner in Miami last year.
He also troubles Djokovic on the North American courts. He won three of their last four meetings: in Indian Wells, Cincinnati and Montreal. And Roddick has already won a title in North America in 2011: in Memphis less than a month ago.
So this has the potential to be the quarterfinal of the tournament and one that may see an upset, especially if the sore shoulder that kept Djokovic out of last week's Davis Cup tie is not 100%.

Semifinalist: Roddick
Female Interlude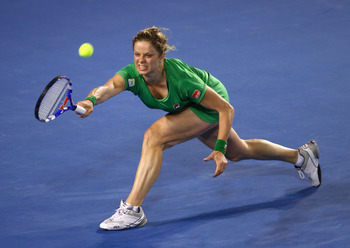 Clive Brunskill/Getty Images
There could be real drama afoot in the women's draw in Indian Wells as, once again, the No. 1 spot is up for grabs. And this time, there is not a Williams in sight.
It is two sunny, smiling blonds from Europe, separated in age by more than seven years but in rankings by just a few hundred points and one place, who will vie for the top ranking: Kim Clijsters and Caroline Wozniacki. All Clijsters has to do to regain No. 1 for the first time in five years is to go further than the Dane in the tournament.
Both women have a good record at this event. Wozniacki was runner-up last year, while Clijsters won the title in 2003 and 2005.
Looking at their form so far this year, Clijsters has been outstanding. She reached the finals of Sydney and Paris and won the Australian Open. Along the way, she also won both of her Fed Cup matches against the USA.
However, Wozniacki's form is just as good: the semis in Australia, the title in Dubai and the finals in Doha.

So many will be hoping for the perfect final act to the drama: a face-to-face encounter between the two top seeds for the No. 1 spoils in the final.
Men's Quarter 4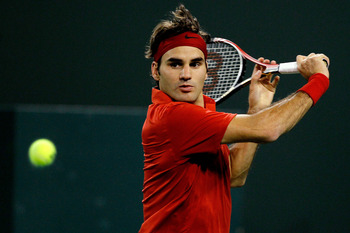 Matthew Stockman/Getty Images
Federer won three successive titles in Indian Wells from 2004 to 2006 but this year faces two contrasting challenges. He has to fend off a Djokovic nipping at his heels in the rankings and is attempting to equal Nadal's 18 Masters titles.
However, his quarter is full of tripwires, and that's before a potential quarterfinal against the man who put him out of last year's Wimbledon, Tomas Berdych.
With not a single qualifier in this quarter, there are instead two wild cards. One is wunderkind Milos Raonic, who tops the ATP aces stats for the year and has hurtled to just outside the seedings—at No. 37—from 156 at the start of 2011. His game is a big threat in the hot, dry Californian conditions.
Also lurking is Nikolay Davydenko. The Russian has had a torrid time of late and so has plunged out of the seedings. But on a good day, on hard courts, in a best-of-three-sets contest, he can beat anyone, though he has Wawrinka and Marin Cilic to beat before he can reach Berdych and then Federer.
While Federer should make the quarters—subject to the Raonic serve—Berdych will face a strong challenge in his eighth. Should he meet Federer, however, it will be a tight match, just as both their 2010 hard-court Masters were: Miami and Toronto both went to third-set tie-breakers.

Semifinalist: Federer
So could the first and the biggest of the Masters enjoy a double whammy: the top two seeds in both the men's and women's draw competing for the titles?
What a way to end a tournament. And what a way to prepare for the next Masters just days later!

Keep Reading