Steve Stricker and Other Golfers To Watch Out For at The Northern Trust Open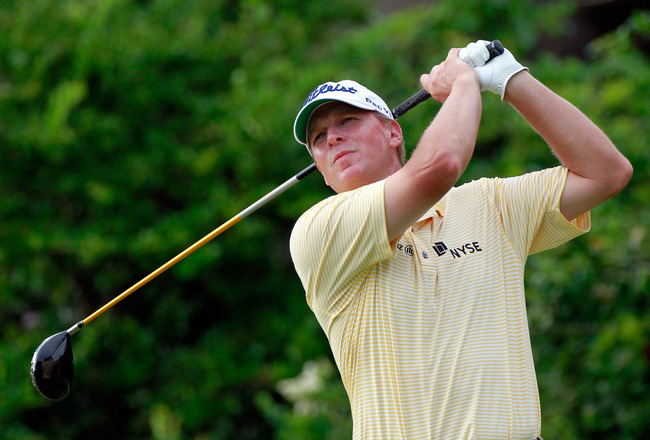 Sam Greenwood/Getty Images
Last week, a lot of people were watching what came across the line from Europe.
However, now that all of that is over, we turn our attention to what is another big week for the PGA Tour. Joining, along with several other golfers making their 2011 debut, is newcomer Louis Oosthuizen.
Once again, Tiger will not be on this list. You've been warned. As is tradition, Riviera—the course that Tiger has the worst record on—wont get the chance to see him this week. I would guess you'll see him at the Match Play, no sooner.
But back to this week—what names do you need to know?
Dark Horse: Steve Stricker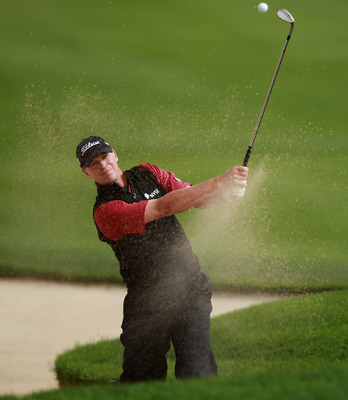 Andrew Redington/Getty Images
That's right. I'm picking last year's champion as the dark horse.
In fact, I would predict him to be more than just that—if it weren't for the feeling I'm getting. Sure, it could be Stricker's week, but it's unlikely. After all, despite a T9 in Hawaii, he hasn't played since.
That may have a negative impact on him.
Yes, he is a pro, but taking time off isn't always beneficial.
That being said, if Steve Stricker could sneak up and win this week, I wouldn't be shocked. But I certainly wouldn't see him beating the next 9.
Dustin Johnson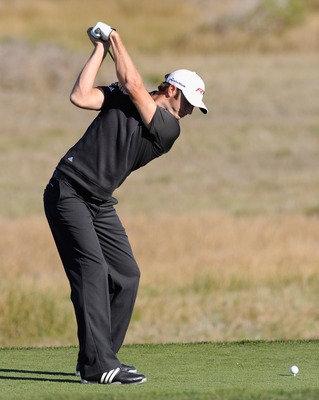 Stuart Franklin/Getty Images
He's gone from being my pick to win to the last legitimate pick I make.
The truth is, the only real reason Dustin Johnson is on here is because they're calling for rain at Riviera.
Why does that help him?
He's actually one of the best players in rainy conditions. That might have something to do with the fact that he still goes over 300 off the tee.
But if Johnson doesn't post this week, expect him to take a leave of absence from this list.
Still, he'll have his chance as the rain comes down. For now.
Ryan Moore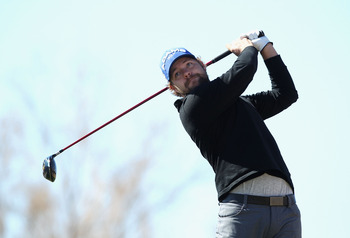 Christian Petersen/Getty Images
His first tournament didn't look too good, finishing T73 at the Waste Management. However, I see Ryan Moore coming back this week.
In the first tournament, he had some rust to shake off. He was above average in driving accuracy, but below in greens in regulation. Those two stats just don't add up.
So I see him coming back this week with a good four rounds. He'll pull his game together and take it to the club house. I like Moore's chances of placing high this week. As long as his irons can hold up, the rest of his game is good enough to push him above.
Hunter Mahan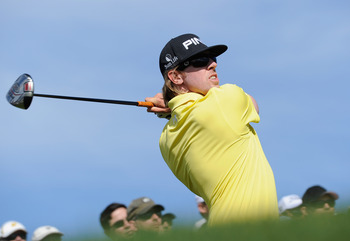 Stuart Franklin/Getty Images
After I doubted him at the start of the season, Hunter Mahan has proven me wrong.
For that, I apologize.
Mahan has done especially well in his last two tournaments, turning in two consecutive top 10 performances.
Right now, his greens in regulation and putting is what's making him better. Hitting the green is nice, but being a half a stroke better on the green than average is even better.
Mahan hits his driver extremely straight, and that will play for him this week.
If you look at the trend, he's been continually finishing higher than he has in his previous event... But does that mean it's a trend?
I don't think so, but that's just me.
Zach Johnson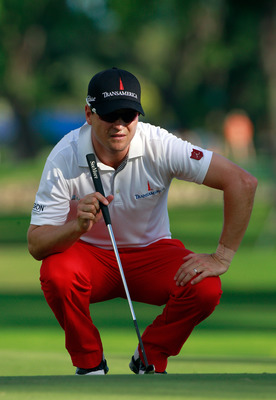 Sam Greenwood/Getty Images
After an abysmal 2010, it's high time that Zach Johnson steps up his game.
This year so far, his best finish was a T23 at the Tournament of Champions. Not such a good start.
However, that doesn't mean he can't turn things around.
That's where Riviera is important.
What I see is the first stepping stone to an important year. Zach Johnson both wants and needs to compete at a high level—and three top tens in a season just isn't enough.
If you're looking for the comeback story for the week, look for Zach Johnson's name this week.
Paul Casey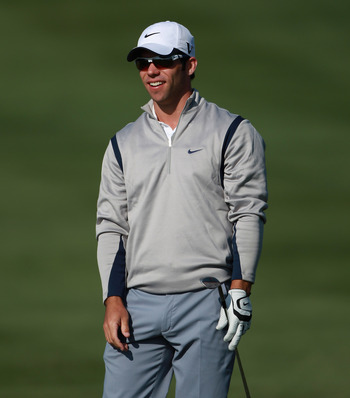 Andrew Redington/Getty Images
I don't care who won the Ryder Cup last year—Paul Casey should have been a part of it. Who leaves a golfer in the top 10 in the world off their list?
Colin Montgomerie, apparently.
But he wouldn't be left off this list. Despite not being fully committed to the PGA Tour, Casey placed in the top 10 in seven out of 14 tournaments. That's a 50 percent top 10 rate.
Another smooth swing, Paul Casey should be in the running this weekend. If no one's able to earn the number one, maybe he could slip in there.
Phil Mickelson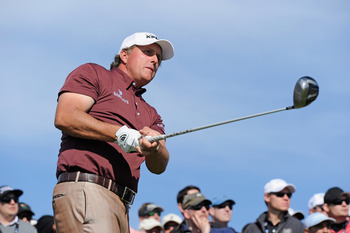 Stuart Franklin/Getty Images
Not this time, either, Phil.
Despite a strong showing before last week, Mickelson still didn't put all the pieces together. It seems he's kept up the trend of not winning early in the year.
He hasn't particularly regressed in his swing since he stopped working on it. However, where he does have issues, is the green. Mickelson's not been able to make as many putts.
But just remember, Phil. You didn't win early last year and you still got a green jacket for it. Not a bad trade-off if you ask me.
Bill Haas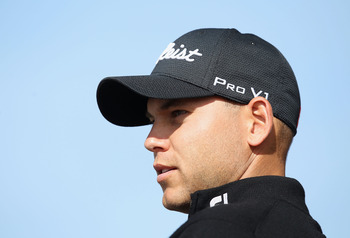 Christian Petersen/Getty Images
Despite finally finishing outside the top 25, I have no reason to believe that Bill Haas wont bounce right back.
Last week's conditions weren't exactly ideal, but Haas still managed to put together a T29.
That's not too bad, considering it's his worst finish of the year.
Before last week, Haas posted 12 solid rounds of golf that placed him in the top 10 consistently.
Expect a fourth top 10 to be added to his resume this year.
Contender: Matt Kuchar
Stephen Dunn/Getty Images
Speaking of being the picture of consistency, let's take a look at this week's contender—Matt Kuchar.
He played unbelievably last year, earning his third victory ever on tour. Not to mention, 11 top 10 finishes, and 20 in the top 25.
Kuchar has posted three top 10 finishes out of his first three tournaments. However, unlike Bill Haas, he's unlikely to face any issues at Riviera. His driving accuracy is sickening, and the rest of his stats correlate pretty closely.
Look for Mr. Consistent to turn in yet another solid, workman-like performance this week.
Winner: Luke Donald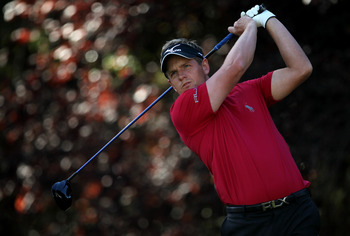 Stephen Dunn/Getty Images
Last year's runner-up, Luke Donald is among my favorite golfers to watch. He's a calm, easy-going guy, with a technically wonderful golf swing.
Last year, Donald missed the 50 percent top 10 mark by one tournament. He posted top 10 in seven out of 16 cuts made. Donald also ascended to the top 10 in the World Golf Rankings, sitting in ninth after 2010.
What I like about Donald this week is that it's his first PGA event of the year. A little odd, but I think coming into Riviera, he has motivation to take that step and win another tournament. He won last year at the Madrid Masters, but hasn't won on the PGA since 2006.
It's eluded him for four years, over which he's captured seven runner-up finishes, but this week will finally be Luke Donald's.
For those wondering—he'll be with Phil and Paul Casey for the first two rounds of the tournament. Not a bad group to watch out for.
Keep Reading