UFC Middleweight Champion Anderson Silva's Top 5 MMA Fights Of All Time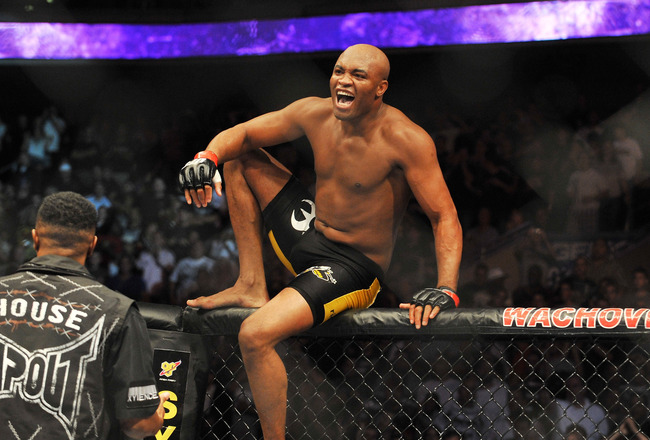 Anderson Silva, UFC Middleweight Champion
Jon Kopaloff/Getty Images
In 2006, the UFC signed and began to promote former PRIDE fighter Anderson Silva. At Ultimate Fight Night 5, he made his long-awaited debut. Since leaving PRIDE, Silva has rattled off 13 straight wins and put an everlasting mark on the sport of MMA.
5. Silva debuts in the UFC against heavy hitter and TUF season 1 alumni Chris Leben. Leben, who had won his previous five fights in the UFC predicted that he would KO Silva in the first round and send him back to the PRIDE organization in Japan, but what took place was anything but that.
It took Anderson Silva just 49 seconds to pick apart Leben's defense with pinpoint accuracy and a barrage of punches, knees and elbows that would have felled almost any man.
After a win in such spectacular fashion, the UFC would grant Silva a title shot after just one fight in the UFC.
Anderson Silva Vs James Irvin, UFC Fight Night: Silva Vs Irvin, 2008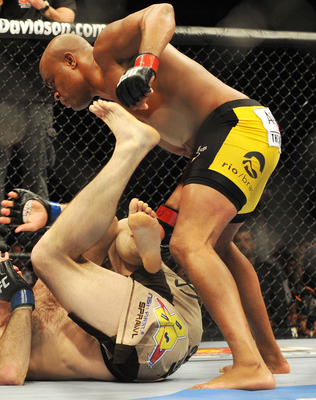 Silva vs Irvin
Jon Kopaloff/Getty Images
4. Anderson Silva moves up to the Light Heavyweight division to take on KO specialist James Irvin. After reeling off six straight wins in the UFC Silva decided to take on light heavyweight Irvin to test his skills at a higher weight class.
The result would amaze even the casual fan, as most expected a tough battle between two proven strikers and with Silva at a seemingly slight disadvantage due to the move up in weight class.
Silva quickly erased all doubt as he dropped Irvin with a straight right hand after catching Irvin's kick with his left hand, the bout came to a quick end at just the one-minute mark of the first round.
Anderson Silva Vs Rich Franklin, UFC 64: Unstoppable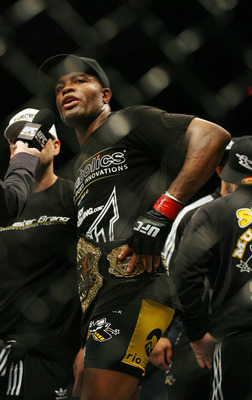 Silva vs Franklin, UFC 64: Unstoppable
Tasos Katopodis/Getty Images
3. Anderson Silva wins the middleweight championship in just his second UFC fight. Coming off his KO of heavy hitter Chris Leben, Silva would be granted a title shot against the reigning champ, Rich Franklin.
Franklin had cemented his role as one of the UFC's more popular fighters and had been dominating the middleweight division as of late.
Silva wasted no time in taking control of the fight early and utilizing his near-perfect Muay Thai skills to quickly pick apart the champion with punches, kicks and devastating knees.
Franklin was no match for Silva's Thai clinch as he absorbed multiple shots to the body and a brutal knee that broke Franklin's nose right before he collapsed to the canvas prompting "Big" John McCarthy to stop the fight just halfway through round one.
Anderson Silva Vs Dan Henderson, UFC 82: Pride Of a Champion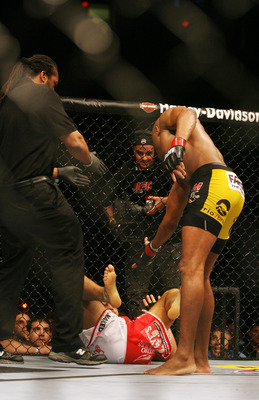 Silva vs Henderson, UFC 82
Tasos Katopodis/Getty Images
2. Anderson Silva unifies the UFC and PRIDE titles by defeating Dan Henderson at UFC 82. In a fight to unify the belts Silva took on former Olympic wrestler Dan Henderson in a highly anticipated bout.
There was a lot of speculation heading into this fight as many people doubted that Silva would survive Hendo's brutal ground and pound tactics. The first round played out how many expected as Henderson took Silva down to the ground and held him there controlling the action of the fight.
Silva fans were concerned, as this was arguably the first time he had lost a round in the UFC, but the second round would tell a different tale.
After exchanging strikes in the second round, Silva landed a barrage of punches and knees that floored Henderson.
Silva wasted no time as he took the fight to the ground and worked Henderson into a rear naked choke for the submission victory and unified the belts.
Anderson Silva Vs Chael Sonnen, UFC 117: Silva Vs Sonnen

Silva vs Sonnen, UFC 117

1. Anderson Silva defends his title for the seventh straight time against all-world trash talker Chael Sonnen. In a battle that most people could never have predicted, MMA veteran Chael Sonnen took control of the fight early by dropping Silva with punches in the first round as he caught the champion off-guard.
Sonnen would dominate the first 4 1/2 rounds with his relentless ground and pound style, take downs and his masterful control of the grounded Silva. Anderson could be seen doubled over in between rounds and most fans cheered on with an amazed enthusiasm.
With just over one minute to go in the fifth and final round and Sonnen controlling Silva on the ground, Anderson would catch Sonnen off-guard and slapped on a triangle choke that used the last of his depleted energy to retain the middleweight championship.
Keep Reading