2011 AUSTRALIAN OPEN : 5 Key Storylines To Watch Tuesday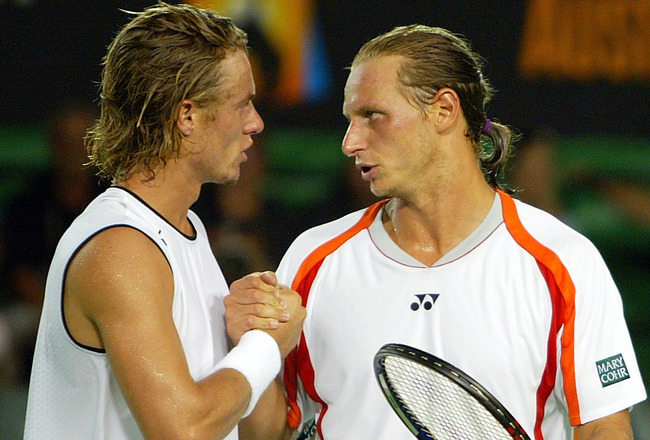 Cameron Spencer/Getty Images
As soon as the draw came out experts had all eyes on a very special first round match. Not Rafael Nadal or Roger Federer for once but instead the renewal of an old rivalry battle.
Of course these are not players from the McEnroe, Connors era, but players who have been a major factor between the Sampras, Agassi domination and the Federer, Nadal domination.
Lleyton Hewitt and David Nalbandian. Both played the 2002 Wimbledon final, with a victory from the former World number one. Hewitt v Nalbandian will be the match to watch on day 2 at the Australian Open.


No. 27 David Nalbandian (ARG) V Lleyton Hewitt (AUS)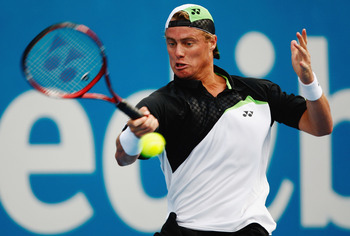 Brendon Thorne/Getty Images
Hewitt and Nalbandian share two things in common: hip injuries and long-standing enmity.
Hewitt, ranked 54th in the world and unseeded, leads Nalbandian 3-2 but has not beaten the Argentine since the pair's epic and controversial 2005 Australian Open quarterfinal. Nalbandian bumped into Hewitt at a change of ends in the match, prompting a war of words.
Nalbandian said Hewitt was "not a gentleman"' and "nobody is friends" with the Australian. Hewitt returned fire by saying Nalbandian was "not the cleanest guy." The Aussie thrashed the tournament's 27th seed in the 2002 Wimbledon final but the pair has not played since the Argentine's quarter-final victory in Sydney two years ago.

Both men, now 29, are showing encouraging form.

Nalbandian was a semifinalist in Auckland last week while Hewitt was also in the same stage at the Kooyon exhibition. This is Nalbandian's 9th Australian Open. He missed the event last year with an abdominal tear. His best result at Melbourne Park is a semifinal appearance in 2006.

Meanwhile Hewitt will be playing for a 15th straight Australian Open. He now holds the Open Era men's record for most consecutive appearances here. He is also joint-first on the men's list of all-time consecutive Australian Open appearances equal with Jack Crawford and Harry Hopman, who both played in their 15th – and final - Australian Open in 1940. No other Australian Open champion in the Open Era has had to wait this long to win their first title.

A reminder also that Hewitt finished runner-up here in 2005, becoming the first Australian to reach an Australian Open Final since Pat Cash in 1988. He lost to Marat Safin and had carried a hip injury throughout the whole tournament.


No. 3 Kim Clijsters (BEL) V Dinara Safina (RUS)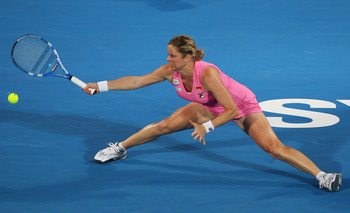 Mark Kolbe/Getty Images

Three-time U.S Open champion Kim Clijsters will open her Australian Open campaign against former World no 1 Russian Dinara Safina on Tuesday night.
It will be the first match of the night session on Rod Laver arena. The Belgian has 7-2 record against the Russian which will be a big factor in the match.

Both players met in Cincinnati last year, with a 7-5 6-2 victory from the World number 3.

Moreover,Safina will have her work cut out against the in-form Belgian, who was a runner-up in Sydney against China's Na Li last weekend. Safina in contrast was beaten 6-0 6-1 by France's Marion Bartoli in the first round of Hobart.


No. 1 Rafael Nadal (ESP) V Marcos Daniel (BRA)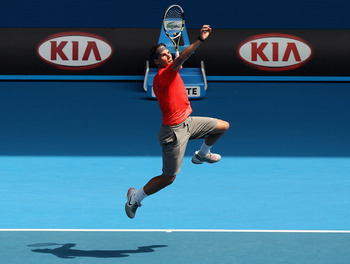 Mark Dadswell/Getty Images
Brazil's Marcos Daniel had a good news and a bad news on Friday morning when the draw was released. The good news is he will be playing at a Grand Slam centre court for the first time in his career, the bad news is he will be playing top seed Rafael Nadal, who is bidding to collect his fourth straight Grand Slam title to complete a non-calendar year Grand Slam.
Only Don Budge and Rod Laver have held all four titles at the same time. At last year's US Open, Nadal became the seventh man in history to win all four Grand Slam titles. He was the 3rd-youngest in history, and the youngest man in the Open Era, to do so.
As seen on the picture, Nadal might be very well flying over the course the match since Daniel will be competing in his 5th Australian Open and looking for his first win here. The Brazilian has lost in the first round of 14 of his 15 Grand Slam appearances.
No. 5 Andy Murray (GBR) V Karol Beck (SVK)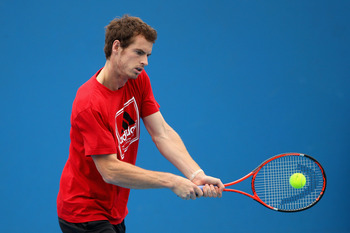 Lucas Dawson/Getty Images
The 23-year-old Scot, seeded fifth, will begin his campaign on Tuesday in the same half of the draw as world number one Nadal. Murray will play Beck for the first time, with the 28-year-old Slovakian currently ranked 104 in the world.
Murray is playing the Australian Open for a 6th straight year. Last year, he reached the final here for the first time. He became the first British man in the Open Era to reach 2 Grand Slam finals and the first British man to reach the Australian Open Final since John Lloyd in 1977. It is also worth mentioning that the Scot has lost in the first round at Melbourne Park twice. In 2006 he lost to Juan Ignacio Chela of Argentina; in 2008, he lost to the runner-up Jo-Wilfried Tsonga.

Strangely enough it's Beck first appearance at the Australian Open since 2005, when he recorded his best result here by reaching the 3rd round.
Beck has failed to qualify for the Australian Open for the past two years.

However some might remember also that the man from Slovakia missed the 2006-07 Grand Slam seasons while serving a two-year doping suspension.



No. 20 John Isner (US) V Florent Serra (FRA)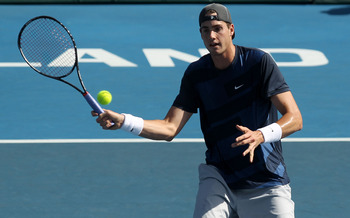 Phil Walter/Getty Images
The Florida resident is competing in his 4th straight Australian Open. Last year here he reached the round of 16—equalling his best result at a Grand Slam. He also reached this stage at the 2009 US Open.

Isner lost in the 1st round at the Australian Open on his debut in 2008 and again in 2009. He has lost in the 1st round at 5 of his 11 major appearances so far.

Some who read these stats might think it's not a very promising start.

However, Isner reached a career-high ranking of No. 18 in 2010 and finished in the year-end Top 20 for the first time. His best results last year were winning the title at Auckland. But many tennis fans remember the World number 20 from Court 18 at Wimbledon where the American played the most amazing match of the decade.
Isner defeated France's Nicolas Mahut 64 36 67 76 70-68 in the first round defeat of Wimbledon last year and set the record for the longest ever tennis match in history in terms of number of games and duration. The match lasted 11 hours 5 minutes and totalled 183 games. The final set alone lasted 8 hours 11 minutes. This match alone should serve as a key milestone to Isner's career.

Meanwhile the 20th seed will be playing Florent Serra, another relatively unknown Frenchman on Tuesday.

This is Serra'S 7th consecutive appearance at the Australian Open. Last year he reached the 3rd round equalling his best result at a Grand Slam. He also reached this stage at 2008 Roland Garros. Serra is appearing in his 22nd consecutive Grand Slam event. The Frenchman is one of 15 men to start in the main draw to have played in each of the last 20 majors.

Isner knocked out Serra 7-6 6-4 in San Jose on their first meeting two years ago.

Stay tuned!







Keep Reading