Strikeforce's Herschel Walker: Videos of 10 Opponents Who Can End His MMA Career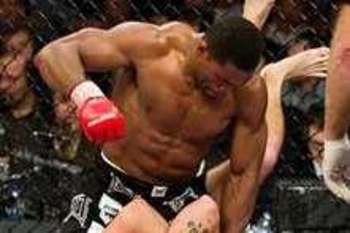 Herschel Walker
At 48 years old, Herschel Walker has transitioned from an illustrious NFL football career into the physicality and skillfulness of an ultimate fighting career later than most.
At 6'1" and with 220 pounds of shredded muscle, Herschel's physique is envied by challengers half his age. Possessing tremendous strength and power, Walker was victorious in his debut professional fight against Greg Nagy on January 30, 2010.
Staying in peak physical shape, Herschel's legendary workout programs, including thousands of push ups and sit ups daily, has been the foundation for his training to become a top MMA competitor.
Recently stating on The MMA Hour that "he would like to become an ambassador for ultimate fighting," Herschel's brief involvement within the Octagon may come to an end after his second professional fight on January 29 versus Scott Carson in San Jose, California.
If this genetic phenom continues to fight professionally in mixed martial arts, he will climb up the competition ladder within Strikeforce, facing tougher competition with each fight.
Currently limited in his overall fighting abilities and continually developing his game at the American Kickboxing Academy, Walker is noted as stating that he is still an amateur within the octagon.
However, the reality is that he is on the current heavyweight roster within Strikeforce. Therefore, the following is a list of hypothetical opponents who can end Herschel Walker's MMA career prematurely.
I look forward to your comments.
Todd Seyler
"Like" me on Facebook
Follow me on Twitter @magnus06
No. 10: Eric "Butterbean" Esch

Butterbean's Highlight Video

Realizing that Butterbean is not on the current list of heavyweight contenders for Strikeforce, this slide is included for one reason only, KO POWER!
Butterbean is not a talented kick boxer nor is he a very skilled ultimate fighter, but as a boxer, his record is 77-8 with 58 knockout victories.
If for some reason Herschel Walker attempts to stand and trade with Butterbean, it would only take one punch from the "King of the Four Rounders" to end Walker's MMA career.
No. 9: Bobby Lashley

Bobby Lashley's MMA training

Coming off a TKO loss to Chad Griggs in August of 2010, Bobby Lashley's inexperience as a professional ultimate fighter was exposed.
Limited in his ability to take down his opponent and without the stand-up faculties to dominate on the feet, Lashley was eventually beaten, battered and forced to quit in between the second and third round.
This writer knows full well that both Bobby Lashley and Herschel Walker are novices within the fight game. And after describing Lashley's recent loss in his previous fight, you may wonder why I have him on this list.
And the answer to that question is because you only need to watch Bobby Lashley train to witness the power, strength and brute force this man possesses. Landing a Hail Mary haymaker on Herschel Walker has the potential of ending a fighter's career. Lashley is just that powerful.
No. 8: Andrei Arlovski

Andre Arlovski's victories within the octagon

Andre "The Pitbull" Arlovski is a seasoned veteran within the Octagon. A one-time UFC heavyweight champion and M-1 European heavyweight champion, Arlovski possesses a 15-8 overall MMA record with 11 knockout victories.
Losing his last three fights, "The Pitbull" is slated to compete against Sergei Kharitonov on February 12 in the Strikeforce Heavyweight tournament quarterfinal.
Known for his stand-up abilities, Arlovski has left opponents beaten and battered. His victory over Justin Eilers at UFC 53 in 2005 later revealed that Eilers suffered extensive injuries, including a badly broken nose, two broken hands and a complete ACL tear.
In the end, Arlovski possesses the fight game capable of ending Herschel Walker's career.
No. 7: Brett Rogers

"The Grim" Brett Rogers Highlight Video

A pure brawler, "The Grim" Brett Rogers lives by one motto: Win by knockout or lose by knockout.
With a 13-2 overall MMA record with nine knockout victories, only one of Rogers' fights has gone the distance.
There is nothing flashy about Brett Rogers. He steps foot into the Octagon with the intent of brutalizing his opponent. If successful against Herschel Walker, the legendary football player's MMA career will be short-lived.
No. 6: Lavar Johnson

Lavar "Big" Johnson Highlight Video

Lavar "Big" Johnson is a 6'4", 251-pound destructive force within the Strikeforce heavyweight division.
A Muay-Thai freestyle fighter, Johnson trains with amazing strikers, including UFC heavyweight champion Cain Velasquez at the American Kickboxing Academy in San Jose, California.
Funneling his obvious strength and power into each and every strike, Lavar has (T)KO victories in 13 of his 15 overall wins.
Because he is teammates with Herschel Walker at AKA, this matchup may never come to fruition. However, if business is placed into the forefront, Walker needs to keep his chin down and his hands high when exchanging with this human wrecking machine.
No. 5: Shane Del Rosario

Shane del Rosario

Shane del Rosario is undefeated in MMA and is 7-1 as a professional Muay-Thai kickboxer.
With stand-up abilities, including devastating leg kicks and powerful punches, del Rosario blends the assets of each discipline into a dynamic fighter inside the octagon.
Ever improving as an ultimate fighter, del Rosario's background as a kickboxer is what makes him so lethal inside the cage.
Punishing the lead leg of Herschel Walker, del Rosario will leave the former football great hobbled and tending to damaged legs like some of his cohorts on the gridiron.

No. 4: Daniel Cormier

Daniel Cormier

A wrestling sensation at both the collegiate and Olympic levels, Daniel Cormier is currently undefeated at 7-0 in mixed martial arts.
With tremendous knockout power, Cormier's skills in the stand-up battle surpasses that of Herschel Walker.
Stylistically similar as fighters, I could envision this fight going into the later rounds with Cormier's experience inside the cage being the difference.
Whether Walker's end is the result of a spine-jarring takedown or a thunderous right hand, a fight between these two former collegiate greats may leave Herschel leaning towards retirement.
No. 3: Fabricio Werdum

Fabricio Werdum VS Fedor Emelianenko

Currently the only man who has beaten Fedor Emelianenko since his first-ever loss inside the cage over 10 years ago, Fabricio Werdum is a second degree black belt in Brazilian jiu-jitsu.
Earning his living off his back locking in submission after submission, Werdum would rapidly expose Walker's lack of jiu-jitsu training.
Knowing that he could dominate Herschel Walker on the mat, Fabricio Werdum could easily destroy one of Walker's joints with a variety of submissions including a heel hook, arm bar, shoulder lock or all of the above.
This matchup would render Walker permanently injured.
No. 2: Fedor Emelianenko

Fedor Emelianenko Highlight Video

For MMA purists, Fedor "The Last Emperor" Emelianenko needs no introduction. Possessing explosive power, relentless punches and a tireless conditioning level, Fedor has brutally beaten many opponents over the past decade.
As a gold medal champion in Russian Sambo, Emelianenko's fight game includes a high level ground attack. Constantly tenderizing his opponents from the guard, "The Last Emperor" incorporates devastating ground and pound into his fight strategy. Additionally, the former champion can lock in a joint popping submission as well.
Whether on his feet, fighting off of his back or imploring a vicious ground-and-pound assault, Fedor Emelianenko has left opponents severely beaten in the past and has the capability of doing the same in the future.
Herschel Walker survived 11 seasons in the NFL, but can he survive 15 minutes with Fedor Emelianenko?
No. 1: Alistair Overeem

Alistair Overeem's Highlight Video

Both the current K-1 kickboxing heavyweight champion and Strikeforce heavyweight champion, Alistair "The Demolition Man" Overeem is at the top of both sports.
With a physically imposing frame, Overeem channels all 6'5", 252 pounds of his fierce muscle into each devastating strike.
As a champion kickboxer and highly adept ground practitioner, Overeem can beat an opponent on his feet or on the mat.
Delivering gut-wrenching knees from the clinch, Alistair can damage the insides of any man, including Herschel Walker.
Keep Reading