Cortland Finnegan and the 20 Dirtiest Players in Sports Today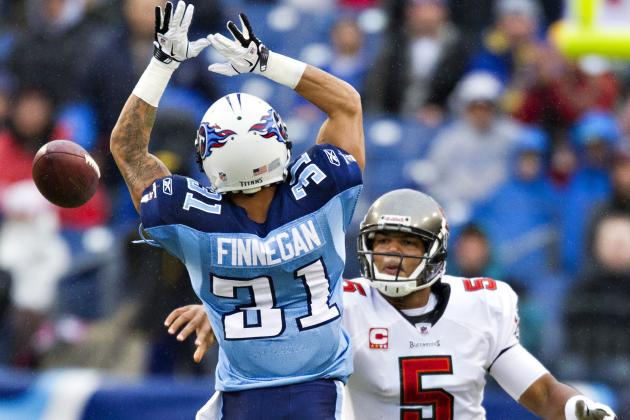 Wesley Hitt/Getty Images

Cortland Finnegan is that type of player that likes to get an edge any way he can. Many times these types of players are labeled as dirty. We saw first hand what dirty players do to their opponents. Finnegan's face mask grabbing of Andre Johnson at the line of scrimmage pushed the receiver too far. Johnson threw Finnegan and his helmet to the ground.
But Finnegan is not alone in his ability to get under the skin of the opposition with his dirty play. Here is a list of the the dirtiest players in sports.
Begin Slideshow

»
Doug Pensinger/Getty Images

Many times, a player is quick to pull out a dirty tactic in a compromising situation. That is what Victorino did in a pickle during a game between the Phillies and the Mets. Victorino went out of his way to lay and elbow on Jose Reyes to initiate contact. You can view the video here.
It is easy to be labeled as dirty when you are the biggest and strongest on the field. Ray Lewis may be playing within the confines of the rules, but his hits are so massive that it looks like he is out for blood.
Kenyon Martin epitomizes that player that will completely disregard decorum just to get things on an equal playing surface. When he was outplayed by Dirk Nowitzki in the 2009 playoffs, he resorted to street ball.
Nowitzki was swift enough to get around Martin, so the slower player decided he would just throw Dirk to the ground. Granted, we have all wanted to do the same thing. That still does not make it right.
Elsa/Getty Images

Baseball players have a different term for dirty players: bush league. That is exactly the sentiment that has followed Alex Rodriguez in his career.
He has tried to hit a ball out of the glove of a first baseman and has attempted to call a player off of a fly ball while running into second as a runner. I haven't even mentioned his admitted involvement with performance enhancing drugs. Oh, I guess I just did.
Avery is so dirty that the NHL had to institute a rule to take away his favorite tactics. He would stand in front of the goalie and get in his way of seeing the puck. Meanwhile, his team would shoot on goal with the goalie good and distracted.
It is a considerably unethical play that is thankfully now defunct. It takes a certain type of person to think this one up.
Chris Paul is not afraid to get his hands dirty. If the situation calls for it, he will set an illegal pick or give a forearm when no one is looking. Or he might even punch a dude in the groin like he did while playing at Wake Forest.
Chris Paul punched North Carolina State's Julius Hodge. He has gone onto an illustrious career filled with incidents of less than ethical practices.
A quick look into Gauthier's past, and you will find that he thinks the main goal in hockey is to kill people. Gauthier finds more pleasure in leaving his feet to put a hit on another player than anything else. In the posted video, he disregards the progress of the play and looks to get a little retribution.
Sucker punch withstanding, this is one bad mother.
Nyjer Morgan is old school. It is too bad that he takes after a player like Ty Cobb than anyone else. He has thrown a ball in the stands when he lost his cool. He has taken out catchers and separated their shoulders doing so.
He is one player that you can feel certain will charge the mound given the opportunity. It is as if he wished baseball were a contact sport.
Steve Ott is like a caged animal. Only instead of keeping that animal in a cage, you sign him up for NHL level hockey. The result is hard hits and many, many fights.
Here we have the Ducks getting sick and tired of Ott and his rambunctious behavior.
Garnett is my favorite type of dirty player: crazy. Garnett can be seen many times pushing and shoving his opponent simply to intimidate. Then he runs down the court muttering expletives to himself.
There are so many great instances to choose from. My favorite is his cheap shot on Marco Belinelli. After getting away with it, Garnett goes back to talk junk. That's like robbing the corner store and then going back to break a twenty.
A dirty player really believes in their sick mind that unethical play is all part of fair game. Cheap shots and shoves are part of their arsenal of weapons that can be used at will. Matterazzi is the pinnacle of this in the world soccer venue.
He has made a career of getting under the skin of his opposition. He did so on the biggest stage in 2006. At the World Cup, Zinedine Zidane felt it necessary to head butt Matterazzi.
Steve Downie has only been in the league for five years, but he already has an impressive resume of cheap shots. The pinnacle for me is the knee shot he gave Sidney Crosby last season.
I guess if you are trying to guard the best player in the world, you will resort to any tactic you can think of.
Hines Ward is known for the speedy option he gives to Ben Roethlisberger as a receiver of the the Pittsburgh Steelers. But he is famous around the league for his boarder line blocks.
In one instance, you shake your head at pitiful play like that. On the other hand, you have to say that for once, defenses have to be wary of a diminutive receiver putting a hit on them.
Courtland Finnegan is renowned for initiating head contact at the line of scrimmage. Andre Johnson was well aware of that fact and acted as he saw fit.
Dirty players get under the opponent's skin. The logical next step is for a fight to break out, just like it did today in Houston. This will not be the end of dirty play. It is just a by-product of its existence.
A defenseman is bound to get their hands dirty. There is no way around it. It's just that Pronger has made quite the habit of it.
Nigel De Jong has absolutely no qualms about lighting up another player with a dirty hit. He would prefer, though, to go in feet first as he did in the 2010 World Cup Final.
It is one thing to punch a player in the most respected of human parts a man has. It is entirely different to grab at them while another player is trying to go for a rebound.
You should feel safe as a player that as you are playing a game, no player on the court will reach down and try to grab at your manhood. Evans crossed a line there. That is a gross understatement. He sashayed across the line, and Sports Illustrated had him as the dirtiest player in the NBA.
Did someone say cat fight? Lambert became the face of dirty play in women's sport last year. Her despicable play in the match between New Mexico and BYU made instant headlines.
She did everything I could think of. She kicked players when they were down, punched players in the back, and tugged on hair. This was all in one game.
James Harrison hits so hard I feel it sitting on my couch eating Funyuns. The new helmet to helmet enforcement rule seemed to be invented for Harrison.
Harrison loves to lead with his head. That is, after all, the best way to inflict the most pain. The scary part is that Harrison sees absolutely nothing wrong with his actions.
Before Albert Haynesworth was getting fat while sitting on the sidelines for the Washington Redskins, he was picking up a check and breaking necks for the Tennessee Titans.
Some times a dirty player is not trying to get an edge; rather their inner animal comes out and they snap. They resort to horrid tactics simply because at the moment, they are inhumane. This is what happened to Albert Haynesworth when he kicked the grounded Andre Gurode. He saw an unprotected head and thought it needed a foot put to it.