The 10 Fighters Who Fight Back Against the Wrestler Rage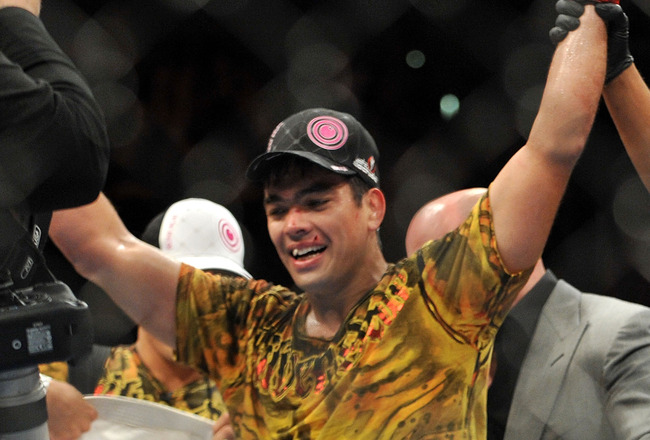 Jon Kopaloff/Getty Images
With the sport of Mixed Martial Arts evolving, more and more fighters are starting to see that wrestling is effective and damage free at times, making way for high school and Olympic wrestlers in MMA.
Good wrestlers are very dominate and have the skill to control the pace and put the fight where they want it. This can work but, in many cases, leads to drawn on boring decisions a la Fitch and Maynard. There are one dimensional wrestlers who think they can even make it all the way in MMA and without these fighters they most likely could.
The following fighters have excelled in all aspects and thoroughly stop the dominate wrestlers in their tracks, but also create exciting, fast paced fights that fans desperately need to see. Their style has worked and all of them have reached the top of the food chain.
I welcome you to The 10 Fighters that Fight Back Against the Wrestler Rage.
Honorable Mentions
Jon Kopaloff/Getty Images
These fighters would be a winning combination against wrestlers, but they haven't tasted top wrestler opposition to be in the top 10. Once they face a wrestler, their stock and respect shoots up greatly.
Alistiar Overeem—This man has a mean variety of tools to deal with the typical wrestler. Their double leg take-downs would fall directly into several of his deadly techniques.
He could use the Uberknee that knocked out countless respected professional K-1 fighters and poor washed up Fujita.
He could use the infamous guillotine that submitted many MMA fighters and won him a ADCC championship.
He could use the piercing uppercut that seems to break through the seemingly impregnable defense of K-1 strikers and fighters.
With these tools, combined with his speed, power and size, he could destroy any upcoming wrestlers and stuff them through the ground. I say he should welcome a fight with Brock Lesnar and show him what a true mixed martial artist is.
NIck Diaz—This man is highly controversial, but there is no doubt he is one of the most exciting and badass fighters out there.
He suffered some set backs in the UFC against powerful wrestlers, but over the years, improved enormously and even defeated Tibau and Gomi. I think he should come to the UFC and prove that he has what it takes to topple the wrestlers.
Junior Dos Santos—He has earned a title shot against Cain Velasquez and has developed from a prospect to a serious contender. He has one of the most explosive striking styles in MMA and even though he's faced some strong grapplers, he hasn't proved himself against a a competent wrestler.
If he can train his TDD enough, he'll be coming home with a belt around his waist.
10) Carlos "The Natural Born Killer" Condit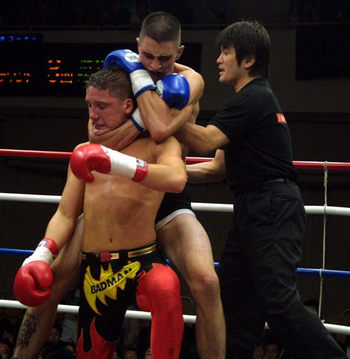 Carlos Condit is a nasty fighter.
One of the only fighters whose nickname fits perfectly. He comes in the octagon with a never die attitude and gives it his all no matter what happens, and usually, this lets him pull off a win. In both the UFC and WEC he has not lost a fight (I thought Condit narrowly won his fight against Martin Kampmann) and in the 10 fights he's had in the organization, he's finished all but two of them.
Carlos is one of the few fighters in this list who actually has pretty poor TDD but makes up for it in his other areas: striking and BJJ.
With an iron chin, he is able to throw bombs and be aggressive, while at the same time have spot-on technique. His wild hooks and knees usually deliver him the knockout, but he also has a trickly ground game to go along with his standup. His sweeps and stand-ups are second to none and he is able to also pull off armbars and rear naked chokes once in a while.
The list of wrestlers he has gotten the best of is recent and includes top level competion in Rory MacDonald, Jake Ellenberger, and Martin Kammann. Brock Larson. Condit is a force to be reckoned with, and if he gets past Chris Lytle, it will be hard to deny him the title shot he deserves.
9) Wanderlei "The Axe Murderer" Silva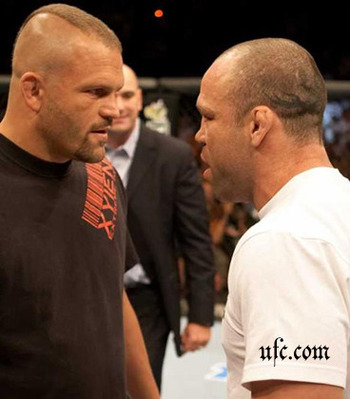 Wanderlei Silva needs no introduction, because any semi MMA fan has heard and enjoyed his go-for-broke fighting style.
Wanderlei has a convincing argument to be labeled as the GOAT of the light heavyweight division, and even after a decade of non-stop fighting the best competition in the world regardless of the weight classes (Mirko Crocop, Mark Hunt), he is near the middleweight top 10.
Many people have tried to replicate this beast-like effective style, but few have successfully done it because they can't combat the wrestler's control. Wanderlei has amazing TDD and most of the time doesn't even let wrestlers have a chance to shoot because they're out cold.
People may argue being aggressive lets wrestlers have an opening to get a take-down, but being as aggressive and precise as Wanderlei has broken that argument.
He has slain the likes of Ricardo Arona, Kazushi Fujita, Hidehiko Yoshida, Kazushi Saukuraba (2x) and Dan Henderson, to name a few, and found a way around their smothering wrestling techniques.
The MMA world is grateful for Wanderlei Silva.
8) Rich "Ace" Franklin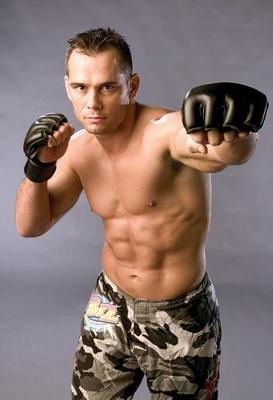 Rich Franklin is a legend and veteran of the sport of MMA.
He is a former middleweight champion of the UFC and has fought many worthy opponents of all shapes and sizes. Ace has been successful because of his nonstop peppering and technical striking style that has confused and defeated a surplus of fighters. He does well against wrestlers because of his lighting fast scrambles and nice clinch work.
He has beaten the man who is getting a title shot,Yushin Okami, and also Matt Hamill, Travis Lutter and Jason Macdonald.
Even though Franklin is reaching a little bit past his prime, I feel that he will always be an exciting fighter and be a challenge to any wrestler that stands in his way.
7) Brendan "The Hybrid" Schaub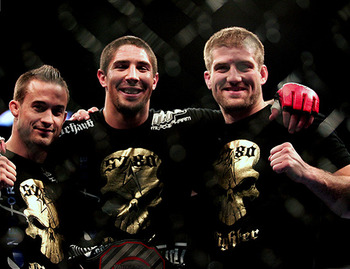 Brendan Schaub, in my opinion, is one of the new breed heavyweights who can and will be a contender for the belt in some time.
He is a great mixture of agility and power and has the footwork to run circles around you. This footwork and reaction time lets him spot take downs from a mile away and capitalize on mistakes his opponent makes. Even when he gets taken down, Brendan shoots back up before you even realize his back's on the floor.
Another factor that lets Schaub be so annoyingly effective against wrestlers is his incredible reach, which will pepper you for the majority of the fight. Training with the monster of a fighter in Shane Carwin also has led to the great progress Brendan is making.
In his young career as a fighter, "The Hybrid" has already taken out Chase Gormley, Chris Tuchscherer and Gabriel Gonzaga.
Let the take down based fighters keep coming, because I don't see many fighters who can stop Brendan!
6) Fedor "The Last Emperor" Emelianenko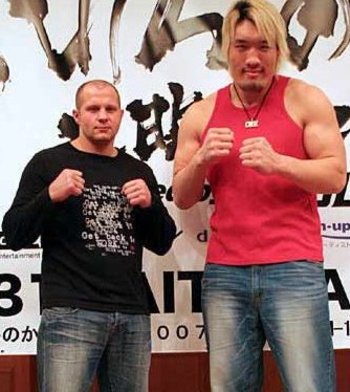 Fedor is not just one of the greatest of all time in the heavyweight division, but arguably the most dominant MMA fighter of all time. He has ruled the division for over a decade and has not lost a round until recently, when Fabricio Werdum gave Fedor the first lost of his career.
Fedor is the definition of a true martial artist, and it is really hard to find a glaring flaw in his game because there is none. When fighters fight him, they are unsure of what to do—Fantastic grapplers get submitted or controlled by Fedor and high level strikers get knocked out clean.
Fighters like Ricardo Arona, Kevin Randleman, Mark Coleman (2x), Kazuyuki Fujita and Matt Lindland have tried beating Fedor on the ground, but all have failed miserably. Fedor is the perfect counter to not only a wrestler but any human, and I don't know if there ever will be one like him again.
5) BJ "The Prodigy" Penn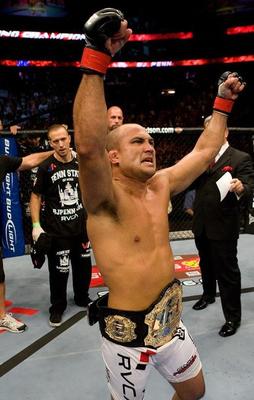 BJ Penn is one of the most talked about fighters in MMA, and there's a reason for that. He either performs amazingly or comes in sick and out of shape. He is the Lightweight GOAT and has only lost to the fighters that will leave a mark on MMA.
Penn has such a good array of skills that naming his strong point is a challenge.
He is famous for his ground game, because he was one of the youngest American grapplers to win a high level BJJ title. But then, in his MMA, he consistently knocks people out cold, so with this kind of mixture, you become a force to be reckoned with for some time.
BJ is so dominant against wrestlers because he has fantastic flexibility that lets him stop take downs but also tie people up on the ground. Also, while stuffing take-downs, Penn relentlessly beats down on opponents, stealing their will to fight and making himself more energized. Penn TDD is one of the best in the business, and it will stay that way for a very long time.
BJ Penn has defeated some of the most well respected wrestlers in the sport, including Matt Hughes (2x), Diego Sanchez, prime Sean Sherk, Joe Stevenson and Gomi. This list of fighters is incredible and people agrue that Penn even beat GSP the first time. Penn has been the face of MMA for a while and defines what a true warrior is.
4) George Sotiropoulos
G-Sot is a man of all trades and while some may call him a prospect, I call him the future champion.
He is slowly but surely working his way up to the top and has amassed a perfect record of 7-0 in the UFC. He uses quick sharp head movements and always keeps his hands up while throwing punches at all angles at his opponent. With his long reach and technique-prefect striking, that's enough to give anyone a handful—but thats not all.
George's main strength is his savy ground game that works wonders, cruising him towards victory every time. He not only has top position that delivers excruciating arm-bars and flowing kimura, his bottom game (rubberguard) stifles dangerous ground and pound and secures funky sweeps that eventually lead to a submission.
George is comfortable in all areas of the game and it shows greatly.
George has beat down several fighters like Joe Stevenson, Kurt Pellegrino and one who seems like a wrestler at times, Joe Lauzon. George is extremely close to a title shot, and he matches up well against someone like Frankie or Gray.
3) Anderson "The Spider" Silva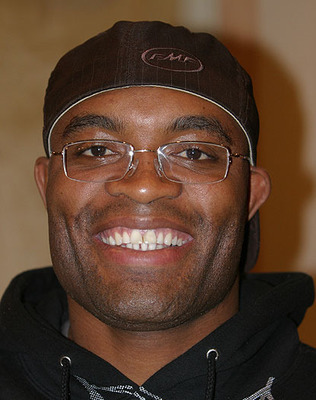 Anderson Silva is, for some people, the best pound for pound fighter in the world.
He consistently beats top competition and has not lost a single fight in more than five years. On top of that, he has broken the record for most fights won in a row in the UFC and consecutive title defenses. The Spider has faced criticism in the past but will always be looking for the win.
He may seem like he doesn't obtain lots of power, but since his strikes hit so fast and are so precise, he leaves the octagon with a frustrated body usually on the floor. He has a black belt in BJJ and has trained and competed in numerous boxing and Muay Thai competitions. He has several ways to win and usually stays on the outside with his footwork before rushing in and doing damage.
The UFC has figured out that there may not be any middleweights in the world to make Anderson admit defeat and have tried giving him a variety of opponents, including strikers, BJJ specialists and wrestlers.
These fighters include Dan Henderson, Nate Marquardt, Travis Lutter,and finally, Chael Sonnen.
2) Lyoto "The Dragon" Machida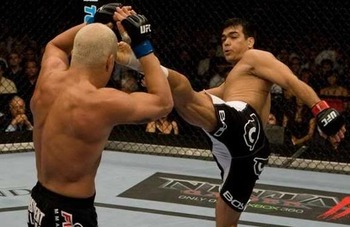 Lyoto Machida is a fighter in his own category.
His style of fighting is unlike anyone that has ever fought, and it's unbelievably effective. Machida is a former champ in one of the most stacked divisions in MMA and he earned it. Machida, until recently, has been labeled boring, but in my opinion, is a mighty smart fighter that does what fighting is all about:
Deal damage without taking any.
Lyoto's hand speed is incredible, and he has elusive footwork that makes him nearly impossible to hit or take down. The moment you get absorbed into his striking, he will judo throw you to the ground. Wrestlers not only can't get close to the double leg, but they can't even touch Lyoto, seeing as he has the percentage of getting hit the least in the UFC.
The fighters that Lyoto has frustrated include No. 1 contender Rashad Evans, Tito Ortiz, judoka Rameau Thierry Sokoudjou and Sam Greco. The Dragon era may be over, but Machida is just getting started with his destruction of the light heavyweight division.
1) Jose "Junior" Aldo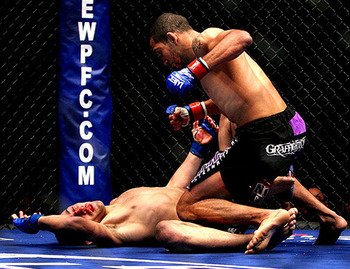 Jose Aldo is one fighter whose stock has risen exponentially over the years.
He cautiously made his way up the ladder, being known as the fighter who had potential and finishing power until everything changed.
Once Jose Aldo challenged Mike Brown for the WEC title, his life chaged forever. The way that Aldo dispatched Brown made people really open their eyes and see that just ahead of them was the potential GOAT of MMA.
Aldo's striking had the power of Dan Henderson while at the same time having the speed and precison of Anderson Silva. He had a rock hard defense while at the same time having a ground-game that had won many BJJ tournaments.
But most of all, Aldo dealed with wrestlers extremely well and had avoided almost every single takedown attempted, showing wonderful TDD or brutal knees—Aldo was the real deal.
Jose has taken out the best the WEC had to offer, including Urijah Faber, Mike Thomas Brown, Jonathan Brookins, Manny Gamburyan and much more.
With this merger of WEC, Aldo may move up and test himself against even higher caliber opponents and prove to be victourious. He is a nightmare for fighters of any style, not just wrestlers.
Keep Reading