VIDEO: The Worst Football Misses Of All-Time, Feat. Fahad Khalfan and Friends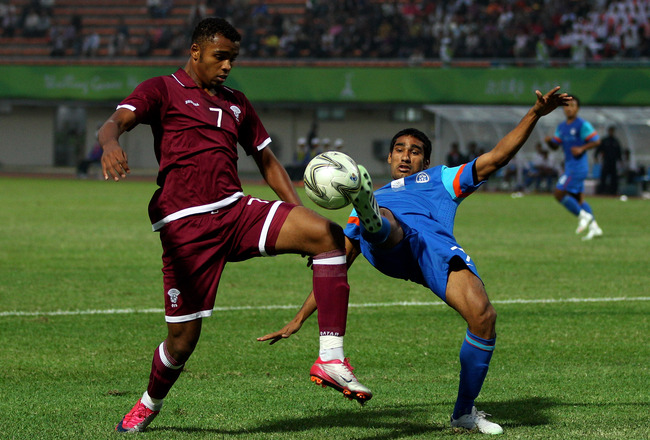 Richard Heathcote/Getty Images
It has been hailed as the worst miss of all time and to be honest I can't think of anything that even comes close to matching it for sheer comedy. Every footballer wants to become world famous, but for the right reasons!
Just look at the interest to Matty Burrow's wonder goal earlier this year. The Glentoran striker has become an internet sensation with his back-heeled volley getting around four million hits on YouTube alone.
Well, for every good luck story there is an equally funny one. And believe you me, Fahad Khalfan's rise to fame is wreathed in bad luck.
The 18-year-old Qatari striker is being credited with making the worst miss in football history, yes it is that bad.
Afterall, eight million hits on YouTube can't be wrong can it?
The Al-Rayyan striker with four goals in six club games was playing for his country against Uzbekistan in the 16th Asian Games when he committed the error that will be added to blooper reels for the next 50 years, or more!
Unbeknownst to many, Fahad Khalfan is actually the first graduate from the Aspire Sports Academy in Qatar to play for his country.
"To have one of our players make his full debut for Qatar is a major boost for all of the staff at ASPIRE. Fahad improved enormously last year under the guidance of our coaches," said Aspire's Director of Sport Wayde Clews.
Good luck with the bid for 2022.
If only the walls had ears when poor old Fahad missed the target from three yards.
Racing onto a poor back pass to Timur Juraev, who inexplicably jumped over the ball, Khalfan was left with an open goal to score in. It doesn't take a genius to work out that young Fahad is extremely fast and extremely left footed.
So much so that even though the entire goal is open, even though there is no one near him, and even though the ball is set up for his right foot, he swings his left peg across his body to miss-kick the ball against the post!
It is about as bad a miss as you are ever likely to see, but it is worth seeing.
To add insult to injury, Uzbekistan then went on to win the match 1-0.
Fahad Khalfan: Worst Miss Of All Time?
If you can lip read, what the youngster says while holding his head is about the best word to describe the miss.
Rocky Baptiste: Thank God For Fahad Khalfan...
Who could forget this wonderful piece of skill by Rocky Baptiste?
The Worst Miss Ever?
This is a real "daisy cutter" by some dude called Sivonjic.
Ronny Rosentahal Will Never Be Forgotten...
Who can remember that Ronny Rosenthal spent 20 years as a professional footballer at an extremely good level? You'll never forget that miss though, will you?
Kei Kamara: Handle With Care...
You have to admire the commentators for staying so straight after witnessing one of the greatest moments in football history.
They knew what they saw, right?
Some Italian Dude...
Don't know who he is, or who he's playing for.
But he's Italian and it's funny.
The Music Doesn't Help...
Ever had one of those chances when you could have put the ball over the line with yours?
They Missed In The Olden Days Too...
Dynamo Kiev vs. Shaktar Donetsk in the old days I believe.
Siberia here we come!
Farad Khalfan Meet David Villa...
No need for the young lad to be too disheartened.
Here's the best striker in the world missing from one yard.
Farad Khalfan Meet Diego Maradona...
Even the greatest player of all time misses.
Here's How It's Done. The Goal That Will Win The UEFA Goal Of The Year 2010.
Here's how it's done, courtesy of Glentoran's Matty Burrows.
Keep Reading

Liverpool: Like this team?