ALCS 2010: Cliff Lee Is Leading the Texas Rangers to the World Series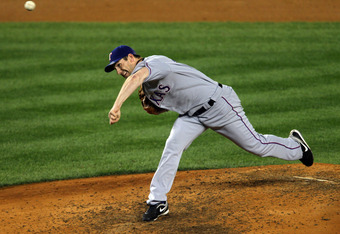 Cliff Lee looks to lead the Rangers to the World Series.
Jim McIsaac/Getty Images
Before the game yesterday, Cliff Lee facts were trending on Twitter (#cliffleefacts). Some of the facts were ridiculous, such as "Cy Young won five Cliff Lee Awards", and "Neftali Feliz does not have to come to the game when Cliff Lee pitches, because Cliff Lee needs no closer."
Here was my personal favorite: "Cliff Lee's wife does not flirt with him, because no one hits on Cliff Lee." These jokes were made all in good fun before the game, seeming more like hyperbole than fact. Then the game started, and suddenly some of those "facts" looked more like the truth.
Lee baffled the New York Yankees star-studded lineup, many of whom left the batter's box shaking their heads. He allowed only two hits in eight innings, striking out thirteen and walking only one.
The great Yankees lineup found Lee virtually unhittable, and the Rangers came away with an 8-0 victory. Lee's counterpart Andy Pettitte, the career leader in postseason wins, gave up a two-run homer to MVP candidate Josh Hamilton in the first inning, and that was all the help Lee would need.
Lee shut down the Yankees for eight innings and was prepared to return for the ninth, but when the Rangers mounted a six-run ninth inning rally, Feliz came into close out a game that was, by that time, out of reach for the mighty Yankees. The jokes about Lee being too good, unhittable—and even inhuman—no longer seem so far-fetched.
Lee has solidified himself as "Mr. October," having never lost a postseason game. Now the Yankees must win three games in a row to avoid facing him again, something that they want to avoid at all costs.
What does this mean for the Rangers and the Yankees?
The Yankees, trailing 2-1 in a series that the Rangers have completely dominated for all but one inning, face what is essentially a must-win game tonight, and they are sending their worst starting pitcher, A.J. Burnett, to the mound—a pitcher who has not pitched in 17 days.
How long will manager Joe Girardi let Burnett pitch if he gets in trouble? Burnett's ERA in the first inning this year is over seven. If the Yankees fall behind early, Texas has the offensive firepower to keep pouring on runs, putting the game, and probably the series, out of reach.
The Rangers need only one win to guarantee that Lee will pitch Game 7 in Arlington. They have to like how the series is shaping up; Josh Hamilton has had a resurgence in this series, hitting two home runs in three games; Tommy Hunter goes to the mound tonight looking to put the Rangers up 3-1, and if this season is any indication, he has the ability to do it.
Cliff Lee is the star of this postseason for the Rangers and the most loved person in Texas at the moment. Though he may very well be in a Yankees uniform next season, for now Lee is the Rangers' "Mr. October," and he will get every chance to halt the Yankees in their quest for World Series title No. 28.
Next time you see the Cliff Lee facts trending on Twitter, join in on the fun. Here's one: "If the Rangers win another game, the Yankees will forfeit the series to avoid facing Lee in Game 7."
With the way he pitched last night, I would not blame them.
Any thoughts on this article? Please comment or Email me at paulferguson2@att.net
Paul Ferguson is an intern at Bleacher report
Follow him on twitter at: @paulwall5
This article is
What is the duplicate article?
Why is this article offensive?
Where is this article plagiarized from?
Why is this article poorly edited?

Texas Rangers: Like this team?