The 20 Funniest Soccer Fails Ever (With Video)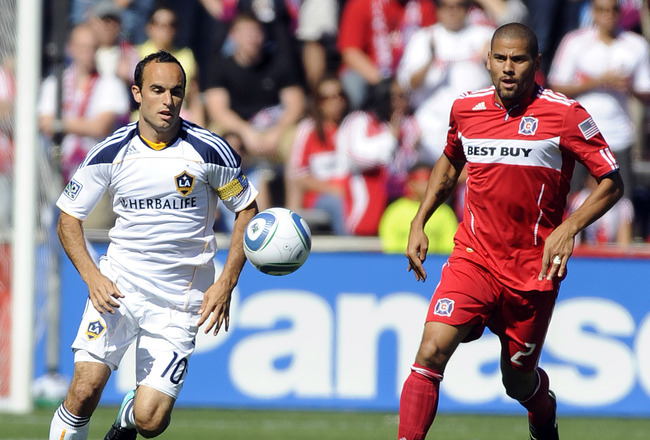 David Banks/Getty Images
Before we start ripping apart these soccer players, we have to keep in mind that soccer is one of the most physically and mentally taxing sports to play.
But even the most poised of soccer players has a bad day once in a while.
And lucky for us, most of them are caught on camera!
Join us as we count down the 20 funniest soccer fails.
20. Celebration Fail
This guy does everything right...until after the goal.
I guess he was looking to fall on his knees, but he ended up on his face.
19. Medic Fail
The poor guy is injured, but these medics can't seem to decide which way to carry him.
Perhaps a bit more communication would help out next time?
18. Referee Fail
I honestly can't decide if this referee is failing...or if he is just The Man!
17. Drunk Ref Fail
Okay. This ref definitely fails.
He probably won't remember this.
It's a good thing we have YouTube!
16. Goalie Fail
Many soccer games end in penalty kicks, so goalies need to be on their game.
In this video, the goalie is successful in stopping the kick, but he fails to wrap up the ball.
15. Another Goalie Fail
Somebody needs to explain the rules of soccer to this goalie.
Now, I'm no expert, but I'm pretty sure the object of the game is to keep the ball out of your own goal.
14. Ouch Fail
Both of these players are making moves toward the ball, and then something truly awful happens.
The player in navy kicks the player in yellow...you know...where the sun don't shine?
13. Fan Fail
Talk about dedication. The teams line up for penalty kicks, and a fan runs on field to take one for the team.
Count it!
12. Dive Fail
Who does Alberto Gilardino think he's fooling?
Not us.
And certainly not the referees.
11. Tumbling Fail
This guy lines up for what looks like an easy kick.
But I guess it's harder than it looks.
He completely misses the ball and flails around in the air for a while before hitting the ground.
This is one of the more embarrassing fails on the list.
10. Again With The Goalie Fail
Somebody really needs to explain the rules of soccer to these goalies.
Kick the ball away from your goal.
Kick the ball away from the other team.
It's simple really.
9. Ronaldo Fail
Even the biggest names in soccer have their off days.
He's lucky he's so pretty.
8. Youth Soccer
You don't have to be a pro to make it on our list.
Watch as the kid in the white jersey tests out his gymnastics skills...right at the kid in blue's head!
Even after smashing his opponent in the face, he resets and does the exact same throw-in stunt over again.
7. Beckham Fail
Oh, David Beckham. You might be the most recognizable face in soccer, but we have your number.
Less juice next time.
6. Fan Fail
This fan obviously really wants that ball.
In fact, he wants it so bad he's willing to risk his life (and his dignity) for it.
Don't see it the first time? Don't worry, they'll slow it down for you.
5. Cat Fight Fail
The University of New Mexico's Elizabeth Lambert doesn't play well with others.
Which is why that little hair-pulling move got her suspended.
4. Robert Green Fail
Robert Green fails big time in the 2010 World Cup against the USA.
England will lose the game, and I think I speak for all Americans when I say, "Thank you, Robert!"
3. Landon Donovan
Landon Donovan is one of the most well-known American soccer players, but even he makes it on our list of bloopers.
DaMarcus Beasley sets up a perfect shot for Donovan, but Donovan completely misses the ball and eats it hard!
2. In Your Face Fail
This video starts out with a simple penalty kick, but then BOOM!
It kind of makes you feel sorry for this kid...after you're done laughing of course!
1. Rear End Fail
The last thing you want when you're being carried off the field on a stretcher?
A referee's rear end in your face!
That just made a bad day about a million times worse.
Keep Reading