Squared Circle: Top 5 Problems From Unifying The World Championships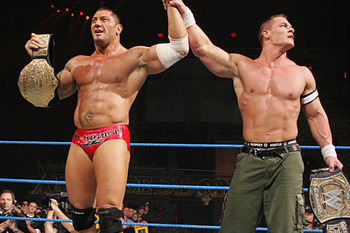 A few days ago I gave you five benefits that could be gained from WWE unifiying their world championships. The general response was positive implying that most would support the idea of one world championship in WWE.
In the interest of fairness the opposite side of the argument should be examined. As I said last time there are good and bad results that could emerge from unifying the WWE and World Heavyweight Championships.
So lets see the other side of this argument and look at Squared Circle's Top 5 reasons for not unifying the world titles.
5. Creative Team Would Struggle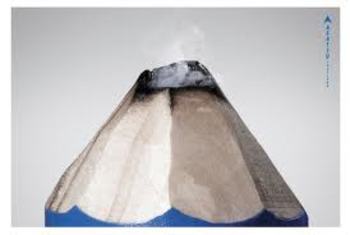 Let's face facts for the moment, the WWE Creative Team is already bankrupt of ideas. All their top stories revolve around either.
A) Fighting for the championship
B) Fighting for a championship opportunity
C) Fighting in revenge of lost championship opportunity
I cannot remember the last decent story on either Raw or Smackdown that did not require a championship to either start or sustain a story. Taking away one of the world championships removes a big plot device of the current creative team. For the top performers who would not regularly fight for the World Championship (e.g. CM Punk) they will sit n the sideline taking part in rather pointless feuds.
Arguably this is a problem with creative rather than unifying the championships but all the same unification would be the driving force of this point.
4. Increase In Multiple Man Gimmick Matches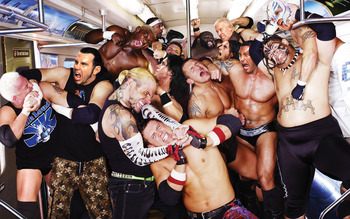 Elimination Chamber, Fatal 4-Way, Money in the Bank and the upcoming Night of Champions. If we include the long standing (but accepted) Royal Rumble, there have been five PPVs this year that have been centred around multiple men fighting for both World Championships.
Creative are struggling to find the time and space for top competitors when there are two belts to play around with. How are they going to deal if given half the main events? It could turn out that a singles match for the World Championship becomes rarer and ironically a gimmick in itself.
This point is linked with the previous slide but more importantly this problem can evolve into the next one...
3. 2002 Syndrome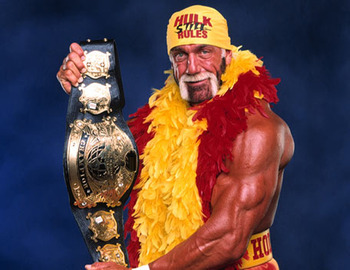 Early 2002 was an odd time in WWE. With WCW talent acquired and now competing under the WWE brand with the addition of several injured superstars returning to active competition there were many talents in WWE deserving of the World Championship.
Chris Jericho would rule the first three months. Triple H would get the next month and Hogan was hastily given the championship for the following one. Undertaker would take over for a couple of months followed by The Rock throughout August. Brock Lesnar would hold the belt for seven days before the World Heavyweight Championship was introduced with Triple H as its first champion.
As you can tell 2002 world title reigns did not last a long time. It was simply a case of WWE having too much top talent and the additional world championship helped as neither show had enough talent to cause such a problem. That was 2002 this is 2010. If you read my article about the value of World Championship reigns in wrestling today you can see that we are almost back to this problem on Raw and Smackdown.
The removal of either championship will crowd the world title scene quite terribly and there may not be a single championship reign that will get past more than three months ever again. Yet this is not as bad when compared to the next point.
2. No New Main Eventers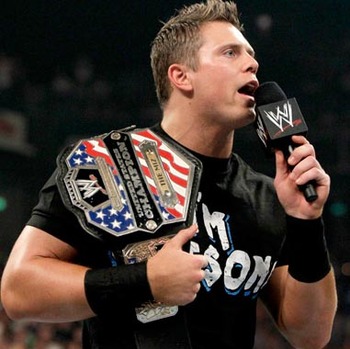 For a moment don't let your love or hatred of the man in the picture sway your decision. The WWE is a fantastic place. Five years ago The Miz was a reality TV never-was, fast forward to the current date and he has four tag team championships, two United States Championships and a Money in the Bank victory. It truly is a wonderful thing that pretty much anyone in the company could become a top level star providing they put the effort in.
The two world title system makes it more likely that new talent will eventually get to main event spots in the future. There were a lot of wrestlers during the single world championship eras that should have main evented a lot more than they did.
The next and final point is in relation to this slide. If there was no new main eventers we would all be getting...
1. The Same Old Song and Dance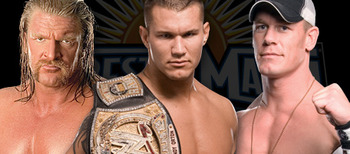 When do you think the last time neither one of these three in the picture were not competing for a World Championship at a PPV? No Way Out 2007 is the correct answer and even then it was only because neither title was defended on the night. John Cena was still WWE Champion in a promotional match for WrestleMania 23.
We would have to go back further to No Mercy 2006 when neither John Cena, Triple H or Randy Orton were competing for a world championship on PPV (even then it was a Smackdown exclusive PPV and they were all Raw brand). But the proof is in the point. There is a select group elites who compete at the top level for WWE. With the lack of new main eventers the same people will be shown many times over the space of a year.
I know what you may be thinking. If there is a great talent pool shouldn't that mean there was a bigger chance of different main events? By logic, yes, more main event talent means more varied PPV matches but if we look at the Raw roster there is enough talent to not let either of these men into a PPV every month, let alone a World Championship match. Take the upcoming Night of Champions Raw main event. Is it six man because WWE thinks its a good idea or because they can't bear to leave out one of the golden boys?
Conclusion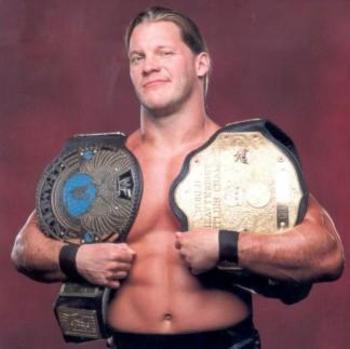 Now you have read both sides of the argument, what sides do you agree with?
Unification or separation?
Personally I think the good far outweighs the bad and unification should be put into action once they plan an appropriate path to follow.
Keep Reading