U.S. Open 2010: Ten Reasons Why It's Roger Federer Vs. Rafael Nadal in the Final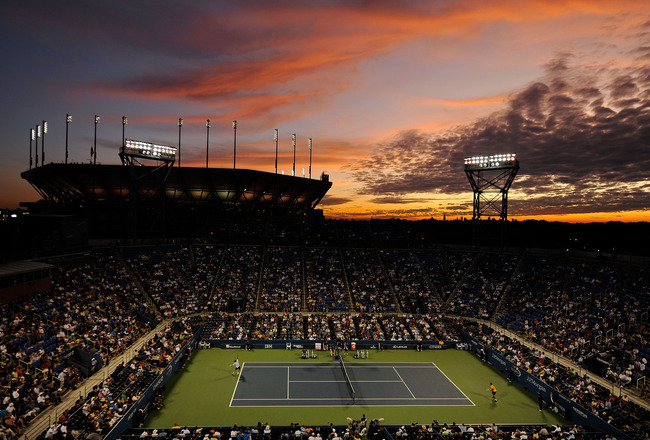 Michael Heiman/Getty Images
It's the final that everyone is salivating over so that these two giants can give us another exemplary lesson on why they are all-time greats and why their names will forever remind us of what master class tennis truly is.
The paths for both players, however, are filled with land mines after a couple of days in which most of the top players were either ousted or taken to five sets.
Nadal's Serve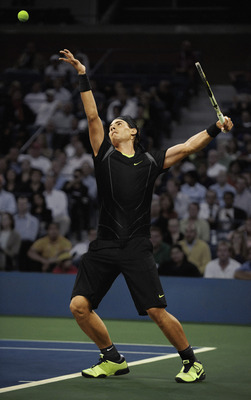 There was a time when Rafael Nadal's serve was a fairly major weakness. From 2005-2007, his serve was often used against him, especially his second serve. While his placement and location have always been excellent, he struggled to hit anything past 115 mph.
Oh, how times have changed. Each year his serve has improved, but what I saw on display in Nadal's first round match against Temuraz Gabashvilli was far beyond what I was expecting. Nadal topping 130 mph several times and often crushing serves in the mid-to-upper 120's?
After his serving woes in Toronto, especially against Andy Murray, I was a little worried about how well Nadal would do if his serve wasn't corrected.
Tuesday night that fear dissipated with each ridiculous serve he hit. As usual, with Nadal, his serve percentage was at or around 70% which makes the performance even more amazing. While Nadal may never have the greatest serve, it is obvious that he will always keep trying to improve, and who knows, it may one day be one of his greatest assets. It certainly looks to be right now.
Federer's Improved Court Movement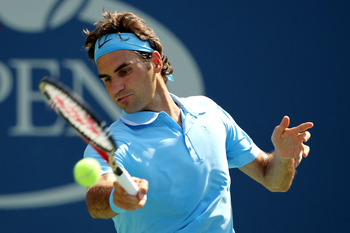 Al Bello/Getty Images
For much of the year excluding the Australian Open, Roger Federer's court movement has been lacking, to say the least.
Whether it's been due to injury, lack of energy, late nights with the twins, or the dozens of other possible reasons, Federer has appeared at times to be about ten years older than he really is.
Until Toronto and Cincinnati a couple of weeks ago, many Fed fans had to wonder if his best days were far behind him. To their relief, it appears to be a bit premature, at least for the next few weeks.
Seemingly overnight Federer's old movement is back. Gliding around the court effortlessly, as per usual, it appears as though Federer might just be back on track to get his title once again.
Nadal's Backhand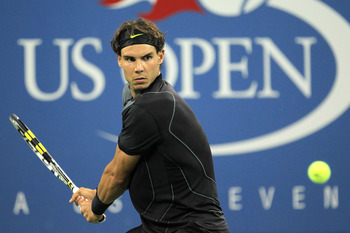 Chris McGrath/Getty Images
Much like his serve, Nadal's backhand was once a weakness although not nearly as much as his serve. When he was young, Nadal used it primarily as a shot to keep the rally going instead of a weapon to be brought out throughout a match.
Roughly around the time that his serve started to dramatically improve, Nadal started to put more on his backhands by flattening it out and putting much more power into his shot. The result is that his backhand is almost as good of a weapon as his forehand and is even more stable at times.
I remember his amazing effort in Australia in 2009 against Federer in the final. In that match he cracked more than a few jaw-dropping backhand winners. By the end of the match the commentators were buzzing about how his backhand had been his best shot of the night instead of his vaunted forehand.
Again on Tuesday his backhand was in good form. It will need to be even better if he is to win his missing title.
Federer's Newly Aggressive Game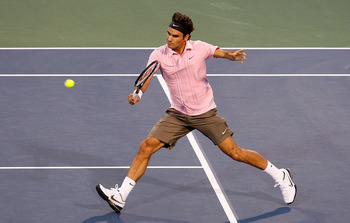 Kevin C. Cox/Getty Images
If there were ever a pair of dominant baseliners Federer and Nadal would certainly be at the top of the list. Federer once was patient enough to simply stand back and rally until his opportunity to crack a winner appeared and the point was over.
Those days appear to be fading away. Age, as well as the high-powered assault of players like Nadal, Thomas Berdych, Robin Soderling and Juan Martin Del Potro have been pinning Federer behind the baseline with more consistency with each passing year.
Federer realized it was time for a change and recently began to play aggressively. Going for riskier shots early and taking advantage of the first short ball, the new Federer's slightly altered style may help deal with the big bombers poised to take over the game.
Nadal's Flattened Forehand
Chris McGrath/Getty Images
The top spin is almost iconic. With years left to watch the amazing sight of that shot, it should go down as one of the two or three best forehands of all-time. But sometimes the shot has to change, at least for a while.
In Australia in 2009, Nadal had been tinkering with his forehand. Instead of looping forehands that didn't have quite the same effect on hard courts as it did on grass or clay, Nadal was working on altering his forehand to flatten it out and make it more effective due to the playing surface. It worked to a degree but needed more work.
Against Gabashvilli Tuesday night, it was obvious that Nadal has been working on this shot for some time. While it will always have top spin, the shot was more laser-like and proved to be an effective weapon. That coupled with his usual ripping top spin shots kept Gabashvilli guessing for much of the match.
In order to win the U.S. Open this year, Nadal will have to utilize this newly tinkered forehand and make sure he knows when to use it and when not to.
Return of The Serve and Volley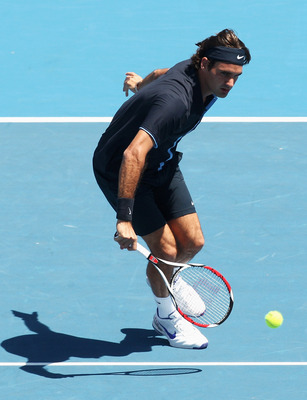 Quinn Rooney/Getty Images
No, I doubt this will cause a renaissance of the classic style of play; that of the serve and volley. The game that tennis was built on is beautiful to watch but is harder to employ in the modern game, but Federer is having a go at it.
Over the last 6-8 months Federer has been coming to the net more. Either serve and volley or a shot or two into the rally.
In this day and age it's an extremely risky strategy. Powerful hitters can blow the ball right by you unless you have placed your shot perfectly.
Federer however is good at it and employs it at the right time in matches.
Changing from baseline to this style keeps the player guessing. They never know when it's going to come and it's always in the back of their mind.
If used correctly, this will help Federer get to the final and possibly win his 17th slam.
Fresh, Fit and Injury-Free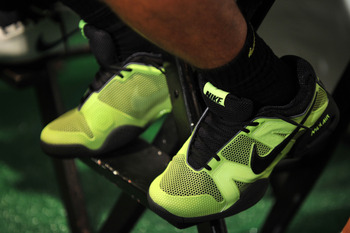 Bryan Bedder/Getty Images
It's obvious that in the past Nadal has come to New York in less than ideal condition. Though the wear and tear on his body due to playing style and schedule are partly to blame, he's also had a bit of bad luck on his side as well.
In 2008 Nadal went unbeaten from May until the middle of August in Cincinnati before heading to Beijing and winning Olympic gold. Six titles including two grand slams in the span of a few months are quite a bit on any player's plate. The sad part is that he came to New York mentally and physically exhausted.
Last year the bad luck continued as Nadal tore an abdominal muscle before the open and eventually fell in the semi-finals.
For the first time in years Nadal is fresh and fully fit.
The knees, which are always a concern, appear at the moment to be completely healthy, though anything can happen at any time with regards to them.
If Nadal can stay in tip-top shape throughout the tournament, it will certainly be a scary proposition for any player he faces including Andy Murray and Federer.
Injury-Free Too!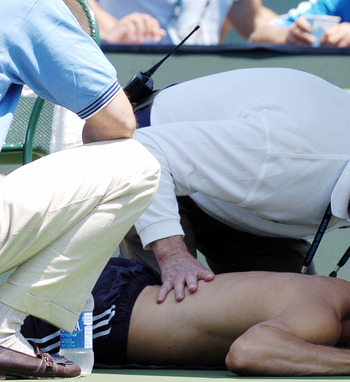 A. Messerschmidt/Getty Images
For at least a couple of years now Federer has been dealing with a seemingly chronic back problem. It's affected a great many players over the years and Federer is no exception.
It has flared up time and again and seems to be doing so at and increasing rate.
Currently however his back seems to be fine after an apparent back issue at Wimbledon this summer.
Like Nadal's knees, this problem can crop up at any time. Pain killers and shots may help deal with the problem short term, but it is something Federer will have to worry about and deal with for the rest of his career.
If his back can hold up over the next six matches, it will be a big key to getting to/and winning the title.
Nadal's Will to Win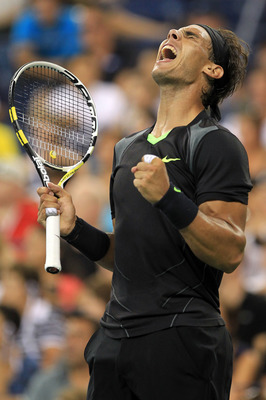 Chris McGrath/Getty Images
Roger Federer, Tiger Woods, and Michael Jordan. While those names are famous for their legendary status within the confines of their sport, there is another reason; they are all nearly mentally unassailable.
Meet number four on this list. Mr. Rafael Nadal. Few in the history of any sport can match Nadal's mental fortitude. What makes Rafael Nadal so mentally strong is the combination of absolute confidence and his willingness to do anything necessary in a match to win.
The great thing about Nadal is that when he sets his sights on something he truly wants, it's almost inevitable that at some point he will get it.
First he wanted to win a grand slam and he did for four straight years at Roland Garros.
He improved.
Next he wanted Wimbledon. He failed on two consecutive attempts against Federer in the finals before prevailing in the greatest match of all-time in 2008.
He wanted an Olympic Gold medal and got it that same year.
Next he wanted a slam title on a hard court and did that in the Australian Open in 2009 against Federer yet again.
The list seemingly goes on and on and on.
Tell Nadal he can't win the U.S. Open. Go ahead and tell him. I dare you because what Nadal wants, he gets. Maybe not this year. Maybe not even next year, but at some point his will to get it will pull all before him down for the crown.
His will is as legendary as his forehand. Maybe even more.
Federer's New Coach: Paul Annacone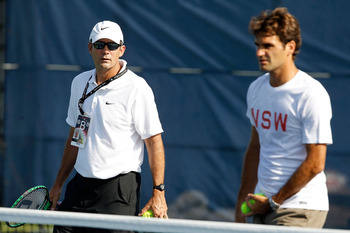 Matthew Stockman/Getty Images
Roger Federer is a lone wolf. He has been that way for much of his career.
Oh, he's hired temporary coaches and people whose specialist knowledge could help him win, but he's lacked a true coach for many years.
Not so anymore, because Paul Annacone is his coach now. Does the name sound familiar? It should. He helped coach Pete Sampras during his glory run in the 90's and appears to be ready to help Federer do the same.
What Paul brings to the relationship is a calm demeanor, knowledge, and a fresh set of eyes for strategy which are all things that Roger could certainly use these days.
Will this relationship work long-term? Maybe not, but for now it's a good fit and it might help him win the title.
My Prediction
e.g. 'Chicago Blackhawks', 'Chicago Cubs'
Chris McGrath/Getty Images
I believe that Nadal will indeed face Federer in the finals in Flushing Meadows.
Here are my predictions:
Nadal d. Murray
Defeating Murray on a hard court, especially in New York, is very difficult but I think Nadal will gut one out and get the win in five tight sets. This could be similar to his win against Fernando Verdasco in Australia 2009 en route to his win there against Federer.
Federer d. Fish
I think Fish continues his stellar play and gives Federer a big scare before succumbing to the Mighty Swiss in four sets.
Nadal d. Federer
Nadal gains a major boost of confidence in his defeat of Murray which carries over into the final where he defeats Roger Federer in five sets to win his first U.S. Open trophy. It's a seesaw match with both players dominating at various points until Nadal clinches it late.
Keep Reading