Roger Federer's Open Challenge to Rafael Nadal: Bring 'em on to DecoTurf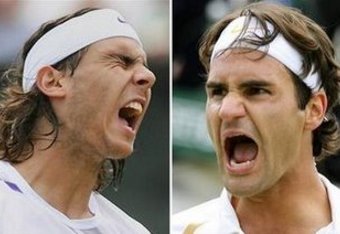 From the ruins of Münchenstein Castle in Switzerland—which beautifully lies right above the center of the town Roger Federer grew up in—comes an undisclosed message.

The context is Federer's insertion of this line, "[Nadal] still maybe struggles a little bit on the faster hardcourts." Five days later, he repeated, "Maybe US Open is a bit faster, so you figure Rafa will struggle a bit more."

Why did Federer drop this line in the midst of all the nice words? Is he playing a mind game, stating a fact to a certain extent, downplaying the significance of the Spaniard's head-to-head lead, or taunting Nadal cryptically, "Show me reaching the second Sunday at Flushing, first?"

Federer may or may not be saying all of this in a compact way, sublimating the multilayer message while letting it leak through the pores of his subconscious. In the temporal context of articulation, right at the dawn of the year's last Slam, I do not know how Nadal took it, but I could not help reading the underlying audacity welded on to it—"Bring them on to the Arther Ashe DecoTurf."

The message is almost hidden from view as it was surrounded by the words of praises for the Spaniard's initial ability and subsequent progress on hard court.

Assuming the disclosure of the challenge is announced in a contiguity, let me ponder over what Federer may have based it upon.

Considering the pattern of his success at Flushing Meadow, it does not really matter if Federer did any better this year than last year, especially in the tournaments leading up to the US Open. What else does, then?

In the aftermath of consecutive early exits from the battle of Red and Green, when the gentleman retreated to the cool airs of the Swiss Alps across the Birs river near Basel, he was not mourning over those losses in idleness but crafting a plan to launch another round of attack, by employing the best available architecture to renovate the ruins of Münchenstein Castle.

The confirmation of Paul Annacone's addition to team Federer unveils the approach the Swiss will foreground from this point onward in his career: Attack first, I-am gonna-take-it-to-them approach. He will rely on the time-tested weapons of movement and speed, thus increasing the frequency of chip and charge.

Sensing decelerating motivation, he has set a new goal. At this stage of his career and with most records broken, it is obvious Federer, or any one for that matter, could start losing the same intense motivation to carry on. The declaration of a new target of twenty Slams is strategic, not only to reignite and recharge his motivation, but also to sustain it. The new target is a mental weapon, mostly directed at himself, nonetheless alarming to his peers.

Despite the Rogers Cup runner-up and Cincinnati title runs, he is not exhausted at all. On top of his economical style, he played only about 7 hours in total in the latter. He is finding ways of winning tight matches, which he rarely had to play in his formative years. Federer Version 3.0 is programed to quickly adapt to this new terrain of close matches. His closely contested wins over Nikolay Davydenko, Marcos Baghdatis, and Mardy Fish at Cincinnati are testimonies to his adaptation.

Recently in Canada, Federer briefly lapsed into the same tonic-clonic seizure that had been first noticed in the match against Novak Djokovic in '09 Miami and once again later against Jo-Wilfried Tsonga at the '09 Canada.
The same fit would erupt routinely for seven months this year: Federer would produce his best tennis for a set and half before suddenly plunging into a neuronal malfunction. Finally, at the Rogers Cup, he found immunity against the infection and thwarted Tomas Berdych and Djokovic's late surge.

Since breaking into the Top 10 in 2002, Federer's seven month title drought this year has been his longest. He finally broke that drought in Cincinnati. Even if it can be argued that his path to the title entailed an asterisk of one mid-match retirement, a withdrawal, and the absence of a top five player, the win certainly has restored confidence in the Swiss to reiterate his goal of engraving the mark of twenty Slams.

Most pundits may still laugh at the seemingly unachievable goal, but their laughter will only embolden Federer to prove them wrong. In short, he has created a strong reason not to let slip this year's US Open title and further work toward the self-assigned goal.

Federer shines both on the fast surface and in the spot-light. No place is better for Federer than New York, the center of the media universe, which has been his safest fortress. Nadal has yet to come close to penetrating Federer's dominance in New York. He might not prefer other locales, but in New York I think Federer would like the challenge of playing Nadal in the US Open final.
Perhaps, the message is simply just this, "I hope I can play him [Rafa] at the Open."

The Swiss still possesses the hard-won mental advantage over his peers, even if the aura of absolute invincibility has vanished since the end of 2007. To a certain extent, the invincibility factor still works at the Slam level, especially with players other than Rafa. But he still has to play the mental game both in the media and in private, as to use it as an extra weapon. If you can recall what Federer said of Murray right before '09 AO final, you know his mental game still works.


Could it be that Federer is trying to find a cure for the Nadal syndrome by getting inside the Spaniard's head, instead? This conjecture would sound far fetched, by most stretch of imagination, but it would not be known until attempted. One may wonder if the Swiss is expanding on Bill Tilden's mental approach to the game, who once said: "The primary object in match tennis is to break up the other man's game."

Breaking up the opponent's game may include going after his strength, as has been done on a few occasions when Nadal's forehand is targeted, instead of his weaker backhand. Nadal is known as the epitome of mental fortitude, but can he remain unaffected when his "struggle" is picked on, however gentlemanly it is done by the Swiss?

While Flushing Meadows has clanged off its first bell today, the silence of the Mediterranean Sea must be sending a dreary menace to the fortified Castle of Federer. Wait until the Majorcan renders apart the iron hinges of "struggles," and wait until you hear the whisper from Münchenstein Castle of Federer, "Oh whither shall I fly!"
(P.S.: For Nadal's response, check out my next piece: Nadal to Go Ill-Nasty at Federer at US Open Final 2010: A Vampire Tale.)
This article is
What is the duplicate article?
Why is this article offensive?
Where is this article plagiarized from?
Why is this article poorly edited?