NFL History: Top Running Backs Who Hit the 30-Year-Old Wall (Video)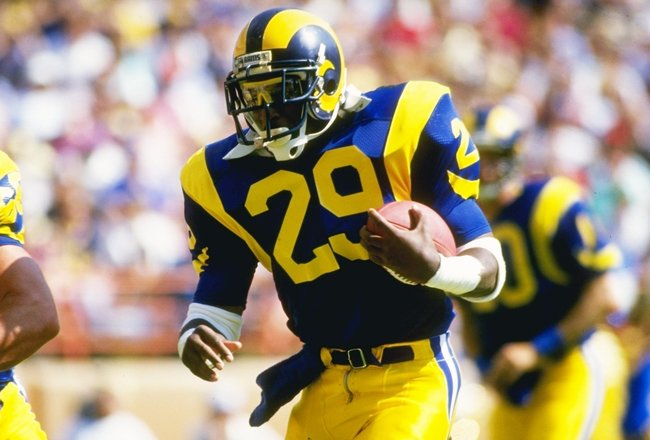 Mike Powell/Getty Images
Every NFL fan, whether fanatic or casual, should know about the dreaded 30 year old wall when it comes to the running back position.
To describe it in one sentence, it is that age when a running back has already peaked and begins a drastic downfall to end his career.
With that being said, the running back has one of the shortest NFL lifespans of nearly any other position in the sport, especially when you see players like Brett Favre, who are well over 40, still throwing the ball around like he was still 25 years old.
The following list contains the top 15 running backs who hit the age 30 wall and had a dramatic decline in his individual production across the board.
Besides the drop in stats, the only other criteria for this list was that the player cannot still be playing in the NFL as of the date stamp of this article.
(Click here to see the top 10 running backs who broke through the 30-year-old wall.)
14. Ahman Green, 1998-2009

98 yard TD run by Green

Green amassed over 1,000 yards rushing in five consecutive years from 2000-2004 with the Packers and he ran for over 1,000 once again in 2006 when he was 29.
Then his production dropped and from 2007-2009, Green only ran for just over 700 yards in those three seasons combined.
Green was a four-time Pro Bowler.
13. Jamal Lewis, 2000-2009

Lewis runs through all Jets defenders to score a TD

(According to ESPN.com, Lewis does not have a team to call home as of the publishing of this article.)
Lewis was one of the most feared running backs in the NFL in the 2000's and he loved running all over the Cleveland Browns when he was with the Baltimore Ravens.
He even ran for 500 yards and four touchdowns in 2003 against the Browns on his way to becoming one of only a few to rush for over 2,000 yards in a single season.
Then irony struck and Lewis was cut by the Ravens only to be picked up by the Browns in 2007, and he ran hard as a 28-year-old with Cleveland for over 1,300 yards.
Then he began to slow down in 2008 and barely ran for over 1,000 yards, then when he turned 30 in 2009, he struggled to run as he once did and even though he got hurt and could not finish the season, he only ran for 500 yards and was cut in the offseason.
Even though Lewis ran for over 10,000 yards for his career, he only made it to the Pro Bowl one time in his career, in 2003.
12. Thurman Thomas, 1988-2000

Thomas highlights

Thomas was one of the most versatile running backs of the 1990's and he also ran for over 1,000 yards for eight consecutive seasons from 1989-1996.
In 1996 Thomas was 30, and even though he managed to hit 1,000 yards at 30 years old, he tailed off in the final four seasons of his career running for a total of nearly 1,300 yards in those remaining years.
Thomas was a five-time Pro Bowler.
11. Corey Dillon, 1997-2006

Dillon highlights

Dillon ran for over 1,000 yards in his first six seasons in the NFL which was from his rookie year in 1997 to 2002.
After having an off year in in 2003, where Dillon missed three games and run for just over 500 yards, he found a new home, moving from Cincinnati to New England.
Being the age of 30 in 2004, Dillon found the fountain of youth for one more season and ran wild to the tune of over 1,600 yards with the Patriots.
The following year, Dillon hit the wall and his production fell in his final to NFL seasons running for a combined 1,500 yards.
Dillon was a four-time Pro Bowler.
10. Edgerrin James, 1999-2009

James highlights

(According to ESPN.com, James is not on the Seahawks' roster anymore and he does not have a team to call his home as of the publishing of this article.)
James started off his NFL career with a bang and led the NFL in rushing yards his first two seasons in the league in 1999 and 2000.
He also ran for over 1,000 yards for four consecutive seasons from 2003 to 2007 for both the Colts and the Cardinals.
Hitting the wall after 2007, then James turned 30, and was never the same back he once was.
James was a four-time Pro Bowler.
9. Eddie George, 1996-2004

George 61 yard TD run for the Buckeyes

George started his NFL career off by running for over 1,000 yards in his first five seasons and he was the poster boy for a "wrokhorse" running back in the NFL during those years, never getting less than 320 carries in any of those seasons.
The excessive amount of carries George say may have led to him having an early retirement, but he was able to regain his form when he was 30 in 2003 when he ran for over 1,000 yards once again.
Sadly, the big back from The Ohio State University would drop off significantly in his final season in 2004.
George was a four-time Pro Bowler.
8. Shaun Alexander, 2000-2008

Alexander highlights

Alexander ran for over 1,000 yards in five consecutive seasons with the last season being his NFL MVP year, when he ran for over 1,800 yards and broke the then-NFL touchdown record in a season with 27.
After his MVP season in 2005, Alexander turned 29 and began showing signs of slowing down and his production in his final three seasons after winning the MVP was a total of only 1,600 yards.
Alexander was a three-time Pro Bowler.
7. Priest Holmes, 1997-2007

Holmes leads charge in Chiefs' 2004 playoff run

Holmes went from lowly backup running back to Jamal Lewis with the Ravens of having three of the most productive seasons as a starting with the Chiefs from 2001-2003, rushing for over 4,500 yards, over 1,900 yards receiving, and 61 total touchdowns.
In 2003, Holmes was 30 and he had over 2,100 combined yards from scrimmage and 27 total touchdowns.
After his huge year as a 30-year-old running back, Holmes' age caught up to him and he had over 1,800 total yards from scrimmage and 22 total touchdowns in his final three years in the league.
Holmes was a three-time Pro Bowler.
6. Larry Csonka, 1968-1979

Csonka tribute

Csonka will forever be remembered as a running back who always went at the defender and wanted to hit the would-be tackler as much as the defender wanted to hit Csonka.
From 1971-1973, Csonka ran for over 1,000 yards in each of those season, but in 1975 he fled the NFL and signed with the World Football League, which turned into a disaster.
Csonka came back to the NFL in 1976 and signed with the Giants, but he was also 30 years old at the time and never was the same running back he was with the Dolphins.
Csonka was a five-time Pro Bowler.
5. Earl Campbell, 1978-1985

Campbell highlights

Campbell was a beast of a running back right out of college and led the NFL in rushing in his first three years in the league.
In his first six years, Campbell ran for over 1,300 yards in five of them.
Then in 1984, at the age of 29, Campbell's production began to slow and when he turned 30, he also signed with the Saints.
Saying that Campbell's skills had diminished, the Saints played him in a limited role and Campbell retired following the 1985 season.
Campbell was a five-time Pro Bowler.
4. Roger Craig, 1983-1993

Criag's 1,000-1,000 yard season in 1985

In 1985, Craig had a dual 1,000 yards season both running on the ground and receiving through the air.
One of the best all-around players in the NFL in the mid-to-late 1980's, Craig was instrumental in helping the 49ers win multiple Super Bowls and be the dynasty they were.
Many are still pulling for Craig to get into the Hall of Fame, since he helped change the running back position to what it is today (along with Marcus Allen), but he still keeps getting passed up on the ballots.
Craig was a four-time Pro Bowler.
3. O.J. Simpson, 1969-1979

Simpson highlights

All legal troubles aside, Simpson was one of the greatest running backs in the history of the sport, period.
He was unstoppable from 1972 through 1976, when he ran for nearly 8,000 yards in those five years alone.
After 1976, Simpson turned 30 and like every running back on this list, he hit the age wall and only ran for a total of 1,600 yards in his final three years.
Simpson was a six-time Pro Bowler.
No. 2: Eric Dickerson, 1983-1993

Dickerson highlights

Dickerson ran for over 1,000 yards in his first seven years in the NFL including an amazing 2,105 yards in his second year (1984), which still is the NFL record for most rushing yards in one season.
An upright power runner with speed to boot, Dickerson seventh straight year of running for over 1,000 yards would also be his last at the age of 29.
In 1990, Dickerson was 30 and could only manage to run for a total of 2,100 yards in his final fours years.
Dickerson was a six-time Pro Bowler.
No. 1: Marshall Faulk, 1994-2005

Top 10 Faulk moments

Faulk may very well go down in NFL history as the most versatile and all-around player to ever play the game.
Running for over 1,000 yards in seven of his first eight seasons in the NFL, Faulk is also a member of the 1,000/1,000 club, rushing and receiving for both in 1999 helping the Rams win the Super Bowl to close out the millennium.
In 2002, at the age of 29, Faulk just missed rushing for over 1,000 yards and in his final three season in the NFL could only run for a total of 1,800 yards.
Having a combined total yards from scrimmage of just under 19,000 yards in his 12-year career, Faulk will always be remember as one of the best ever to play the position.
Faulk was a seven-time Pro Bowler.
Keep Reading

St. Louis Rams: Like this team?