Jeremy Mayfield's Battle with NASCAR Ends in Dismissal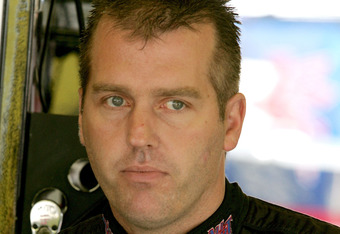 Jerry Markland/Getty Images
The seemingly never-ending saga of Jeremy Mayfield's lawsuit against NASCAR has finally come to an end. Judge Graham Mullen ruled in favor of NASCAR, upholding the sport's stringent substance abuse policy.
In a statement released by NASCAR, the sanctioning body had this to say about the ruling.
"The US District Court's ruling is a powerful acknowledgement and affirmation of NASCAR's rulebook and its ability to police the sport. NASCAR has been very clear with its competitors as to its policies and what is expected of them.
"NASCAR's comprehensive substance abuse policy, which is among the best and toughest in all of sports, serves the safety of our competitors and fans."
Mayfield, who waged the battle against NASCAR after being indefinitely suspended from the sport due to a positive drug test, advised that his attorney would release a statement later with his reaction.
The saga began a year ago last May when NASCAR announced that Mayfield had tested positive after a random drug test. After much speculation, it was revealed that Mayfield had tested positively for methamphetamines.
Mayfield vehemently denied the allegations, saying that the positive test was the result of mixing an Attention Deficit Disorder drug with over-the-counter allergy medication.
Mayfield took his cause to the media, inviting reporters to witness drug screens, even going as far as to say that he was filming a documentary on his experience that would exonerate him of all charges.
The situation took a turn to the weird side when Mayfield alleged that NASCAR was out to persecute him, even alleging that the CEO of the sport was a drug user himself.
Mayfield continued the campaign against NASCAR, saying that the sport's testing entity was not legitimate. Worse yet, he accused NASCAR of actually doctoring the samples in order to prove him guilty.
Mayfield's stepmother than got into the act, saying that she had witnessed her stepson using drugs. She continued her tale, sharing that Mayfield was even using at the race track, potentially endangering the other drivers in the field.
Mayfield then went on the offensive against his stepmother, saying that she had it out for him as he had refused to give her money. In the strangest twist of all, he then publicly declared that his stepmother had murdered his father.
The suits and counter suits between Mayfield and NASCAR continued to fly. Mayfield was not only banned from the track and competition, but eventually lost all of his race equipment, and ultimately his race team.
Mayfield also involved the NASCAR garage area, with many feeling like they had to choose sides, for or against Mayfield. Even recently, two of NASCAR's biggest stars Jimmie Johnson and Jeff Gordon, were served subpoenas by the Mayfield camp.
But all that drama is now behind both NASCAR and Mayfield. While there is obvious relief, especially on the sanctioning body's side, there is also great sadness at the toll this has taken on all parties.
NASCAR is especially grateful for the closure of this case going into the All Star Race weekend, as well as the induction of five of its greatest heroes into the Hall of Fame.
There is, however, one driver who will never again get behind the wheel of race car. And therein lies the greatest tragedy of the saga that will no doubt go down as one of the saddest episode's in the sport's history.
This article is
What is the duplicate article?
Why is this article offensive?
Where is this article plagiarized from?
Why is this article poorly edited?