NHL Playoffs: Five Reasons the Boston Bruins Exceed Expectations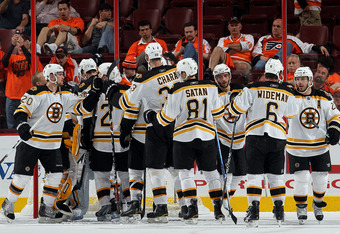 Jim McIsaac/Getty Images
The Boston Bruins defeated the Philadelphia Flyers tonight by a score of 4-1 to close to within one game of sweeping the Flyers and advancing to their first Conference Finals since 1992. This is the same Bruins team who at one point during the year had lost 10 straight games and appeared to be heading nowhere. They were able to get it together at the end of the year and sneak into the playoffs as a six seed.
It was at this time last year the Bruins, who had one of their best regular seasons in club history, would fall behind three games to one to the Carolina Hurricanes and eventually be ousted in seven games. It is hard to imagine this Bruins team could advance further than last year's did.
Boston has plenty of reasons to explain their position right now, but these are the five biggest reasons they find themselves a game away from heading to the Eastern Conference Finals.
Tuukka Rask is playing like a seasoned veteran
In case most of you didn't know, Bruins goaltender Tuukka Rask is just a rookie. It's pretty hard to believe considering the way Rask has played this postseason. After taking away the starting job from Tim Thomas, Rask proceeded to lead the league in save percentage and goals against.
He has yet to slow down in the playoffs. Rask's 2.18 GAA ranks second, while his save percentage of .928 is good enough for third. He has kept the Bruins in almost every game, and even after attempts to rattle him by crashing the net, Rask has proved unflappable.
If Rask keeps his play up he will have a chance to lead the Bruins all the way to the Cup Finals and possibly even the Conn Smyth Trophy.
Miroslav Satan playing like his prime
Who would have thought when the Bruins signed Miroslav Satan in early January he would have three game-winning playoff goals including a double OT winner. He has been the catalyst for this Bruins offense and has shown why he used to be a premier scorer in the NHL.
Satan is making a mere $700,000, but he is making sure he earns all of it. Satan has 10 points so far in these playoffs with five goals and another five assists. He had the go-ahead goal tonight, which proved to be the game winner. With Satan on one of his hottest playoff streaks, he might just make the Bruins sign him up for another year.
Third period scoring
Through the Bruins' nine playoff games they have managed to outscore their opponents 13-5 in the third period. This has come as a big surprise because they struggled to maintain third-period leads throughout the regular season.
With the ability to outplay their opponents late into games, they have been able to wear down the other team while seeming to gain more strength as the game has gone along. The Bruins ability to outplay their opponents late into games will go a long way in how far they are able to advance in these playoffs.
Come-from-behind victories
Of the Bruins' seven wins in the playoffs this year, they have managed to win four of them by coming from behind. Against the Buffalo Sabres in the quarterfinals they won three straight games after trailing in each one.
Most people know you don't want to fall behind in the playoffs no matter how good you might be at coming back. Eventually it will come back to haunt you. The Bruins have managed to stop falling behind in games, and before tonight's game they had scored first in their last three games.
With the Bruins playing either the Penguins or the Canadiens in the next round of the playoffs, if they do end up advancing, they will go up against either Marc-Andre Fleury or Jaroslav Halak and will face a major test from either one. With that said, the Bruins will be cautious to not fall behind in many games again.
Special Teams
The Bruins have the best penalty kill in this year's playoff. The B's are killing penalties at a 93.8-percent rate, with Chicago behind them at 91.9 percent. During the regular season Boston ranked third in the league at 86.4 percent. They have allowed multiple power play goals in just one game during this postseason.
To go along with the penalty kill, the Bruins have the third-most potent power play so far. After struggling through much of the season on the power play, they have exploded in the playoffs. They are scoring on the pp 25 percent of the time, and it has been a big reason why they are winning.
For the Bruins to have a chance at continuing their success they are going to need their special teams to stay on fire.
The Bruins have done plenty of things right this postseason, and it's hard to believe they have made it this far after their regular season. They are on the verge of the Conference Finals and possibly a match-up with their arch-rivals, the Canadiens. And if not the Canadiens, they have a chance at taking out the defending Stanley Cup Champions.
No matter what, it is an exciting time to be a Bruins' fan, and the future looks bright for the Bruins organization and their fans.
This article is
What is the duplicate article?
Why is this article offensive?
Where is this article plagiarized from?
Why is this article poorly edited?

Boston Bruins: Like this team?