How Jose Mourinho Could Become Real Madrid's Special Savior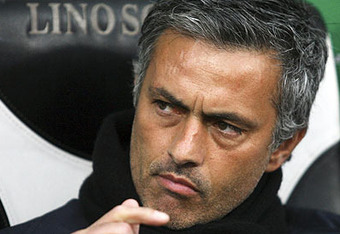 Real Madrid target Jose Mourinho is a few steps away from becoming the Spanish giants' "Special Savior." The former Chelsea boss is reportedly the envy of Real Madrid President Florentino Perez. His obsession to defeat Barcelona since his time in England has certainly played a great role in Perez's admiration for the manager.
Los Blancos have been living in the shadow of their greatest rivals, the Blaugrana, since 2008 now. Therefore, anyone who is capable of dethroning the untouchable Catalans from the divine hill on which they've been seating since last season will be worthy of being portrayed as a hero to Real Madrid.
Real Madrid In Danger
Despite all the astronomical fees that Florentino Perez poured out during last summer's transfer window, and despite all the star names that are presently part of the squad, the Spanish giants couldn't manage to remain in all three competitions this season. Their Copa del Rey ambitions were quickly blown off by third tier side Alcorcon who shockingly defeated Los Blancos 4-1 on an aggregate score line. As for the UEFA Champions League, they started off well—with only AC Milan causing them troubles—but then crashed out like a bomb. For the sixth year on the trot, Real Madrid had to accept defeat in the Round of 16 following a 2-1 aggregate loss to French side Lyon.
In La Liga, meanwhile, the story has been different only just because the championship doesn't include elimination stages (without talking about the relegation zone system).
Real Madrid have promised to fight until the end for the domestic trophy, but their fate is no more in their own hands. Los Blancos lost both Clasicos away and at home to Barcelona this season and they subsequently find themselves behind the Catalans in La Liga standings ahead of Match-day 34 this weekend. Now ending the 2009/2010 season with empty hands has become a realistic prospect… but one that the Spanish giants definitely want to avoid.
Everyone calls for stability at Real Madrid and the club is yet to achieve that. After dealing with already three different coaches in the past five years, Los Blancos are looking to dismiss Manuel Pellegrini as well. The idea is to replace him with someone that will walk along with the team's aspirations and spirit. Whereas some are against the idea of discharging the Chilean boss, many think that there'll be nothing more appropriate than landing the man that could become Real Madrid's "Special Savior," Jose Mourinho.
The Three Steps For Jose Mourinho To Become Real Madrid's Special Savior
Nothing is confirmed as yet but everyone is expecting the current Inter Milan boss to be at Real Madrid next summer. Another possible fact is that the 2004 UEFA Champions League winning coach could arrive in the Spanish capital with a legendary status at the club before even managing his first game. The truth is that if Jose Mourinho succeeds in reducing Barcelona to misery, then the Spanish giants will immediately see him as a living hero since the Catalans are considered to be Real Madrid's main obstacle to success.
Step 1: Beat Barcelona At The Camp Nou And Mind-Blow Them
Jose Mourinho has accomplished the first part of a two-legged mission. The Portuguese boss led Inter Milan to a vital 3-1 victory at the Giuseppe Meazza stadium against a tired Barcelona side on Tuesday, April 20. The match included a lot of controversy with most decisions strangely going the home side's way. But any anti-Barcelona fan or Real Madrid supporter may not bother at all about the manner how the Blaugrana were defeated.
The issue is that they lost, perhaps at the benefit of the Spanish giants.
Now, the greatest commandment that Mourinho has to follow is to hold on to Inter Milan's 3-1 advantage and possibly complete the double over Barcelona when both teams meet at the Camp Nou on April 27.
Ask Manchester United and Chelsea, Cristiano Ronaldo and Didier Drogba how difficult it is to score against Barca in Catalonia and they'll you that it is extremely hard. The pressure from the home crowd and the mystic atmosphere of Camp Nou's 98,772 capacity crowd stadium simply make it the more difficult. As for Arsenal… well, it may be better not for anyone to ask a Gunner how it felt to play at that venue. The answer: terrible.
So to have Jose Mourinho guiding Inter Milan to a defeat of Barcelona at the Camp Nou will not only mean that his side will qualify for the 2009/10 UEFA Champions League final, but it will also prove how much of a fantastic warrior the "Special One" is.
One thing Real Madrid will wish though is that Barcelona lose in a mind-blowing way. That should give a perfect advantage for Los Blancos to go all the way to ending their season on a consolation note by winning La Liga title at the expense of a prospectively mentally wounded Barcelona side.
Step 2: Triumph At The Santiago Bernabeu
Jose Mourinho should come up against Lyon, preferably, in the final of the UEFA Champions League on May 22 at the Santiago Bernabeu. His sole mission will obviously be to defeat the team that painfully disqualified Real Madrid from the competition back in March.
Like Italy triumphed over France in the 2006 World Cup in Germany, Inter Milan will have to triumph over Lyon in Spain. For all those who believe that Jose Mourinho is indeed the best man for Real Madrid, a victory for the Portuguese coach at the Santiago Bernabeu will only help to definitely prove and confirm how potent he is.
Step 3: Commence A Fruitful Era For Real Madrid
After accomplishing the tasks stated above, Jose Mourinho will have to arrive as a king in the Spanish capital. He will deservedly be praised as a living legend for having inspired Real Madrid's 2009/2010 season to a successful end. Mourinho will be the coach of Real Madrid at the request of President Florentino Perez, and his new challenge will be to chase and haunt Barcelona as Los Blancos find back their pride at the expense of Barcelona.
The 2010 World Cup will certainly mark the end of today's chapter where Barcelona are the team to beat at the moment. What will the near future bring? Will Jose Mourinho finally put rumors to bed by switching to Real Madrid? And if he does, how will his presence influence the fate of the Spanish giants in the history of football?
Note:
This article is a reasoning of how I think Jose Mourinho could become Real Madrid's "Special Savior." Please feel free to share with me your sincere opinions and ideas about the article. Press the "LIKE" button if you agree with me on more than 50 percent of what I wrote. Thanks.
This article is
What is the duplicate article?
Why is this article offensive?
Where is this article plagiarized from?
Why is this article poorly edited?

Real Madrid: Like this team?