2010 NHL Playoffs: Pittsburgh Penguin Fans Show Fleury Classless Act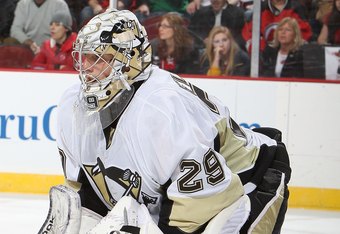 Al Bello/Getty Images
Marc-Andre Fleury would be the first to tell you that he has had a less than inspiring start to the 2010 NHL playoffs.
He, along with his teammates, had an extremely poor showing last Wednesday night in Pittsburgh's 5-4 Game One loss to Ottawa at Mellon Arena.
Looking to rebound on Friday night during game two, Fleury was beaten eighteen seconds into the contest on a seemingly harmless wrist shot by the Sen's Peter Regin.
I will be the first to admit that I was not at all happy with Fleury and uttered a few expletives after the puck tickled the twine, but when "The Flower" scooped up a harmless toss to the front of the net shortly there after, I went from frustrated to furious.
My anger, however, was not directed at the Penguin's young goaltender, but towards the moronic "fans" that were at the arena who decided to give Fleury the ole "Bronx cheer."
How quickly people can jump off the bandwagon in the world of professional sports.
The goaltender receiving this idiotic display of sarcasm was the same netminder who made that heart stopping save on Nicklas Lidstrom in the dying seconds of game seven during the 2009 finals to help secure the franchise's third Stanley Cup.
That save on Lidstrom, by the way, was just one of many huge saves and games that Fleury rattled off last post season.
The Stanley Cup is being defended by the Penguins in this year's spring tourney because of Marc-Andre Fleury—not in spite of him.
I constantly read or hear negative comments about Marc-Andre Fleury and an overwhelming amount of them come from Pittsburgh fans.
What exactly does the twenty-five year old puck stopper from Sorel, Quebec need to accomplish to receive the respect that he deserves?
I understand that Fleury has had a very mediocre regular season in 2009-2010 and an obvious shaky beginning to the Penguin's playoff run, but even the best of goalies have some rough patches during their careers.
When a player is struggling is when the fans need to get behind them, not turn on them at the first sign of adversity.
I understand that all fans get frustrated with athletes when they are playing poorly or make costly errors. Believe me, I have spewed my share of derogatory verbiage towards my most favorite players from time to time. This happens when you are a passionate sports aficionado and get caught up in the excitement of a contest.
Despite these occurrences, when fans (and I use the term loosely) disrespect a player, like they did to Fleury, that has done so much over the last few years for their favorite franchise it is inexcusable.
The part of this pathetic act that really tears at me the most is that the majority of jerks that felt the need to harass their own team's goaltender were probably the same "fans" that piled on to the Penguin's bandwagon over the last few seasons.
These fair-weather fans (who conveniently missed the Penguin's struggles during the 1980s or tuned out when the organization's top players were guys like Rico Fata, Konstantin Koltsov and Landon Wilson) will be the same people who will be standing and chanting Marc-Andre's name if he picks up his game.
The fans of the Pittsburgh Penguins who truly "get it" know how lucky we are to have a goalie of Fleury's caliber.
Is he Martin Brodeur or Patrick Roy? No, but he is a terrific goaltender that has proven he can deliver when it matters most.
Just ask the Flyers, Capitals, Hurricanes and Red Wings…..they'll tell you.
This article is
What is the duplicate article?
Why is this article offensive?
Where is this article plagiarized from?
Why is this article poorly edited?

Pittsburgh Penguins: Like this team?