Tony Stewart and Office Depot: "Growing Green" Never Looked So Good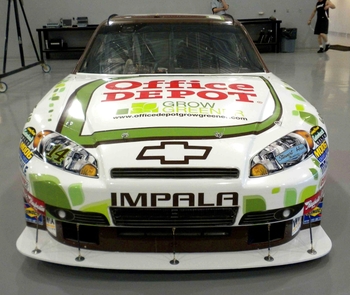 This weekend NASCAR's Tony Stewart encourages fans to "Grow Greener" at Phoenix international Raceway.
On April 22, the No. 14 Office Depot/Old Spice Chevy Impala will feature a special green-themed paint scheme in celebration of the 40th anniversary of Earth Day and a new partnership between Office Depot and EarthEra, a program created by NextEra™ Energy Resources, North America's largest producer of wind and solar power.
Let Stewart and Office Depot show you just how smart and easy growing green can be!
(Office Depot No. 14 "Grow Greener" Chevrolet photos, video and press release courtesy of Edelman/Office Depot)
Green is Beautiful!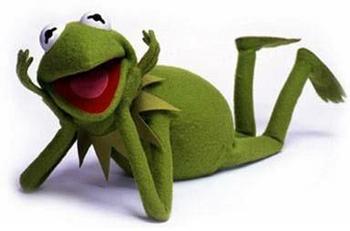 In 1970, Kermit the Frog first sang, "It isn't easy being green."
For the melancholy frog, being green meant spending his days "the color of the leaves and blending in with so many ordinary things."
However, by the end of the song Kermit changed his tune by associating positive attributes with the color green.
"But green's the color of spring and green can be cool and friendly-like. And green can be big like a mountain or important like a river or tall like a tree.
"When green is all there is to be it could make you wonder why. But why wonder, why wonder, I am green, and it'll do fine. It's beautiful, and I think it's what I want to be."
Four decades later as we prepare to celebrate the 40th anniversary of Earth Day, that silly little song could not be more prevalent.
Green Means Go!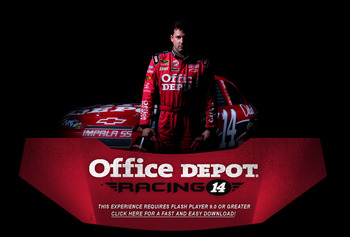 Office Depot and Tony Stewart, in association with NASCAR, ask fans to embrace your greenness.
On Saturday, April 10, during the Subway fresh Fit 600 at Phoenix International Raceway (PIR), the No. 14 Office Depot/Old Spice Chevy Impala driven by two-time NASCAR Sprint Cup Series champion Tony Stewart will feature a special green-themed paint scheme.
Green Wrap Time Lapse Goodness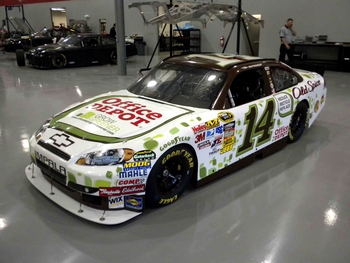 Awesome paint scheme, but just how did they do that?
Watch Your Carbon Footprint!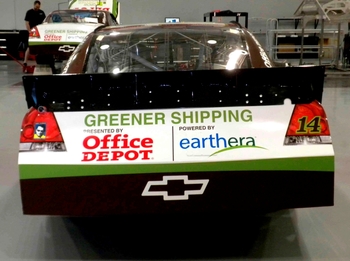 The paint scheme coincides with the upcoming 40th anniversary of Earth Day on Apr. 22, and recognizes a new and innovative partnership between Office Depot® and EarthEra®.
To launch the partnership's first program, "Greener Shipping," Office Depot will balance the carbon footprint of the Subway Fresh Fit 600 race at PIR.
Through its purchase of EarthEra products, Office Depot is helping the race "grow greener" by balancing the carbon footprint of not just the cars on the track, but also fan travel, race team travel, and track operations during the race.
Buying Green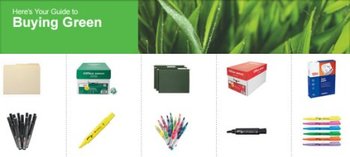 The new Office Depot Greener Shipping Program encourages eligible Office Depot customers to "grow greener" by changing how they buy office supplies.
When eligible customers eliminate small orders, increase average order size, and help reduce delivery frequency, Office Depot will provide rebates on certain green products and purchase EarthEra products on the customer's behalf.
"Our philosophy at Office Depot is that every step that individuals, businesses or sporting events take to "grow greener" is a step in a positive direction," said Yalmaz Siddiqui, Director of Environmental Strategy for Office Depot.
"By involving our NASCAR sponsorship, we specifically wanted to move the dialogue on going greener away from its typical niche, to a much wider audience.
In addition, like many global corporations with leading environmental programs, we also have a large segment of customers who are NASCAR fans.
As part of our extensive effort to celebrate the 40th anniversary of Earth Day, we are proud to work with the NASCAR community to help continue its efforts to grow greener."
I Like The Outdoorsy Type!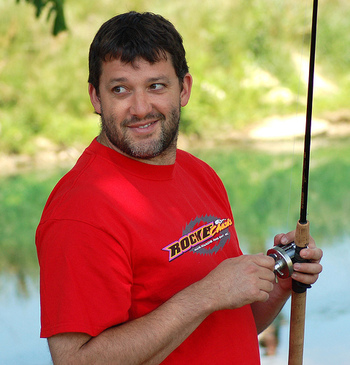 Tony Stewart, who is currently eighth in the NASCAR Sprint Cup Series™ point standings, said he was excited to lend his support to the partnership between Office Depot and EarthEra.
"I love spending time outdoors, especially when I'm at home, and taking care of the environment is important to me," said Stewart, who lives near his hometown of Columbus, Ind., and functions in the dual role of driver and team owner at Stewart-Haas Racing.
"As a business owner myself, I am always trying to find better and more efficient ways of doing things to cut down on waste, and I'm proud to help get the word out about the partnership between Office Depot and EarthEra."
NASCAR Goes Green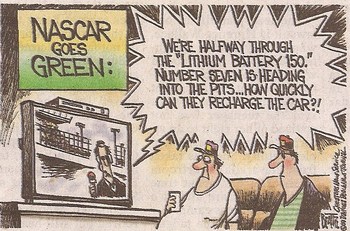 NASCAR and its partners share a commitment to preserving the environment. The sport has launched many programs to help it operate in an environmentally responsible way.
A comprehensive green strategy for NASCAR and its stakeholders is focused on reducing the sport's carbon footprint and waste production while promoting conservation and sustainability messages to fans.
"We are proud to partner with Office Depot to reduce the carbon footprint of the race weekend at Phoenix International Raceway," said Nate Hanson, Vice President of Power Marketing at NextEra Energy Resources.
"We applaud Office Depot for continuing to take a leadership role in educating race fans, promoting greener office product solutions for its customers, and for recognizing the benefits of EarthEra, a clean energy future."
About EarthEra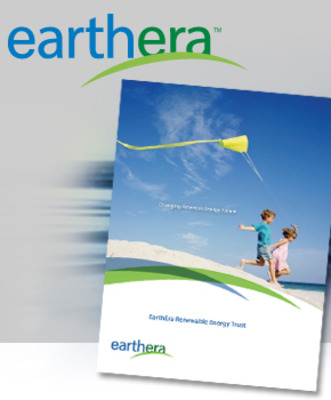 EarthEra, a program created by NextEra Energy Resources, North America's largest producer of wind and solar power, provides companies and individuals the opportunity to reduce their carbon impact and participate in the development of future renewable projects.
All of the revenue from EarthEra product purchases are directed to EarthEra Renewable Energy Trust and used to build new renewable energy facilities in North America. To date, the Trust has over $23 million in commitments from leading organizations and forward-thinking individuals across the nation.
Recognizing professional motorsports as an important communication platform, in 2009, NextEra Energy Resources became the Official Renewable Energy Provider to the Daytona International and Homestead-Miami speedways as well as the primary sponsor of the NextEra Energy Resources 250 truck race.
For more information visit: www.EarthEra.com, www.NextEraEnergyResources.com, www.FPLGroup.com.
Green Thumbs Up For Office Depot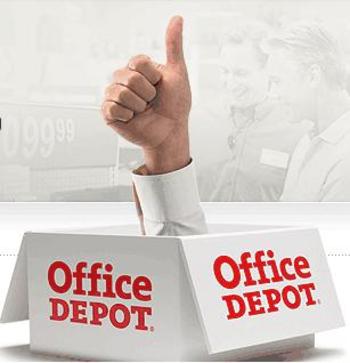 Every day, Office Depot is "Taking Care of Business" for millions of customers around the globe. From the local corner store to the Fortune 500 company, Office Depot provides products and services to its customers through 1,584 worldwide retail stores, a dedicated sales force, top-rated catalogs and a $4.1 billion e-commerce operation.
Office Depot has annual sales of approximately $12.1 billion and employs about 41,000 associates around the world. The company provides more office products and services to more customers in more countries than any other company, and currently sells to customers directly or through affiliates in 51 countries.
To learn more about Office Depot's Earth Day Grow Greener campaign, please visit www.officedepotgrowgreener.com.
To buy greener office products from Office Depot, please visit www.officedepot.com/yourgreeneroffice.
For more information about Office Depot's overall environmental initiatives, please visit http://socialpressofficedepot.com/environmental-initiatives/.
To learn about Tony Stewart and Office Depot Racing, go to www.officedepotracing.com
You can also find Office Depot on Facebook at http://www.facebook.com/OfficeDepot and Twitter at http://twitter.com/officedepot.
Keep Reading