Andy Roddick: Reward for Perseverance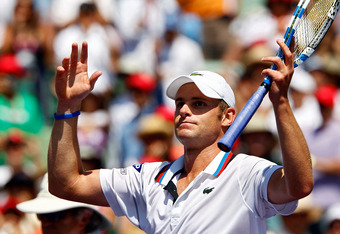 Clive Brunskill/Getty Images
The score was 6-2 in the second set tie-breaker, and a brash, aggressive Texan had three chances to serve for an almost unassailable two sets to love lead against the Greatest Player of All Time. These chances were to capture the one title he had lost on two previous occasions to the same man across the net at the same venue and the same event—the Wimbledon final, the greatest trophy imaginable in the sport, the Holy Grail of tennis.
Yet the man loses his third chance to get the third time lucky by the narrowest possible margin, and had to deal with the frustration of his opponent proudly sporting a jacket revealing a number 15 times the number of Grand Slam titles he had won, and the agony of hearing the opponent consoling him, unsuccessfully, not realizing the fact that losing the title after winning it five times is a million times less painful than losing it for the third straight time.
Yet, Andy Roddick keeps his calm, controlling the tears waiting to erupt out (and which has become a fashion these days for losing finalists—Roger Federer and Andy Murray being two examples) and even managed to come up with a small joke in an otherwise painful moment.
And if this loss was not enough, he watches more opportunities fly past him as he loses a 7-6 fifth set to his fellow countryman at his home slam, and later next year manages to squander a two sets to one lead to bow out of another Grand Slam tournament. Oh, wait. The agony continues at another one of his home tournament in Indian Wells when he loses the final to a comeback player in two closely fought tie-breakers.
Not many can recuperate from this loss, and with the career that this man has enjoyed, the ones with a weaker heart and lesser resolve would take the easier part to enjoy life with the money that will last two lifetimes.
But there has been one trait that has often been ignored while assessing Roddick that is more popularly described as the one-shot (his serve), one-slam wonder who was expected, rather unfairly, to continue the colossal legacy of the sport formerly graced by champions like Pete Sampras, Andre Agassi, Jim Courier, John McEnroe and Jimmy Connors—a grand total of a more than 10 years worth of Grand Slam titles. And for the brief moment where he made his attempt—rather early in his career—by winning the 2003 U.S .Open title and ending the year atop the rankings, the expectations from the country crazily grew up as the next best American thing ready to win majors in double-digits.
What was not realized, however, is that the man was with a limited skill set. While his serve is one of the best ever, his forehand does not have the pace or spin of Rafael Nadal or the versatility of Roger Federer. His backhand is one-dimensional, his volleys are average, at best, and his on court movement would pale in front of his bigger known rivals.
Despite his limited skill-set, he has shown the tenacity of Rafael Nadal or Jimmy Connors, putting on one disappointment after other, shrugging off one loss after other, and all the while improving himself in every dimension by every means possible. Be it by working with Jimmy Connors to work on his net game, or by working with Larry Stefanki to shed off 15 pounds of unnecessary fat to become one of the fittest players on the circuit, Roddick has worked hard to get better at the game.
Today, his serve may not have the consistent pace that used to generate seven years back, but it has much better placement and disguise, to make it even more effective than the times when he was a bomb machine. His slice backhand is one of the most wicked shots in the game today, bettered only by Rafael Nadal, while his movement and anticipation on court is top class.
More importantly, he is no longer the serve-forehand puncher he was, with enough dimensions in his game, and he has the presence of mind to change his strategy with the match situation—as he showed against Nadal in the semis of Miami. Even more importantly, he has developed the psyche to forget the disappointing moments and start each tournament with a fresh new perspective which becomes pivotal for a person who has been constantly wandered around the finish line in the last eight years managing to clear it only once (can somebody teach the same to Elena Dementieva?).
At 27 years of age, he may not have the luxury of time with him, but Roddick is playing tennis of life in these years, and one can only hope a late surge in his career much like Agassi had after '99. It will be only right after a man with limited talent and constantly under the scrutiny of the media has achieved much more than his colleagues with 10 times more talent couldn't. And his deserved victory at the Masters Series in Miami can be hoped as a start for the same.
This article is
What is the duplicate article?
Why is this article offensive?
Where is this article plagiarized from?
Why is this article poorly edited?