Montreal Canadiens Worst 5-on-5. Will the Real Grinders Please Stand Up?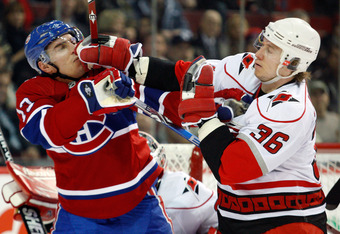 Richard Wolowicz/Getty Images
Yep, it's official: The Habs are THE worst team in the league, 5-on-5. Combine that with their second overall powerplay and it is not big surprise that they have essentially been a win-one, lose-one team this year.
With 122 goals scored 5-on-5 so far this season, the Habs are 30th in the league in the department behind the likes of Tampa Bay, the New York Islanders, the Carolina Hurricanes, and the Boston Bruins—all of whom are known for having troubles scoring.
Here, look for yourself: http://www.nhl.com/ice/teamstats.htm?fetchKey=20102ALLAAAAll&sort=goals5On5&viewName=goalsFor
Sadly, this is not a new trend for the Habs as they have struggled mightily in the 5-on-5 category AND had an excellent powerplay for the last three or so seasons.
So how is it, then, that the Habs managed to fire off six straight wins after the Olympic break?
It's simple, their third and fourth lines—who have been non-factors on the score-sheet all season—woke up.
During their streak the Habs' third and fourth lines combined for 20 points (10 G, 10 A) with contributions from Sergei Kostitsyn (4 G, 2A), Glen Metropolit (2 G, 1 A), Mathieu Darche (2 G, 0 A), Dominic Moore (1 G, 5 A), and Travis Moen (1 A, 2 G).
Since then, the Canadiens have played five games winning one and losing the other four. The same five players above who were helping lead the Habs to victory over their win-streak, combined for a grand total of zero points over their last five games.
It doesn't take a genius to see that at the only point in the season where the Habs bucked the win-one, lose-on trend, they were doing so by getting contributions from all four lines. When the third and fourth lines are contributing on a regular basis, they take pressure off of the top two lines by spreading out the offensive thrust.
When a team is scoring by committee, as the Habs were doing over their streak, the opposition really does not know who to key in on. Stop one line, and the three others will sink you.
Whatever the Habs did to get a jump from those bottom two lines, they need to find that magic again if they are to A) qualify for the playoffs and B) do any damage once they get there.
With six games left in the season and another pivotal matchup tonight, this time versus the Hurricanes, the Habs have very little margin for error. A reasonable estimation is that they have to three more games, or half of their remaining schedule, in order to make the playoffs.
It's win-and-you're-in time for the Habs as they are clearly holders of their own destiny. Being in the driver's seat is better than having your fate in someone else's hand, but you still have to win the games that you have to win. Let's hope they start that trend tonight.
---
Follow Kamal on Facebook, Twitter, HabsAddict.com, HockeyBuzz.com, and Habs News Links
This article is
What is the duplicate article?
Why is this article offensive?
Where is this article plagiarized from?
Why is this article poorly edited?

Montreal Canadiens: Like this team?