The Last Tango In Paris: Roland Garros May Be No More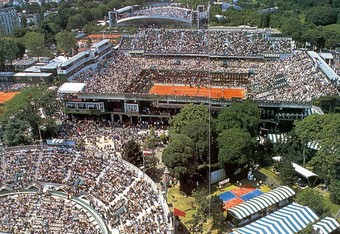 Call me sentimental but a Grand Slam for a country should take place in that countries very own centre piece.
New York hosts the US Open and Wimbledon in London hosts the UK Slam. The Australian Open as well, whilst not hosted in its capital Canberra or its most famous city Sydney, finds its place in the sporting mecca that is Melbourne.
So the news that the French Open may be foreced from its Parisian home is simply heartbreaking.
Paris is the city of love. It is the city of culture and a city of passion.
And every year for two weeks we get to witness the best of the best competing at the Roland Garros stadium, in a setting that is surrounded by the pièce de résistance of French life.
Some players such as Venus Williams may welcome a move if it affords them a greater opportunity to finally claim a French Open title. Yet for others like Nadal it will not be the news they would like to hear.
Alternative viable options include Versaille and Disneyland, both lying in the suburbs of Paris. Yet these are both some fifteen kilometres in distance from the capital.
The Americanisation of Disneyland would surely also do much to deter from the authentic French feel that should be evident at the Open.
Could you imagine Wimbledon without the obligatory strawberry's and cream, so associated to British culture?
The reason for the move which may come into fruition is a lack of room. Players like Roger Federer have complained about cramped conditions in the past. It is abundantly true that Roland Garros pales in comparison to Wimbledon with its vastly smaller number of acres.
It is odd then when you see an extended picture covering the whole stadium, as you find yourself immediately perplexed at the masses of greenery that surround the centre. Your notion of being able to fulfill what is required to keep the Open in Paris is given a boost.
Considerations made to extend the infrastructure though have been met with opposition from locals and environmentalists who do not want to alter the surrounding protected parks.
As someone who leads a green life I can comprehend this. We all want our homes to be free of pollution.
Yet if it comes at a detriment to such an integral part of both the tennis and Paris's calender then you have to question the fierce defense against the expansion. This is especially when the stadium itself already consists of twelve show courts that amount to a large proportion of land thus far.
It is now in the hands of Gilbert Ysern, the tournament director of the French Open. He has proclaimed his wish that a resolution will come. Otherwise he concedes that it will be a sad farewell to Paris.
What should be worrying is that the French Open falling away from Paris could spell the end to its claim as a coveted title. The Roland Garros stadium has built a credible and bohemian reputation for the Open that could be forced into a downfall in its loss.
Since the decision is not to be made until at least next year we at least still have the 2010 tournament to admire. Then we will just have to sit and ponder the years and tournaments to come.
This article is
What is the duplicate article?
Why is this article offensive?
Where is this article plagiarized from?
Why is this article poorly edited?