San Diego Chargers' Three Draft Needs Set, but in What Order Do They Fall?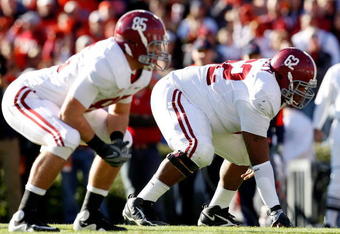 Kevin C. Cox/Getty Images
With LaDainian Tomlinson and Jamal Williams hitting the open waters of free agency and Antonio Cromartie given a transcontinental change of address, the three big needs for San Diego are obvious: starting running back, nose tackle, and cornerback.
What is less obvious is how the team goes about addressing those three positions. Given AJ Smith's track record and the corpse-quiet of the free agent rumor mill in Southern California, it is highly unlikely that we will see the team do anything at those positions before the draft.
The hard decisions will be able to wait until April 22 to be answered, but when that day rolls around the team will have to figure out in a hurry who to draft where.
The conventional logic would have San Diego picking the best player of the three positions available in the first round. Addressing the position by virtue of who is the best available seems simple and logical, the smart way to go.
Unfortunately it fails to account for two overriding factors that can muddy the decision. The first would be the depth of the field while the second would be what the team already has on roster.
With regards to who the team already has in place, running back would win hands down. Darren Sproles with his $7 million tender is the only running back on the roster and it best served with four to eight touches per game.
At cornerback, Antoine Cason is a young first-round pick with two years of experience and a few flashes in early 2009. He may not have supplanted Antonio Cromartie last year, but has the best chance of anyone at the three positions of being a 2010 starter.
Nose tackle has the depth that cornerback and running back lack. Ryon Bingham, Vaughn Martin, Ogemdi Nwagbuo, and Antonio Garay are all on the team's roster at the tackle position. Likely only two of the names will still be around when the season begins, but for now they have a host of names to choose from.
None supercede backup quality however. Only one of the four (Vaughn Martin) cracks 310 pounds at a position ideally played around 330 to 340 pounds. Bingham and Garay will be 29 and 30 respectively when the 2010 season begins, and unlikely to show much in the way of growth at this stage of their careers.
Nwagbuo, like Garay, was signed out of an urgent need to put warm bodies on the field with both Jamal Williams and Ryon Bingham out for the year before Week Two even rolled around. He was an undrafted free agent that performed well considering the situation before injury made him the next nose-tackle to finish the year in street clothes.
The final piece to the quartet is 320-pound Vaughn Martin. He was drafted in the fourth round as a tremendous athlete whose inexperience would make him something of a project player. He is the most likely of the four to actually start in 2010, but is a few years of development away from showing what he really will be.
With the roster depth analyzed, draft depth must come next.
Running back was the biggest need by virtue of having nothing at the starting position. It also is the deepest of the three positions in the draft.
Clemson speedster C.J. Spiller will likely be off the boards when San Diego picks, but that leaves two more first round talents who will likely be available in Jahvid Best and Ryan Matthews.
Of the two, Matthews is the best suited to San Diego's needs. He is 20 pounds heavier than Best, and more suited to fighting through in short-yardage situations, where San Diego's run troubles were most apparent. His size and hands are actually quite similar to the player he would be replacing at starting running back.
Among the second to third round talent lies the true riches of the position. With a subpar combine dropping him into the second round, Jonathan Dwyer joins seven or eight other names who rest at this position.
This makes it much easier for San Diego to let the team's primary need of this offseason slip unaddressed after one round. Even waiting until the third round the team should be able to land a solid-sizable back like LeGarrette Blount or Ben Tate.
As a team that will be pass-first as long as Norv Turner and Philip Rivers are under contract, letting a player like Matthews go in favor of either Jonathan Dwyer, Montario Hardesty, or Toby Gerhart in the second round or Tate, Blount, or Anthony Dixon in the third seems to make sense.
Cornerback is a more difficult position to predict. Joe Haden is the only surefire first round pick, although Kyle Wilson is probably going to find himself taken before San Diego can have a look as well.
After those two there are no surefire first-round talents. Devin McCourty is a possibility, but late climbers can be something of a gamble. A safer proposition would be looking for one of the many second or third round draft picks who could drop to the Chargers by nature of the position's depth.
Brandon Ghee would probably be drafted in the mid-40s in an average year, but players like Kareem Jackson and Chris Cook could keep him available down at 60. He would be a nice addition as a good blend of decent size (6'0'', 190) and great speed (4.37).
Down at the third round could be one of the greater bargain names at the position. Donovan Warren watched his stock drop considerably thanks primarily to a poor 40 time at the combine (4.57). He was an upper second round talent before names started shuffling around, and might just be available in the third round.
If he is unavailable the team could still choose Amari Spievey or Javier Arenas as good third round prospects that can compete with Cason for the starting role.
At the opposite end the spectrum lies the nose tackle position. It probably has the least quality depth of any major position in the draft, which makes it something of a concern for the team.
Dan Williams is the top nose tackle prospect out of the draft, and would easily be the best choice for San Diego to take if he is available. Unfortunately, he will probably find himself drafted eight to 10 spots ahead of San Diego.
Terrence Cody is much more likely to be available, but his 16 pound weight loss may have just put San Diego in a pickle. The shed poundage means he has virtually no chance of dropping to the team with their second round pick, but his 370-pound senior bowl appearance has to give doubts about drafting him in the first round.
The final serious contender is Cam Thomas. He is not at all on the first-round radar, but may just be available for the 60th pick. He may not be as good a prospect as Cody, but is probably a better second round value than Cody is a first.
After those three, the dropoff comes hard and fast. Linvall Joseph or Torrell Troup should be available in Round Three, and would be the only other players at the position who one could envision fighting for a starting role.
Neither would be the sizable clog in the middle that the first round talents are, but would be similar to Martin as athletic nose prospects who can move very well.
Ultimately, that dearth of good prospects makes the nose tackle position the Round One choice San Diego should make. After that, it becomes questionable with running back edging out corner. As it stands, the final guess at the top three positions would be:
1. Terrence Cody
2. Jonathon Dwyer
3. Donovan Warren
Should all of them be unavailable when the team's picks roll around, the alternative draft then becomes:
1. Ryan Matthews
2. Cam Thomas
3. Amari Spievey
This article is
What is the duplicate article?
Why is this article offensive?
Where is this article plagiarized from?
Why is this article poorly edited?

San Diego Chargers: Like this team?