Just Because You Write It Doesn't Mean the Coyotes are Winnipeg-Bound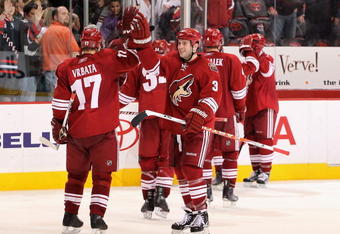 Christian Petersen/Getty Images
Originally posted on Phoenix.Fanster.com.
If you've ever lived in an apartment, you know what it's like to deal with the noisy neighbor above you.
I'm sure, if you're anything like me, you've even pulled out the broom and slammed on the ceiling to express your displeasure with the unnecessary and annoying distraction.
Canadian hockey fans are those neighbors above us, and they have been been making a lot of noise over the last few days. Quite frankly, it's getting annoying. Consider this the written equivalent of slamming on the ceiling.
Now before I get started, let me say this, I am not a conventional journalist, as you can probably tell by my unconventional style, and lack of appropriate punctuation.
As a matter of fact, I'm just a guy lucky enough to have the means and the ability to share my sports opinions on the Internet.
With that said, even I know the simplest rule of journalism, and even blogging—just because you write something, it doesn't make it true, no matter how bad you want it to be. Apparently that rule isn't allowed through customs.
If you've missed it, over the last week Canadian hockey fans have been a "buzz" about the rumor of a current NHL franchise relocating to Winnipeg in time for the 2010-11 season.
Early last week the rumor, and those spreading it, were sure that the Atlanta Thrashers would be the team of choice to jet to the great white north.
Once the Atlanta rumors had been thoroughly refuted, they spun the wheel of misfortune to find the next American team to try and relocate. Guess where it landed? You got it, squarely on the Phoenix Coyotes .
The rumor entitled They are coming home! The Coyotes ARE returning to Winnipeg!!!! , from the Vancouver Canuck blogger for a site that rhymes with Stocky Fuzz—I refuse to link to a site in obvious search of easy and undeserved traffic—is filled with contradictions, half-baked ideas, and unconfirmed "sources."
The title makes the move sound imminent, but one paragraph in the writer is already backing off the claim, saying the "source" puts it at a "90 percent" chance of happening.
If you wade a little further into the piece, apparently the move has stipulations. One such stipulation is a "season ticket provision which Winnipeg will have to meet. I don't know the numbers, but there is a condition that will have to be met...so for Winnipeg folks, get your wallets out."
So in order for the Coyotes to relocate to Winnipeg, the hockey fans in the city will have to purchase a certain number of season tickets prior to the deal being finalized? Sorry, but I just don't buy it.
A move like that would be more than risky for the NHL. In order to put season tickets on sale in Winnipeg, the league would have to acknowledge that the relocation is a serious possibility. If the provision isn't met, the league is now left with an even bigger mess in Phoenix than some perceive they have now.
It would be like your wife admitting she was looking for someone new, but, if they didn't meet certain criteria, she'd like to stay with you until she found a better offer.
Plus it would mean Gary Bettman admitting he screwed up by not only placing the team in Phoenix in the first place, but by wasting the owners' money last summer.
If the end game was to put the 'Yotes in Canada, the league could have saved the $140 million to purchase the team and the money it has cost to operate them by letting Jim Balsillie take the team last May.
Hockey in Phoenix has become a key element to Bettman's legacy as commissioner, and it's clear he won't easily admit defeat.
The other provision is that the new/old Winnipeg franchise would not return to the Jets moniker. Really? You'd have an easier time convincing me to wear all denim to a wedding.
Hockey in Winnipeg is synonymous with the Jets (or so I'm told by those fans there that leave comments on our Coyotes blog).
Fans still run websites dedicated to the team and run "Bring back the Jets" campaigns. I can't imagine any move that didn't include the team being named the Jets would go over very well with the locals.
Some will point to the fact that there hasn't been any comments refuting the rumor by anyone in power. There's a simple reason for that: the rumor is completely unsubstantiated.
The Internet has given any Tom, Dick, or any hockey fan with a computer and the ability to type a platform to share their ideas, opinions, and "rumors "...and yes,I realize the irony of someone like me typing that.
The league and its teams can't reasonably be expected to respond to every rumor that turns up online. If they did, they'd be too busy to accomplish anything else.
Just because you write that the Phoenix Coyotes are coming back to Winnipeg doesn't make it true. Anyone can claim sources, and anyone can post a rumor (or rumour, if that helps), but it doesn't mean it's accurate.
I could claim that "sources tell me that Major League Baseball and the NBA are both moving their Canadian franchises back to the United States because there are bigger baseball and basketball fans in the US."
Guess what? My source was Joe the janitor at Yankee Stadium, and he heard it from a fan in the left field bleachers...or was that source my imagination? I can't remember.
Either way, it's about as true as saying that maple syrup was the greatest Canadian export ever sent to the U.S., when everyone knows it's Pamela Anderson.
So before I have to call the landlord and complain, take this slight tap as a warning. I understood the noise coming from your place during the Olympics, but could do all of us down here a favor and KEEP IT DOWN?!
There's nothing going on worth making this much noise about.
This article is
What is the duplicate article?
Why is this article offensive?
Where is this article plagiarized from?
Why is this article poorly edited?

Phoenix Coyotes: Like this team?