NCAA Football: Arkansas Razorback Recruiting Is on the Map (Literally)
February 16, 2010
Brian Bahr/Getty Images
Technology is a driving force in the new global economy, and it has found its way into our everyday lives, in nearly every facet.
Even college football recruiting.
Yup, now online technology includes a tool for faithful Arkansas fans that follow recruiting.
Enter the Arkansas Razorback Recruit Map.
The days of searching multiple recruiting Web sites to see what they have to say is over. With this new map, you can access all this information from one place.
Simply click on the icon or a player's name and you can see their ratings from all three major recruiting services: Rivals, Scout, and ESPN Insider.
Phil Pollard, a software developer and avid Razorback fan, is always looking for something new to try and with the Arkansas Razorback Recruit Map; he has hit one out of the park with this.
His use of technology and popular visual tools makes every trip to his site a productive experience. See below for an example: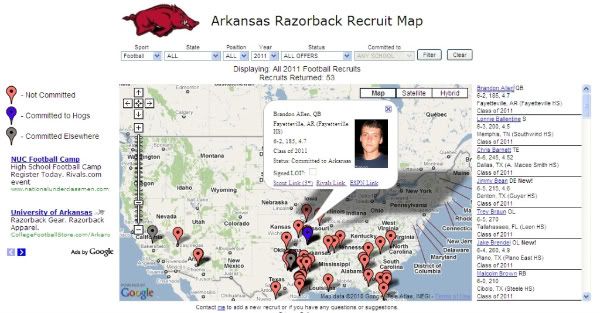 The site constantly interfaces with these sites to learn any updates in a player's recruiting.
Currently the map works for Arkansas football and basketball recruit information.
The map view powered by Google Earth allows you to see where Arkansas is recruiting and also if a player is committed or undecided. If a school has multiple players offered by Arkansas, and one icon is covering the other, then all you have to do is scroll down the right toolbar to view the players in a list format.
One improvement Phil plans on making to the map is adding a "Latest Updates" section with an RSS feed that includes new recruits added, recruit status changes, new Rivals, Scout or ESPN ratings.
Razorback fans enjoy this new tool, and their pursuit of all things Arkansas 24/7, 365 days a year. To visit the Arkansas Razorback Recruit Map, CLICK HERE.
Phil is always looking for new ideas, so if fans want to see something added or have a new idea, contact him at (recruits@beerreviewsonline.com).
Be sure to let Phil know how how much you appreciate the site, and visit it often.
__________________
This article was written by Blake Stansbery of Born Hog Wild.
Follow Born Hog Wild on Twitter @BornHogWild.
Become a Fan of Born Hog Wild on Facebook.