Conference Rankings: 2009-10 Bowl Performances Through Jan. 2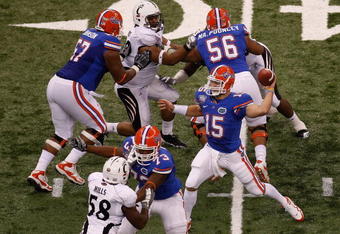 Chris Graythen/Getty Images
Perhaps the most intriguing by-product of the one-of-a-kind BCS system is its over-emphasis on conference strength as a determining factor for valuating individual teams.
It's given rise to a strange new paradigm of spectatorship that has completely altered the rooting behavior of coaches, players, and fans.

"Conferencism " (as Baby Tate cleverly dubbed it) has reached unprecedented heights in college football. It has changed foe to friend and rival to supporter.
It's the only time when Sooners cheer for Longhorns, Bruins celebrate with Trojans, and Wolverines congratulate Buckeyes for a job well done.
Unlike any other time of year, the bowl season provides the most compelling match-ups of the season and as a result, the most telling barometers of overall conference strength, while giving fans and pundits talking points and bragging rights for the long nine months of off-season that awaits us all.
Here is the updated ranking for how each of the major conferences have performed in the bowls through games ending on Jan. 2 (see the previous rankings here ).
1. Mountain West Conference (4-0)
Key Wins: Fresno State, Oregon State, Cal, Houston
Losses: None
Games Remaining: TCU vs. Boise State (Fiesta Bowl)
The MWC ranks atop the list boasting a 4-0 record with three convincing victories over quality opponents. The MWC now moves to 14-4 in bowls since 2006-07 and have won six straight bowl games dating back to last season when TCU beat Boise State and Utah knocked off Alabama.
All four MWC teams that have prevailed came into this year's bowls as underdogs. Combined, these teams have beaten the spread by an average of 22 points.

While the BCS spent the off-season downplaying the MWC's credibility and Utah's success in particular, TCU's run this year has done nothing but add fodder and credence to the MWC's case for BCS inclusion.
Especially when you consider the Horned Frogs' regular season opponents have now moved to 6-0 in the bowls.
Despite the undefeated record, the MWC still lacks a marquee win over a legitimate top ten opponent. TCU will have the perfect opportunity to crystallize the MWC's quest for bowl perfection when it faces the Boise State Broncos on Monday.
2. Big Ten (3-3)
Key Wins: Miami, LSU, Oregon
Losses: Iowa State, Auburn, Texas Tech
Games Remaining: Iowa vs. Georgia Tech (FedEx Orange Bowl)
Look who showed up for the postseason! The beleaguered Big Ten, which has been desperate for a statement non-conference win, has come up with three over elite teams from the Pac-10, ACC and SEC.
For the first time in half a decade, the Big Ten has captured the elusive Rose Bowl Trophy with a solid win over a very explosive Oregon team.
While the Big Ten is 3-3, the quality of their victories far outweighs the losses, two of which were negligible. A one-point setback by Minnesota to Iowa State and an overtime loss by Northwestern to a resurgent Auburn.
Had the Gophers managed just one more field and if Northwestern could have fooled the Tigers with the fumblerooskie, the Big Ten would have achieved a solid victory over each BCS conference.
Close but not quite.
Which is exactly how the Spartans must feel right now. They played well for being so short-handed. If only Potts had stayed in the game.
One day we may very well look back and see Jan. 2, 2010 as the night Sheffield became a football name. The young QB from Texas Tech looked phenomenal in just two drives: one that came from behind to take the lead and the other that iced the cake.
If the Hawkeyes can pull off a victory over the Yellow Jackets on Tuesday, this could prove to be the Big Ten's best bowl performance since 2005.
Maybe that week off the first week of December ain't so bad after all.
3. SEC (5-4)
Key Wins: Texas A&M, Northwestern, Cincinnati, Oklahoma State, East Carolina
Losses: Clemson, Penn State, Virginia Tech, UConn
Games Remaining: Alabama vs. Texas (National Championship Game)
The SEC came into the bowls with high expectations and thus far have yielded a moderately successful bowl performance. Florida took Cincinnati to the woodshed in what appears to be the most definitive game, in terms of conference strength, thus far.
It's always an impressive feat when your runner-up takes down an undefeated team from a BCS conference in that fashion.
SEC fans may be quick to overestimate the value of their mid- and lower-tier squads, but the elite of the SEC, Alabama and Florida, are playing on an entirely different plane than the rest of college football.
Although the Mountain West may have something to say about that.
Ole Miss provided a clutch win over a surprisingly flat Oklahoma State team. Dexter McCluster is the real deal, while Jevean Snead couldn't hit a big rig 10 yards away. But even Snead seemed sharper than the officiating.

The SEC's other three victories pose little meaning. Georgia laid a beat down on a mediocre Texas A&M team and Auburn eked out an overtime victory over Northwestern, a team who hasn't won a bowl since Harry Truman.
Arkansas needed over time to put away East Carolina, whose place kicking performance was reminiscent of the Oklahoma Sooners in a BCS Bowl, after the fourth failed attempt, you wonder why they bother getting a fifth chance.
Two of the SEC's four losses were no surprises coming at the hands of elite ACC teams with Tennessee falling to Virginia Tech and Kentucky falling to Clemson. Not too much can be taken away from the SEC other than Clemson's victory eases the sting from their disastrous loss to South Carolina.
Perhaps the most telling defeat of the SEC bowl season was LSU's muddy loss to Penn State. It doesn't help the SEC's pristine image when the third best Big Ten team takes down the third best SEC team.
It also doesn't help when a Spurrier-led offense scores fewer points against UConn than Rhode Island.   
The SEC has just one bowl remaining, but it's by far the most relevant. If the Tide can prevail against Texas and claim the SEC's fourth consecutive National Championship, the bowl season will still be considered a huge success.
If TCU falls to Boise State, it would be hard to argue against the SEC as the 2009-10 Top Bowl Performer.
4. Big 12 (4-3)
Key Wins: Arizona, Stanford, Minnesota, Michigan State

Losses: Navy, Georgia, Ole Miss
Games Remaining: Texas vs. Alabama (National Championship Game)
The Big 12 has amassed a fairly solid collection of victories over mid-tier Pac Ten and Big Ten opponents.
Nebraska's stunning 33-0 victory over Arizona illustrated just how dominating the Huskers' defense has become.
What really weighs down the Big 12 in this ranking is the ugliness of their losses to three unranked teams. Missouri was annihilated by Navy, A&M proved no contest against Georgia, and Oklahoma State laid down for Ole Miss in the Cotton Bowl.
It's hard to believe that the Cowboys were just one win away from a BCS Bowl.
The Big 12 is now 0-2 versus the SEC going into the showdown between Texas and Alabama. A National Championship would do wonders for the conference, either way, you have to wonder where this conference would be without the Longhorns.
5. Big East (4-2)
Key Wins: North Carolina, Central Florida, South Carolina, Northern Illinois
Losses: Florida, Florida State
Games Remaining: None
The Big East has been schizophrenic this bowl season. On one hand, they boast the second-best record amongst the major conference.
They have posted solid victories over mid- and lower-tier competition from other conferences with solid victories over Central Florida, South Carolina, North Carolina, and Northern Illinois.
On the other hand, when it came to the most defining bowl game of all, the Bearcats were completely over-matched by Florida.
But doesn't that confirm what we already suspected of the Big East? They boast parity top to bottom, but clearly don't belong amongst college football's elite.
Beginning next season, the Big East will not have a single head coach with experience coaching in a BCS Bowl game. Meanwhile, the non-BCS MWC may have as many as three .
6. ACC (3-3)
Key Wins: West Virginia, Tennessee, Kentucky
Losses: USC, Pitt, Wisconsin

Games Remaining: Georgia Tech vs. Iowa (FedEx Orange Bowl)
While the ACC has played fairly well with an even record and forgivable losses against the likes of Pitt, USC and Wisconsin, the ACC just lacks that marquee victory that really spells success for the bowl season.
A win by Georgia Tech over the Iowa Hawkeyes could skyrocket the ACC to a No. 2 or a No. 3 ranking overnight.
7. Pac-10 (2-5)
Key Wins: Boston College, Temple
Losses: BYU, Utah, Nebraska, Oklahoma, Ohio State
Games Remaining: None
After losing their stranglehold on the Rose Bowl tonight and losing in embarrassing fashion, the end of the bowl season couldn't come soon enough for the Pac-10.
What a difference a year makes! Just one year ago, the Pac finished 5-0 in the bowls with victories over the Big Ten, the MWC, the Big East, and the Big 12.
In fact, just a few weeks have passed since some insiders were making a case for the Pac-10 being the strongest conference in all of college football.
Not this year. The Pac-10 has once again allowed the "inferior" MWC to bitch-slap them for dominance out west with surprising losses to both BYU and Utah. (The Pac was 2-6 vs. the MWC in 2008).
Could you imagine how ugly this bowl season would've been for the conference of champions had Temple hung on to beat the Bruins?
This article is
What is the duplicate article?
Why is this article offensive?
Where is this article plagiarized from?
Why is this article poorly edited?

Ohio State Football: Like this team?