Most Memorable Tennis of the Decade? Try Federer, Nadal, and Sampras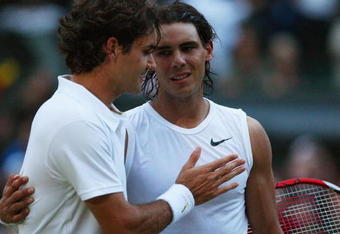 Ryan Pierse/Getty Images
It seems barely five minutes since the new millennium opened before us. The doom-laden predictions of world-wide disaster caused by the collapse of every computer failed to materialise. Indeed, life fell in thrall to smaller and smaller gadgets with bigger and bigger brains.
Men's tennis, too, was about to accelerate into a new phase, as the familiar faces and games of the 1990s—Pete Sampras, Andre Agassi, Pat Rafter and Stefan Edberg—gave way to a surging new phalanx of talent. And few decades have come close to being dominated so completely by just two men.
Roger Federer and Rafael Nadal gradually took the "noughties" by the throat in a way unparalleled in the Open era, barring perhaps the decade between 1975 to 1984 dominated by Bjorn Borg and John McEnroe. Though to get some perspective on how the numbers stack up in favour of the Rafa-and-Roger Grand Slam show, they have already chalked up 21 titles between them in seven years, while the Bjorn-and-John duopoly topped out at 16 in 10 years.
Any selection of outstanding performances during this opening decade of the millennium has, therefore, to include two men.
But the early years of the "noughties" saw some truly memorable moments from players who had no intention of going "gentle into that good night."
So here, in no particular order, are five of the best—moments and players—from a very fine decade in men's tennis. "Noughties" but nice…
Wimbledon final 2001: Goran Ivanisevic against Pat Rafter
The gods of tennis were in a strange mood during the Wimbledon of 2001. With one hand they gave, with the other they took away.
In the semifinals, home favorite Tim Henman was bidding for the third time to reach the finals, and looked set to do so for the first time when he took a two-sets-to-one lead over Goran Ivansevic on the final Friday.
But then the rains came. On the Saturday, the Croat pulled back the fourth set, only for rain to stop play once more.
Finally, on the Sunday, Ivanisevic deprived the British public of what they thought would be the perfect final. In fact, Wimbledon has rarely seen such a perfect final as the one that emerged.
For the first time ever, with the schedule shot to pieces, the final was played on a third Monday, and the doors were opened on a first-come-first-served basis.
The atmosphere was that of a carnival when the 125th ranked Croat took to the court with one of the most popular players ever to grace the game, Australian Pat Rafter. The drama could not have been greater.
Rafter had been beaten in the 2000 final by Pete Sampras, and was hot favorite to seal the deal this time round. Ivansevic's lifelong ambition was to win the title that had escaped his clutches at three previous attempts.
The men duly delivered a wonderful see-saw battle of over three hours, full of inspired winners mixed with nerve-shredding errors, all to a backdrop of chants and cheers on every point. The sets went by turn: 6-3, 3-6, 6-3, and 2-6.
But they saved the best for last. Rafter, serving first, had the psychological edge, and Ivanisevic was suffering from a long-term shoulder injury. It was widely assumed that the longer the match lasted, the more the Croat would struggle, but he stayed strong.
He applied pressure not only with his huge serve but, against one of the finest volleyers in the game, he also fired off his own crisp volleys and fast, accurate returns of serve.
In a nail-biting final game, he missed three match points before becoming the first wild-card in the history of the tournament to win the title.
It was an emotional moment: "This was my dream all my life. I came here and nobody thought about me, but here I am holding the trophy."
The gods had shone not only on the lucky 10,000 who headed the queue on that July Monday in 2001, but on one of the most colourful and popular characters in tennis.
U.S. Open final 2002: Pete Sampras against Andre Agassi
Pete Sampras dominated men's tennis during the 1990s, and by 2000 had notched up his seventh Wimbledon title and 13th Grand Slam.
Then, after over two years without another Slam title, some doubters began to discuss the end of his career. But that was to underestimate this consummate professional.
It may have been six years since he last won the U.S. Open, he may have dropped to 17 in the world, but that would not stop Sampras, at 31 years of age, pounding his way through round after round in New York in 2002.
And who should he meet in the final but fellow American and old foe, the 32-year-old Andre Agassi, who himself hadn't won a Slam since the Australian Open in 2001.
It was one of the longest rivalries in tennis, beginning on the clay of Rome in 1989, and this would be the last of their 34 match-ups. It was their fifth meeting in a Grand Slam final, and their third U.S. Open final. Twelve years after they had first met in the final here, Sampras held a 19-14 advantage.
Despite their contrasting styles of play, their head-to-head on hard courts was close: Sampras had 10 wins, Agassi nine. More importantly, their last meeting in the U.S. Open at the quarterfinal stage the year before could not have been tighter. Sampras took the match, but in four tie-breakers.
So the scene was set for a great show-down.
After a tight opening in which both players held serve with ease, Sampras suddenly found an extra gear at 4-3 and served out the first set.
Sampras' serve, so often the key to the rest of his game, was commanding, and Agassi looked to be on his way to an embarrassing defeat when Sampras broke again in the opening game of the second set, and progressed to a 6-3, 6-4 lead.
Sampras continued to apply the pressure in the third set but Agassi held off his rampant opponent. Mid way into the set, he began to find the range on his returns and, at 5-6, the pressure finally told on Sampras. Agassi forced a series of deuces and, on his second break point, took the set 7-5.
With Sampras apparently exhausted, it looked as though the match-up of champions would go the distance. Agassi had two break points at 2-2 but on the second a simple backhand clipped the tape and fell on his side of the net.
Sampras staved off another crisis at 4-4 when he delivered two double faults in the same game. He then launched his attack and broke Agassi, serving out the match 6-4 to take the last of his 14 Slam titles.
Agassi went on to have his moment of glory months later in Australia, taking his eighth Slam victory.
But in New York, it was Sampras' day. He was the oldest to win the Open since Ken Rosewall 32 year earlier, and it would be his last match on the Tour.
Australian Open semifinal and final 2005: Marat Safin against Roger Federer and Lleyton Hewitt
The charismatic Marat Safin had announced his arrival onto the tennis stage back in 2000 when he beat Pete Sampras in straight sets to win the U.S. Open.
He came close to taking his next Slam in Australia two years later, losing the final in four sets, and after a year blighted by injury in 2003, he was again beaten in the Australian final in 2004, this time by Roger Federer.
But the following year, he caused a major upset by knocking out Federer in the semifinals in one of the tournament's most memorable matches.
Safin was in confident form, having lost a close match to Federer in the semifinals of the Masters Cup at the close of 2004. Indeed the second-set tiebreak (20–18) is the third-longest tiebreak in the Open Era.
Federer hadn't lost a set coming into the semifinal, and looked on course to retain his title when he won the first set with just one break of serve.
But some uncharacteristic errors allowed Safin to take the second before the momentum swung back to Federer for the third.
Safin then saved a match point in the fourth-set tie-break, and snatched the set 8-6.
In the decider, Federer battled back from 5-2 down and saved six match points.
Serving at 7-8, Federer hit his 22nd ace to save one match point, but Safin manoeuvred him wide, and came to the net to fire a forehand winner into the empty court.
It took him four hours 28 minutes to end Federer's 26-match winning streak, 5-7, 6-4, 5-7, 7-6 (8-6), 9-7, and reach the final.
Safin's psychological fallibility against Federer was revealed even after this impressive victory: "It's like a brain fight against each other. It's Roger Federer, so already psychologically it's really difficult."
It was a message he repeated throughout his career, but the advantage he had in 2005 was one Peter Lundgren, Federer's former coach. It made all the difference, judging from Safin's comment: "I never believed in myself before, until I started to work with him."
It could also have been the deciding factor in the final, where Safin met home favorite, Lleyton Hewitt.
At 4-1 down in the third set, having been warned for smashing a racket, Safin was in danger of being runner-up for a third time. But this year, rather than lose his head, he beat Hewitt in inspiring fashion 1-6, 6-3, 6-4, 6-4 to take his second Slam.
2000 had announced the Russian's talent, and 2005 confirmed it. But he seemed unable ever to find that Lundgrun-inspired confidence again.
Safin never beat Federer again, never won a Slam again, and never so much as reached the final of another Masters event.
Wimbledon final 2008: Rafael Nadal against Roger Federer
The men's 2008 Wimbledon final between Rafael Nadal and Roger Federer is regarded by many as the best tennis match ever played. But the anticipation of the encounter was palpable even before they took to the court. So much was at stake.
If Federer won, he would beat Bjorn Borg's record of five Wimbledon titles in a row. If Nadal won, he would be the first since Borg in 1980 to win the French Open and Wimbledon in the same year.
More than these records, however, was the power struggle to be the best in the men's game. Nadal had been in Federer's shadow at No. 2 in the world for over three years. Federer had started the year (by his usual standards) poorly, had lost the Australian Open, and had wrestled with glandular fever.
Conversely, Nadal was having more and more success. He'd beaten Federer in the Monte Carlo and the Hamburg Masters finals, and pummelled him into the ground in the French Open final. He then won on the grass at Queens.
He was at his peak in both confidence and fitness, and Wimbledon was his chief ambition in wresting the top ranking from his rival.
Nadal had been getting closer to Federer at Wimbledon each year. In 2006 they went to four sets and in 2007 they went to five.
This time, the reigning champion looked as though defeat would be swift as he went down 6-4 6-4, even though he held a 4-1 advantage in the second set. Then at 3-3 in the third, with the score at 0-40, he started his comeback.
Sets three and four went to tie-breaks, with Federer saving three match points in the latter. The match headed into a pulsating final set.
The two fittest men on the Tour headed towards a finale of unparalleled duration: four hours and 48 minutes. With rain interruptions, the clock was approaching 9 p.m. and the light was fading. The match may well have carried over to a Monday conclusion had it reached 8-8. It did not. Nadal achieved a break and took a famous victory at 9-7.
Nadal gained the No. 1 ranking in August, went on to win the Masters in Toronto and then the Olympic Gold Medal. Few players have achieved such results in a single season, and few could have got the better of such a determined Federer on that dramatic day in July.
Wimbledon final 2009: Roger Federer against Andy Roddick
Hot on the heels of a 2008 Wimbledon final that turned tennis's fortunes away from Federer and towards Nadal came the chance for Federer to reclaim all he had lost just a year earlier.
Nadal had been hit with such severe tendinitis that he pulled out of Wimbledon. Conversely, Federer came to London on a wave of success. He had beaten Nadal at the Madrid Masters, and had equalled Pete Sampras's Grand Slam record at Roland Garros.
By winning Wimbledon, he could reclaim his favorite crown and the No. 1 ranking. Few expected he would do it in a fashion that brought memories of the 2008 final flooding back.
He found himself standing toe-to-toe with his oldest rival, Andy Roddick, and in the very place they had first battled it out in a Grand Slam. The year Federer first won Wimbledon, in 2003, he beat Roddick in the semi-final.
They had met there twice since, both times in the final, both times ending in victory for Federer. But all of their Wimbledon matches had been closely contested, and many had involved tie breaks. This contest would be the closest ever.
The match's 77 games set a new record for a Slam final and the last set, a battle of 30 games and one and a half hours, was also a record. There were just three breaks of serve in the match, and Roddick's only one, in the 77th game, cost him the title.
In the first set, Roddick saved four break points at 5-5, and then broke Federer to win it.
The momentum stayed with Roddick into the second set, but they headed into a dramatic tie break that, in retrospect, may have decided the outcome of the entire match. Roddick went up 6-2, only to see Federer pull him back point by point to take the set.
The third set also went to a tie break, and also went to Federer, but Roddick broke early in the fourth set and served out at 6-3.
It all came down to the fifth set, and what an epic conclusion it was.
Federer's tally of aces climbed to a remarkable 50 against Roddick's 27. As each held serve over and again, the result was destined to come down to nerve. And serving at 14 games to 15, Roddick wavered for just a moment and Federer sealed his place in history.
The Wimbledon crowd stood to acclaim a pair of players who had given their all. That one should lose seemed a travesty.
But it marked the occasion on which all the records became Federer's: 15 Grand Slam titles, seven consecutive Wimbledon finals, and a return to No. 1.
This article is
What is the duplicate article?
Why is this article offensive?
Where is this article plagiarized from?
Why is this article poorly edited?