MMA or Triathlons: The Real Ironmen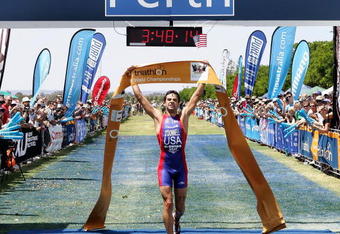 Paul Kane/Getty Images
The word Ironman gets thrown around a lot in the realm of sports. Whether it is a nickname for Cal Ripken, describing a gutsy player like Brett Favre, or an athlete who has been at the top of his respective sport for a long time.
I've heard Randy Couture called the Ironman of MMA. As a triathlete myself, I am not offended at all by any of these people being labeled Ironmen. However, let's examine what it takes to be an Ironman triathlete, as well as what it takes to be a mixed martial artist, and you can decide who the real Ironmen are.
Let's begin with a little history lesson. The sport of triathlon has been around in various forms since the invention of the bicycle. However, in 1977, the idea for the Ironman triathlon came about during an award ceremony at a relay race in Oahu, HI, to answer the question: Who is the better athlete: swimmers, cyclists, or runners?
A Navy Commander, John Collins, came up with the rules: swim 2.4 miles, bike 112 miles, and run a full 26.2-mile marathon. In 1978 the Ironman triathlon was born. Twelve people finished the race, with the winner finishing in just under 12 hours at 11:46:58.
Now let's look at the history of MMA. MMA started off in kind of the same way as the Ironman triathlon. The goal was to hold tournaments to see which discipline of the martial arts was the best. These contests date back for centuries, but we will focus on the time span of 1900 to present day.
The Gracie family could be considered the driving force behind modern MMA with Vale Tudo events dating back to the 1920s. The birth of MMA as we see it today happened in 1993 with the Ultimate Fighting Championship. The first Ultimate Fighting tournament was won by Royce Gracie.
As you're reading this, I'm sure you're asking yourself, "What's your point?"
The point of this article is to show you how these two sports, which seem to be at opposite ends of the spectrum, are in fact very similar. These two sports require more discipline, training, and more out of their athletes than any other sport out there.
Football players all claim they are modern day gladiators fighting in the trenches, facing career-ending injuries at any time. Maybe they do, but explain to me why then you see your favorite running back run for three yards, get tackled, and then stand on the side line for the next three plays.
The football season is only four or five months long. MMA and triathlon have no offseasons.
Yes, any sport has its risks and injuries, but they do not require the level of commitment and self-sacrifice that is required to call yourself an Ironman or a mixed martial artist.
Like I previously stated, our sports do not allow us the luxury of an offseason. There may be those few weeks without competition, but it's those few weeks you get to lick your wounds, dust yourself off, and prepare for the next battle.
A typical MMA fighter fights about every eight to 12 weeks or roughly four or five times per year. Now keep in mind that an MMA training camp is usually about six weeks at least. That leaves very little down time.
As a triathlete myself, I average eight to 10 races per year. Along with that are 5k races and half marathons to train for as well. This year alone, I have already raced no less that 14 times. A typical training cycle lasts eight weeks with peaks every four weeks and one taper week and one complete rest week every two months.
A typical training week for me as a "rank and file amateur" is about 18 hours a week between running, biking, weights, swimming, and some cross training. In the fall and winter, when swimming is not really an option, I cross train by doing martial arts. It keeps my muscles balanced as well as keeping me flexible and all around mentally strong.
Being mentally and physically strong is the common thread that binds triathletes and MMA fighters together. It has been said that up to 90 percent of any sport is mental. I tend to believe that. If you step into a cage or ring with any self-doubt about what you are doing, you are likely just waiting to be temporally separated from consciousness.
The same goes for a triathlon. If you are standing at the edge of the water worrying about what is happening or whom you are up against then you have already lost. Self-doubt in any form is a killer. People may call it being cocky or whatever but there is absolutely nothing wrong with having self-confidence.
That's what doing all of those striking and take-down drills, running, and interval training until you puke instills in you. Pain is the result of weakness leaving your body.
On a side note, both of our sports are highly misunderstood. How many times have you heard, "That's totally gay!" while watching a UFC match? On the flip-side, imagine being on a four-hour bike training ride and having some hillbilly, slack-jawed redneck throw a beer bottle at you, yelling, "Queer."
"Git-r dun" indeed, sir.
I also wanted to give thanks to Stoker for some input on this article.
This article is
What is the duplicate article?
Why is this article offensive?
Where is this article plagiarized from?
Why is this article poorly edited?