The Lugnut Report: Denny Hamlin Finishes Third at Phoenix...Again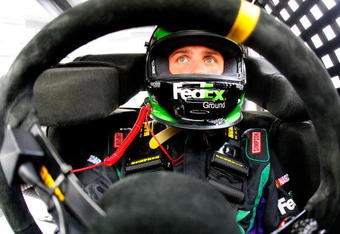 Jason Smith/Getty Images
In racing it is all about getting to the finish line. Everything before it, in actuality, does not matter. It's about how you finish the race.
For Joe Gibbs Racing driver Denny Hamlin, with the championship out of reach for 2009, the team is here to win.
The series was in Phoenix for the second-to-last race of the 2009 season. Hamlin has always run well on flat tracks and Phoenix is the perfect place for him to win his third this season.
On Sunday, Hamlin finished third at Phoenix.
Hamlin's finish on Sunday is really a result of what happened on Friday.
On Friday during the first practice, Hamlin was focused on qualifying setup. The team ran a total of 36 laps and it was their 33rd that was their fastest.
A lap of 26.9 seconds was good enough to place them fifth on the speed charts. The team turned their focus to qualifying.
Hamlin had an early draw in qualifying, but a lap of 26.8 seconds had him starting fifth on Sunday.
On Saturday the first practice was cancelled due to a very uncommon rain shower in the desert. The team then only had final practice to focus on race trim.
They ran a total of 51 laps in the practice and the fastest was their third. With a lap time of 27.6 seconds, they sat at 25th on the speed charts.
Hamlin fans should not be worried by the speed charts; many teams ran their fastest laps early on in practice.
After the green flag dropped, Hamlin moved forward immediately, but struggled with the exit of the corners. The race started off with a long green flag run, so teams were making their first stops under the green.
During the green flag stops, Hamlin's crew changed four tires and adjustment. The stop cost them on the track.
They missed a lug nut and were forced to spend an extra second on pit road to tighten it. That cost them a spot on the track as they dropped to fifth.
On the restart following the multi car wreck, Hamlin took advantage of cars around him who struggled on the restart and made his way to third. He was holding his own up front as Jimmie Johnson pulled away.
When the third caution waved, Hamlin told crew chief Mike Ford the exit was not better than the prior run. They went with four tires, wedge, and air pressure adjustments. Once again, they lost one position on pit road, falling to third.
They battled their way back to second.
On the final stop that was under green, they changed four tires and made another adjustment.
Prior to the stop, Hamlin rallied his crew to get it done on pit road.
His crew got it done; their spectacular stop cut the five-second lead Johnson had to less than two seconds.
Hamlin quickly ran down Johnson but came up short and Jeff Burton passed him late for second. Hamlin finished third, for the third time at PIR.  He had a great car on Sunday, but Johnson was better when it counted.
This team has had the worst luck in the Chase. Had he not had the multiple DNF's, Hamlin would be right in the mix.
The reason they finished where they did is because of the work they did on Friday and Saturday with a very good car in first place. The pit crew did a great job and Hamlin did everything he could to challenge Johnson.
Hamlin is looking to end the season on a strong note and head into the offseason with some momentum at Homestead.
Check out Jen Preston's Lugnut Report on Jimmie Johnson .
This article is
What is the duplicate article?
Why is this article offensive?
Where is this article plagiarized from?
Why is this article poorly edited?