5 REASONS WHY OHIO STATE OR IOWA WILL WIN SATURDAY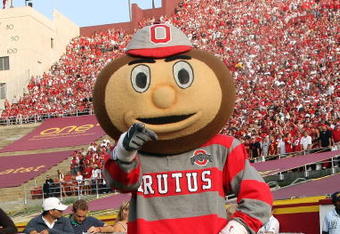 Stephen Dunn/Getty Images
This Saturday Ohio State and Iowa will settle the Big Ten race with the winner given a birth in the coveted Rose Bowl.  Let's take a look at 5 reasons why either team will win. Let's start with the visitors, Iowa Hawkeyes and finish with the hosts, Ohio State Buckeyes!
5 REASONS THE HAWKEYES WILL WIN:
1.  DEFENSE, DEFENSE, DEFENSE; The stout and talented Iowa defense will need to use the same recipe that Purdue used in pressuring Terrelle and Ohio State into multiple turn overs and mistakes, stalling drives and giving short fields to the IA offense.  This Iowa Defense may be the best unit that Ohio State has faced all year and we saw what OSU's offense did against USC, only 15 points, and yes that was in Columbus!
2.  KIRK FERENTZ; Iowa's coach will use whatever means to keep his team in this game and give them a chance to win late in the game. Ferentz is a master mind at getting the best out of his team and will show The Buckeyes multiple formations and sets to keep the home team out of balance.
3.  ROAD WARRIORS:  While The Hawkeyes have escaped near losses, they've played much better on the road.  Iowa's biggest wins were at Happy Valley, Madison and East Lansing.  It's at home where the Hawkeyes needed heroics to get by teams like Indiana, Arkansas State and Michigan.  This Saturday, Iowa returns to a favorable game, on the road an probably no bigger a road venue, The Horseshoe.
4.  THE LINES:  Iowa's line can compete with Ohio State's lines on both sides of the ball.  Should they establish somewhat of a running game and pass enough to keep Ohio State's defense honest, Iowa will have a shot at winning in Columbus.
5. HOPES and DREAMS:  The Hawkeyes realize what's at stake, and what they've accomplished this year.  It's not very often that Hawkeye fans get to smell roses and they'll fight dearly to win the conference and rally behind their hurt leader, Stanzi.
5 REASONS OHIO STATE WILL WIN:
1. MOMENTUM: The most talented team in the Big Ten appears to be peaking at the right time. Rushing for over 200 yards in Happy Valley, shutting out the Lions in the 2nd half, Pryor playing arguably the best game of his career, and at Senior Day in Columbus seems to be too much for any opponent, especially an injured Iowa Team.
2.  THE DEFENSE RESTS:  Ohio State gives up only 85 rushing yards a game and proved their worth last week keeping the Lions rushing attack to only 76 yards.  Their DL kept PSU and their pass attack under wraps punishing Clark all day.  Last week Vandeberg and his Iowa offense did nothing against NW, skipping and throwing errant passes, while they were at home with EVERYTHING ON THE LINE and the game well within reach. Look for Ohio State to shut down IA's limp running game and force Vandeberg into poor passes, one just might be a pic six.  Don't forget Gibson, Heyward and company don't need a whole lot of help putting heat on opposing QB's and running lanes alllowing OSU's speedy LB's Rolle and Spitler to clean up messes.
3.   NOVEMBER IS FOR CONTENDERS:  The Buckeyes under Tressell are 12-1 in November, which explains their frequent trips to BCS games.  Buckeye teams are geared up to play well this month.  The Horseshoe is particularly unfriendly to The Hawkeyes, their last win, 1991.
4.  OFFENSIVE SURGING: The Buckeye's often ridiculed OL gave up 0 sacks to PSU and allowed Pryor and a host of Ohio State Buckeyes to have a nearly 10 minute Time of Possession advantage last week.  Pryor also appears to be 'getting it!'  He made some nice throws, had 0 turn overs, used his legs to keep drives going and spread the ball around. A few scores may be all that is needed to let The Buckeye defense and special teams do the rest.
5.   HONESTY:  Can a Freshmen running back and red shirt freshmen really go into a hostile stadium and run over one of the best DL's and Defenses in the land?  Honestly, look for Iowa's defense and emotion keep Iowa close early on, but that defense may get tired, which can mean a long afternoon for The Hawkeyes against a physical and deep Ohio State team that is motivated.
It should be a great game, only on Saturday evening will we know the results! 
This article is
What is the duplicate article?
Why is this article offensive?
Where is this article plagiarized from?
Why is this article poorly edited?