Heading into the All-Star Break, the Detroit Pistons were on a three-game losing streak and out of the Eastern Conference playoff picture. They needed to make a splash at the upcoming trade deadline to improve their chances on becoming a playoff team.
By the time last Thursday's 3 p.m. ET trade deadline had passed, the Pistons had done just that.
Detroit's aggressiveness was surprising to say the least, but the team was lauded for it. Even the great Magic Johnson went out of his way to praise Stan Van Gundy, head coach for the very franchise that faced his Lakers in the 1988 and 1989 NBA Finals:
Fans of my home state Detroit Pistons should be proud of the job Stan Van Gundy is doing as Pres. of Basketball Operations and Head Coach!

— Earvin Magic Johnson (@MagicJohnson) February 20, 2016
Here are some key takeaways from the Pistons in the aftermath of the deadline, starting with a deadline deal that didn't quite work out.
Deal for Donatas Motiejunas, Marcus Thornton Voided
Shortly after noon ET last Thursday, The Vertical's Adrian Wojnarowski dropped one of his famous "Woj Bombs" on the NBA fanbase:
Houston has traded Donatas Motiejunas and Marcus Thornton to the Detroit Pistons, league sources tell @TheVertical

— Adrian Wojnarowski (@WojVerticalNBA) February 18, 2016
The trade was seen as a steal for the Pistons, as the only return came in the form of reserve center Joel Anthony (who was then traded to the Philadelphia 76ers) and a 2016 first-round pick.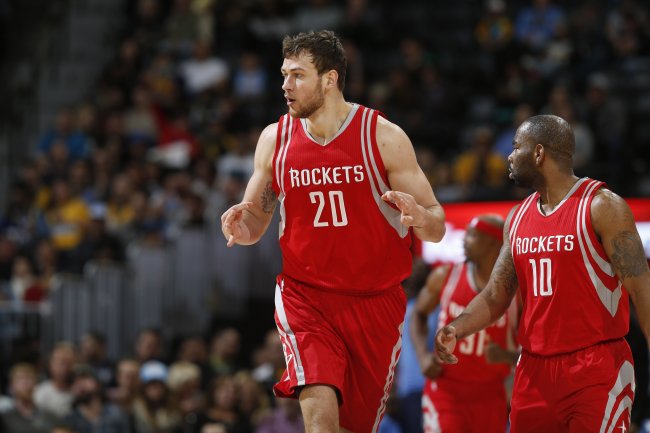 David Zalubowski/Associated Press
Motiejunas, a 25-year-old Lithuanian power forward, is extremely talented but has struggled with injuries this season. After a breakout 2014-15 season in which he averaged 12 points and 5.9 rebounds per game, he has been limited to only 14 games this season with a lingering back injury.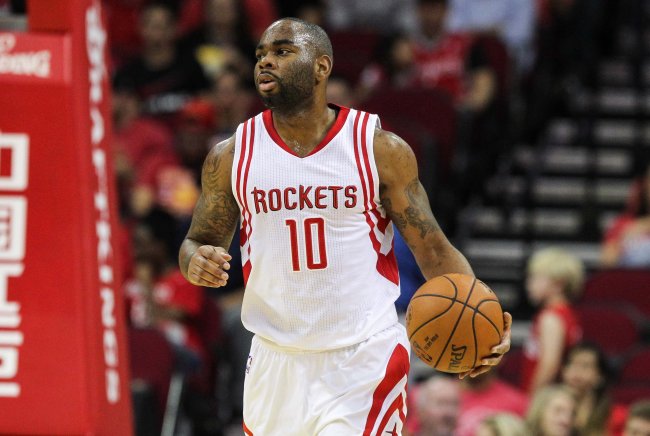 Troy Taormina-USA TODAY Sports
Thornton, a 28-year-old shooting guard, has averaged 10 points per game largely coming off the bench in a reserve role, a welcomed addition particularly for starting guards Reggie Jackson and Kentavious Caldwell-Pope.
Unfortunately, after a failed physical, the Pistons felt that Motiejunas' injury risk outweighed his talent level. On Monday, The Vertical's Shams Charania broke the news that the deal had been voided:
Houston's 3-team trade of Donatas Motiejunas is in process of being voided by Detroit in accordance with the NBA, sources tell The Vertical.

— Shams Charania (@ShamsCharania) February 22, 2016
It was a tough break for Pistons fans, who were surely excited to see the 7-footer paired up with a fellow 7-footer in All-Star Andre Drummond. That would've been fun to watch.
Tobias Harris Acquisition Was Steal of the Deadline
Though the deal with the Rockets didn't work out, the Pistons were still considered deadline winners for one reason: acquiring forward Tobias Harris from the Orlando Magic.
At only 23 years old, Harris has emerged as a very talented player with a bright future. Yet even after signing a four-year, $64 million contract with the Magic last summer, it felt like he was often overlooked by Orlando. After averaging 17.1 points per game last season (prompting the big contract), his slight drop-off to 13.7 points per game helped make him expendable.
Last Tuesday—a full two days before the trade deadline—the Pistons seized their opportunity to add the talented young scorer to their team.
Sources: Detroit Pistons have discussed a deal to acquire Tobias Harris from the Orlando Magic for Brandon Jennings and Ersan Ilyasova.

— Michael Scotto (@MikeAScotto) February 16, 2016
The deal couldn't have worked out better for the Pistons. Trading Brandon Jennings gave the talented Jackson more breathing room, and though Ersan Ilyasova is talented, he's nowhere near Harris' level.
Harris himself was quite pleased with the trade:
Tobias Harris on being traded to Detroit: "I'm ready to make the playoffs!"

— Chris Broussard (@Chris_Broussard) February 16, 2016
Even though his satisfaction was quite evident, Harris took to Instagram to thank the Magic for his time spent there:
In his two games with the Pistons, Harris has played well offensively. He has averaged 18.5 points per game, and his first basket with Detroit showed Pistons fans what he is capable of:
.@tobias31 first points in a Detroit uniform! https://t.co/gwXISo7CMz

— NBA TV (@NBATV) February 20, 2016
It remains to be seen whether the new-look Pistons will be able to make the playoffs in the tight Eastern Conference. But with Reggie Jackson locked in as the starting point guard, Tobias Harris quickly getting affiliated with his new team and walking double-double Andre Drummond anchoring the Pistons' frontcourt, making the playoffs is far from a stretch.