Zenit St. Petersburg-Lokomotiv Moscow: Did He Honestly Do THAT?
August 23, 2009
Zenit St. Petersburg have come to a point in the season where every point counts, and wins are absolutely necessary at home if they want to finish in the top three.
After a somewhat disappointing trip to Madeira in the UEFA Europa League, the team headed back home to St. Petersburg where they met 6th-place Lokomotiv Moscow. A victory at home could possibly vault Zenit two places in the standings, from 7th to 5th, also assuming Rubin Kazan could beat Dinamo Moscow.
But, for a number of players on the team, this would be their fourth match in 10 days. Seeing a few new faces in the lineup would not be completely unexpected. Which brings up the first one of many.
Did he honestly do that?
When caretaker Anatoliy Davydov named his starting 11 for the match, it had nearly no changes at all from the group that faced CD Nacional on Thursday. And the changes he did make, would not help the players who needed a rest the most.
Dong-jin Kim made his return at right back, as he rejoined the team for the first time in a couple weeks. He had been slightly injured in a South Korean friendly. But all of the Russian internationals who had played four matches would still be playing once more.
It's not even that they can not play that much. At over 31-years-old, Igor Semshov and Konstantin Zyryanov don't exactly have the freshest of legs.
However, Davydov has done a fine job since replacing Dick Advocaat. When he filled out his lineup card, he did get one thing right, and that was evident early.
Did he honestly do that?
Yes. He used a 4-4-2 formation, inserting two strikers into the lineup for the first time in months. Now in Stuttgart, Pavel Pogrebnyak had been the lone wolf up front for the longest time, with Fatih Tekke providing late relief. Since "Pascha" has left, Belarusian Sergei Kornilenko has seen the brunt of time, to varying results.
The more aggressive formation had to have fans happy, as a 4-5-1 can only be so exciting when trying to win matches.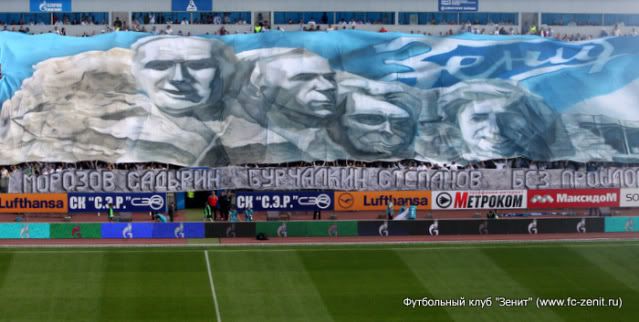 Mount Rushmore, headed by Dick Advocaat.
As the match began, Lokomotiv showed their intentions immediately. Counter-attack with speed and create problems for the larger Zenit center backs. But then, once more, not even nine minutes into the match, it happened again.
Did he honestly do that?
Yes he did. After a short corner, Lokomotive went on the attack from the right of Zenit keeper Vyacheslav Malafeev, and fired a low shot from an acute angle. Malafeev misplays the shot, allowing it to ricochet off his fingers and straight to the awaiting Lokomotiv striker.
Early advantage for the visitors. Wagner has never scored an easier goal in his entire life.
For the fourth straight match, Zenit had conceeded the first goal, and doing so quite early on to make it worse. The goal also marked another horrific display of goaltending by the normally stout Malafeev.
But once again after allowing the early goal, Zenit bounced back admirably. Lead by Semshov and Hungarian Szabolcs Huszti, the attack began to shift into the Lokomotiv third of the field. Kornilenko has a brilliant chance, thanks to Huszti, but he is unable to finish.
Quite honestly, it was a very difficult play to make and only a few strikers could have effectively taken a high-bouncing ball like that and deposited it over the head of a rushing keeper.
Huszti is a machine.
He sprints to the corner after the ball, steals it from Russian international Renat Yanbayev and delivers a wonderful cross from the corner. This time there is no mistake. Tekke violently heads it past Lokomotiv keeper Guilherme, and the match was tied! GOOOOOOOAAL for Zenit!
Pyrotechnics galore at the Petrovsky.
Tekke has now scored twice in four days, as he also notched the third goal in the 93rd minute against CD Nacional.
The terrific build up by Zenit finally lead to something. It had to have been 15 minutes of excellent attacking football with tantilizing opportunities. If Tekke had not been on the field, who knows whether it would be a tied match.
Yanbayev is having all sorts of problems now.
Newly returned right back Dong-jin Kim flies down the field, showing how fresh his legs are, and forces Yanbayev to drag him down from behind. Can't do that, says the referee. Zenit barely misses on the following free kick.
Half Time: Zenit St. Petersburg 1, Lokomotiv Moscow 1.
Now, one has to wonder, why have no substitutions been made? Zyryanov, Semshov and Anyukov all look like they are playing in sand. Fatigue is an honest problem.
But the two sides will continue with no substitutions yet.
Semshov suddenly has life again! He breaks lose inside and has an angle on goal, but just misses a few feet to the right. Lokomotiv averts a crisis there. He was shooting for his sixth goal in the past four games.
He knows he can't cover Semshov the Spectacular.
Lokomotiv is now carrying the play, but another Russian international, Dinayr Bilyaletdinov, takes a rather stupid yellow card. Malafeev is up to the task on the next few Lokomotiv shots, but honestly, none are even remotely difficult.
Then Lokomotiv brings on Euro 2008 hero, Dmitri Torbinsky in the first of their defensive substitutions. The addition of Torbinsky and subtraction of striker Osaze-Odemwingie shows that boss Yuri Semin is perfectly content in leaving the Petrovsky with a draw.
And finally the moment everyone was waiting for.
Alessandro Rosina mercifully replaces Kornilenko, and his fresh legs make an immediate difference. Not even a few minutes, he makes a spectacular run from midfield all the way in, darting past defenders, but just can't find the touch to bury it.
It's been some time since the Zenit faithful was treated to that kind of display.
With ten minutes left in the match, Rosina makes another fantastic run, but this time is hauled down in the box and awarded nothing for his efforts. The referee must have accidentally swallowed his whistle.
Semshov is also substituted off, in favor of 20-year old Aleksey Ionov, who is making his first appearance since injuring his ankle against Terek Grozny. And all of a sudden, he shows a tremendous Rosina-like acceleration, zooming past defenders, but he can't get a shot on net. Ugh.
Ionov has not scored this season for the senior club. Seeing him bag a game-winning goal would have been special.
In the final moments, Davydov again shows his desire to continue Zenit's youth movement, bringing on 18-year-old striker Maksim Kanunnikov in favor of Tekke. A terrific ovation for the Turk.
Final Time: Zenit St. Petersburg 1, Lokomotiv Moscow 1.
Match Notes
It's about time Kamil Contofalsky took his turn in net. Malafeev has not been solid for four straight games now after returning from injury.
If Rosina had been in the starting lineup for the entire match, it's very unlikely that it ends in a draw. He created more scoring opportunities in 20 minutes than anyone on the field had previous to that, on either team.
The need for a new striker has been amplified even farther after today. It isn't a want any more. It is an absolute necessity if the club has any aspirations of placing in the Champions League.
Player Ratings
GK Malafeev: 4. For lack of better words, he cost the team three huge points. He made a few decent saves but once again let in a weak goal.
D Kim: 6. Nice return for the South Korean. Brought much needed fresh legs.
D Lombaerts: 7.5. Was solid if not spectacular defensively. Might have even been his finest game in St. Petersburg.
D Meira: 6.5. Partially responsible for the Lokomotiv goal, but after that, did not yield an inch to Sychev.
D Anyukov: 6.5. Understandably gassed. But still found ways to contribute even if he was not a major part of the match.
M Shirokov: 6. Nothing spectacular, just filled in well for the injured Denisov at defensive midfield. His height presented problems for Lokomotiv.
M Zyryanov: 6. Also running on fumes. Had less touches than normal, but if anyone on the team needs a day off, it's him.
M Semshov: 6. Cooled down after his amazing hot streak, but was still a force when he received the ball. Still should have scored, but his miss wide is understandable. Could also use a day or so off.
M Huszti: 7.5. Once again, the main reason Zenit scored. Very dangerous from the corner and a very hard worker.
F Tekke: 8. Dominant. Scored, created and needs to be on the field.
F Kornilenko: 4.5. Another sub-par performance.
Substitutes
M Rosina: 8. Awesome when he was on the field. Could have been the difference if only he had a little more time.
M Ionov: 6.5. Did very well in his return. Had some room for improvement, but showed flashes of brilliance. His youth may just be what the team needs.
M Kanunnikov: N/A.
All photos are credited to www.fc-zenit.ru