Amkar Perm-Zenit St. Petersburg: Semshov the Spectacular
August 16, 2009
Zenit St. Petersburg had a very emotional Friday morning, as players and fans gave former manager Dick Advocaat a heroes' send off. Thousands of fans gathered at Pulkovo Airport to see him off, and they showered the "General" with song.
Advocaat, who found more success than any other manager in club history, made sure to express his many thanks and reiterated that he would remember his time in St. Petersburg forever.
Zenit fans decked out in Dutch orange at Pulkovo Airport.
Afterwards, Zenit headed east to the Urals where they face Amkar Perm in the first match under Anatoliy Davydov. When the two clubs met earlier in the season at the Petrovsky Stadium, they played to a scoreless draw, but only five players from Zenit's starting 11 on that day would play against Amkar the second time.
But when Zenit took the field at high noon, they were sleep walking. Not even two minutes into the contest, Amkar's Martin Kushev buries the first opportunity of the match behind Malafeev. A nightmare start for Davydov, not in his wildest imaginations could that opening gone any worse.
The turf at Zvezda Stadium wasn't helping out either. Immediately, it would slow down passes and make runs more difficult.
To make things worse, defensive midfielder Igor Denisov took a rather stupid yellow card, given by Kazan-based referee Ildus Biglov.
Amkar surely had an extra jump in their step today, as they were winning almost every ball in the air and getting to the attacking third at will. Zenit are again on their heels, but get lucky when Brazilian striker Carlos Jean missed wide when he honestly should have scored.
Not that it mattered.
Amkar earned themselves another corner kick, and once more, it was the 35-year-old Kushev scoring again from inside the box to give the locals a 2-0 advantage in the 14th minute.
Neither Fernando Meira or Nicolas Lombaerts seem to have an answer for his vertical presence. He's built in the mold of a rugby player.
Zenit finally manages to regroup and refocus after going down 2-0 to a bottom team once again. For the ultras who made the trip to Zvezda, the sight looks all too familar from the performance last week that had Advocaat sacked.
They were managing to get forward at least, and looked to be more comfortable on the turf. If there's one thing to be learned about Davydov, the name of his game is "ball possession". This team looked much more disciplined and didn't seem willing to take many deep chances at all.
But if there's any advantage in going down 2-0, it's good to do it early.
Slick passing from Zenit finally opened up in the 28th minute, moving very confidently. They earned two corner kicks, and the second by Huszti bounced around in the box before Igor Semshov fired it into the back left corner. Barely out of the reach of Amkar keeper Sergey Narubin.
Semshov the Spectacular.
The lead is cut in half, but it's now hard to tell Amkar holds an advantage. They are playing entirely in their defensive third.
Amkar midfielder Vitaliy Grishin gets caught out of position and hauls Szabolcs Huszti down in the box, and the referee awards the Hungarian international a penalty shot. But it is saved by Narubin and Amkar avert a crisis.
For a few seconds anyway.
Narubin punched the low shot out of play, and Zenit had another corner kick. Huszti then instantly redeemed himself, as he delivered a nearly perfect ball inside. Igor Denisov made no mistake in depositing it behind the keeper to equalize.
Nikola Drincic can only watch as Denisov levels the match.
Very strange play from Amkar following the goal. They have already been booked twice for aggressive challenges, but continue to make the same mistake and earn two more cards in rapid fashion. One goes to the goal scorer Kushev and the other to defender Ivan Cherenchikov, who is immediately substituted off.
Zenit threatens again to take the lead right before halftime, and probably should have. Semshov again, from a very similar position as he scored against Argentina a few days ago. His missile met the far post and was cleared to safety, but Semshov had the keeper completely guessing.
Halftime Score: Zenit St. Petersburg 2, Amkar Perm 2.
After the spine-tingling end to the first half, the shirtless Zenit fans who made the trip to Perm were in an absolute frenzy. The small corner of supporters drowned out all the Amkar fans.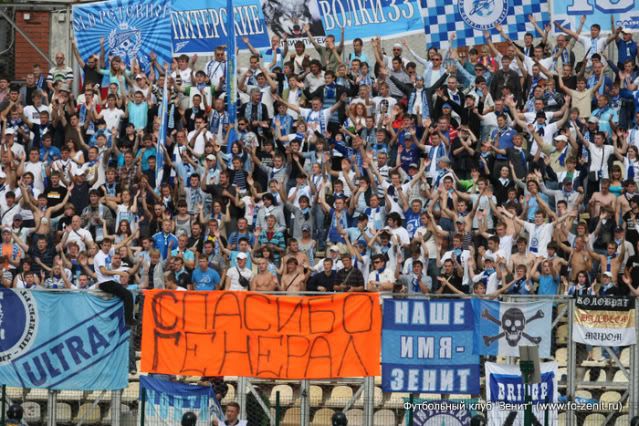 Saint Petersburg east.
If only Semshov could have put in his second. The tiny playmaking midfielder was already bringing back memories of Andrei Arshavin's hat trick against Amkar a few years back.
Zenit is again in the attacking third, but is unable to make anything happen right away. But it opens up again in the 53rd minute, as Konstantin Zyryanov fires and forces a save from Narubin. It is punched right to Huszti, however, and a groan from Amkar supporters as the Hungarian gets his much-deserved goal.
There were probably three players in white and blue who were unmarked in the box, it's anybody's guess as to what the Amkar defenders were doing. Narubin has every right to be upset.
Several substitutions now.
Zyryanov leaves the pitch in favor of Alessandro Rosina. The 31-year-old midfielder had played 80 minutes against Argentina a few days ago and now 70 more today, he earned his rest. But it sure is nice to be able to bring in a player like Rosina from the bench.
Sergei Kornilenko was also substituted in favor of Fatih Tekke. Kornilenko had an uneventful day, but was consistently double-teamed in the box.
Only a couple minutes after Rosina entered the match, he drives forward and draws the attention of a pair of Amkar defenders, but finds Semshov wide open in the middle. Easy pickings for Semshov's second of the afternoon, and a beautiful assist by the Italian.
Zenit is now in total command, but quite a different match from the one played at the Petrovsky in early April.
The scene got ugly for Amkar as the match came to a close, as first-half substitute Vyacheslav Kalashnikov was booked in the 85th minute for an aggressive tackle. They don't learn. But a few minutes later, he is ejected for a deliberate handball. He protests, but absolutely no chance is he winning that argument.
Final Score: Zenit St. Petersburg 4, Amkar Perm 2.
Match Notes
After a dismal start, scoring four goals in a row would certainly have made Davydov a very happy man indeed.
The victory was Zenit's first since July 12, when they defeated FC Moscow in St. Petersburg.
Although the victory was over Amkar, confidence is built through victories. And the way Zenit bounced back today is enough to build a lot of confidence.
Zenit will now head to Portugal, where they face CD Nacional for the first of a two-legged playoff on Thursday in Europa League competition.
Player Ratings
GK Malafeev: 5. Neither of the two goals were really much of his fault, but he made all the easy saves after that. 
D Lombaerts: 6. Was not a stand out but didn't have much work after the 15th minute.
D Meira: 6. Same as Lombaerts.
D Anyukov: 6.5: Made a couple impressive passes and was a major factor in the third goal.
M Sirl: 4.5: Once again, not effective at all and his giveaway lead to Amkar's second.
M Shirokov: 6: Did well on offense and was adequate defensively.
M Denisov: 7.5: Was all over the field and did a superb job shutting down Amkar in the midfield. Also added a goal off Huszti's corner kick. 
M Zyryanov: 7. The Russian international had yet another productive match. Nothing flashy, just effective football.
M Huszti: 8. Played a marvelous match. Delivered numerous dangerous balls off corner kicks, scored and earned a penalty kick.
M Semshov: 9. Scored twice and could have had three or four. A dominant force all match and Amkar never had an answer for his play.
F Kornilenko: 6. Nothing fantastic, never had many chances either. Only received one or two deep passes and controlled both well.
Substitutes
D Hubocan: 5.5. Came on in favor of Sirl and earned a rather pointless yellow card in stoppage time.
M Rosina: 7.5. Couldn't have done much more. Assisted on the fourth goal in four minutes of coming on.
F Tekke: 6. Same as the man he replaced, Kornilenko. He never had any chances to do much except providing a set of fresh legs.
All photos are credited to www.fc-zenit.ru