Serena Williams is the No. 1 seed at the 2014 U.S. Open and is acting like it. After a disappointing Grand Slam season to date, Williams is on track to finish the year strong with her 18th major singles title.
A number of upsets have afforded Williams a clear path to the final. The highest seed remaining other than Williams in the quarterfinals is No. 10 Caroline Wozniacki, a former top-ranked player who's had consistency issues in recent years. Wozniacki has just two titles since the start of 2013.
Maria Sharapova, who lost to Wozniacki in the fourth round, made a remark that fit Williams' disappointing results at majors before her arrival at the U.S. Open, via USA Today's Douglas Robson: "It's a long season. There are a lot of tournaments. There's a lot of depth on the tour. You can never underestimate any opponent that's in front of you. I think that's shown in the last few Grand Slams."
For whatever reason, despite being the clear, transcendent talent in women's tennis, Williams often bogs herself down by committing too many unforced errors and pressing. Now, she appears in complete control of her game, having not dropped a set at Flushing Meadows in four previous matches.
Relief and frustration were evident when Williams capped off her 6-3, 6-3 romp over Kaia Kanepi in the fourth round, per SI Tennis:
"I finally made a quarterfinal!" yells Serena Williams. Beats Kaia Kanepi 63 63 to make her first Slam QF of the season. Plays Pennetta.

— SI Tennis (@SI_Tennis) September 1, 2014
Pressure is constant for Williams to live up to her immense talent and maintain her status as the game's best. She is also chasing history, seeking to tie Martina Navratilova and Chris Evert with Grand Slam title No. 18.
The hard courts of the Big Apple are where Williams thrives. She is able to use her superior power to intimidate opponents and will her way to victories. Since losing the final in 2011, Williams hasn't lost in the U.S. Open.
Amid the grueling heat in New York, Williams has stood tall, and the more physically arduous the conditions get, the more Williams will be able to wear out her adversaries.
Five-time champion @serenawilliams is back in the QFs! d. #Kanepi 6-3, 6-3. Plays #Pennetta next. #usopen pic.twitter.com/bCzD87CxUz

— US Open Tennis (@usopen) September 1, 2014
Williams smoked her impending quarterfinal opponent, Flavia Pennetta, 6-2, 6-2 in the third round of the Western & Southern Open en route to that title.
Victoria Azarenka, who has dealt with injuries for much of 2014, appears to be bouncing back just in time to salvage a strong U.S. Open result. Adam Zagoria of SNY.tv believes Azarenka is the biggest hurdle in Williams' way:
Truth is, Azarenka is the only one with a shot at beating Serena. So it's good she is still in the draw.

— Adam Zagoria (@AdamZagoria) September 2, 2014
The problem is that her hiatus from the court knocked her down to the 16th seed in the Grand Slam finale's draw. That puts her on a collision course with Williams in the semifinals.
Ben Rothenberg of The New York Times alluded to another factor that will likely play into the American Williams' hands should she face Azarenka in the semis:
Man, Azarenka rarely has crowds on her side, but some were clapping for missed first serves tonight. Aleksandra Krunic won NYC over. #usopen

— Ben Rothenberg (@BenRothenberg) September 2, 2014
Williams pretty clearly has Azarenka's number, so she will have the psychological edge if Azarenka does as expected and defeats No. 17 seed Ekaterina Makarova in the quarterfinals.
An unseeded battle between Belinda Bencic and Shuai Peng will determine who plays the winner of Wozniacki and 13th seed Sara Errani. None of those players have the firepower to keep up with Williams when she is on her game.
Wozniacki has never won a major, so she should have plenty of incentive to get to the final. But her characteristic counterpunching ability that has helped her achieve all she has is a bad fit on hard courts against the booming groundstrokes Williams produces.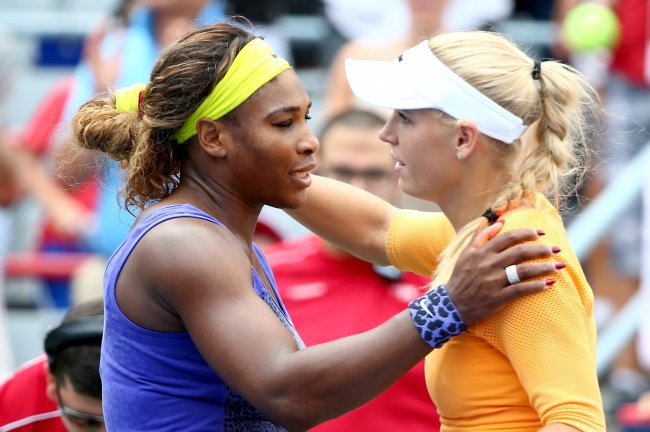 Streeter Lecka/Getty Images
Who has the best chance of defeating Serena Williams at the 2014 U.S. Open?
Though she did push Williams to three sets in both Montreal and Cincinnati, the championship stage of a Grand Slam is something
Wozniacki
has experienced just once. That came at the 2009 U.S. Open, when
Wozniacki
lost to Kim Clijsters.
There are so few threats remaining to challenge Williams that she will become a three-time reigning U.S. Open champion almost by default.
Almost.
As was mentioned toward the top, there is some serious depth in the WTA. Youngsters such as Simona Halep and Eugenie Bouchard are bursting onto the scene. Plus, the number of upsets at the U.S. Open speaks to how the best players have to remain steady. They won't avoid the pitfalls that can derail aspirations of Grand Slam glory otherwise.
Williams has been through this as much as anyone, has had her fair share of recent defeats and is playing her best tennis at the perfect time to gain redemption for her poor previous major form. An all-time great like Williams has shown her ability to dominate, and with a third straight U.S. Open trophy in sight, she won't relent and will find a way to come out on top—no matter who stands in her way.