Andy Murray was supposed to become the next member of tennis' elite triumvirate in 2014 after having a banner year last season that included winning Wimbledon and advancing to the finals at the Australian Open.
Instead, the 27-year-old has come out this season and been a massive disappointment. Murray has not won an event in singles or doubles, and his win percentage of 71.1 is the worst of his professional career dating back to 2007.
How many events will Andy Murray win when the 2014 season is over?
Murray is currently competing at the Western & Southern Open in Cincinnati, winning a three-set marathon against No. 11 John Isner that required him to save two match points on Thursday to advance to the quarterfinals.
That's been the story for Murray all season. He's winning most of the matches he's supposed to, but when you put a top-10 player in front of him, everything wilts. The Glasgow native has just one win in seven matches against ATP Top 10 players this season.
Using the Western & Southern Open as a tuneup, Murray's best chance to salvage the worst season of his career to this point is by finding the second gear that carried him to a title at the All England Club last year.
The good news is that Murray will have one more opportunity to finish his 2014 season with an exclamation point. The U.S. Open is the final major of the year and gets underway on August 25. It was the site of his first major triumph in tennis, winning the event in 2012.
Falling all the way to No. 9 in the world rankings should be a wake-up call for Murray, who did acknowledge in a May interview with Sky Sports that finding consistency on the court is the key to success:
Obviously I didn't play the last three months of last year, so after the US Open I have no points to defend through to the end of the year and hopefully then the ranking will start to move up again.

But outside of the Slams really it's been a tough year for me, I haven't played so well.

In the Slams, I've had a few disappointing matches. But I've played some good tennis the last few months and I just need to get the consistency now.
Yet here we are, four months later, and Murray still doesn't have a win. He does have a valid excuse for the problems, having undergone minor back surgery last September to repair an issue that his team said has been around for a while.
However, that can only be an excuse for so long, especially considering Murray was winning tournaments last season presumably with the "long-standing" back issue prevalent.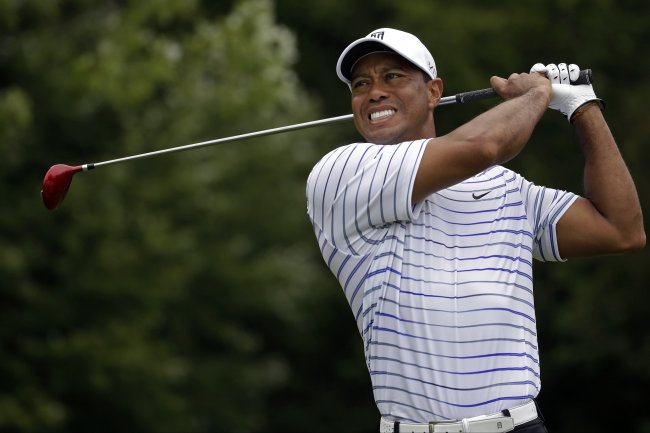 Jeff Roberson/Associated Press
Murray is tennis' version of Tiger Woods this season. Obviously, Tiger was more dominant in his sport for longer than Murray has been, but the basic idea is the same. These are two elite athletes who were at the top of their professions only to fall flat in 2014.
Tiger has only played in seven events this year with no top-10 finishes. Murray has played a lot more tennis than Tiger has golf in 2014, but he hasn't made it past the quarterfinals since the French Open.
Even if Murray wins the Western & Southern Open, no one will remember it if he falls on his sword at the U.S. Open. The majors are the only thing that matters to fans and analysts, so this week is a huge opportunity for the 2013 Wimbledon champion to find that consistency he's talked about needing.
If the U.S. Open is the only event that Murray happens to win in 2014, it would be enough to salvage what has been a messy season. It would also bring some much-needed momentum for 2015.
If you want to talk sports, hit me up on Twitter.