With Rory McIlroy dominating the field in England and Tiger Woods just making the cut with a last-second birdie, fans are certainly right to want to track the action at the 2014 Open Championship as the first two rounds bleed into the weekend.
Saturday's action—which starts bright and early—at the Royal Liverpool Golf Club in Hoylake will, of course, be widely accessible for most who work a normal Monday-Friday stint, but for those who will be away from the tube for one reason or another, all of the Day 3 action will be updated right here:
Even better, complete scores and statistics will be updated in real time at TheOpen.com's Score Centre.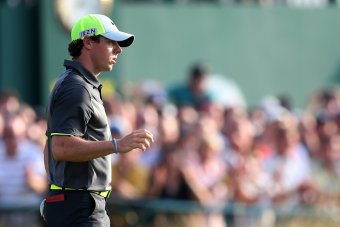 Scott Heppell/Associated Press
Entering Saturday's action, McIlroy is the runaway leader. His opening-round 66 was, somewhat poetically, followed by a second-round 66 to put him at a total 12-under before the final two rounds. That total has him four strokes ahead of the man in second place, American Dustin Johnson.
Friday was of particular importance for the world's No. 8 golfer, as he entered with it surely in the back of his mind that the second round had been disastrous—to say the least—to that point in the season.
Words from Kelly Tilghman of the Golf Channel after Thursday's round proved prophetic:
Rory McIlroy is now a combined -57 in his opening rounds of 2014. He's +9 in round 2. Solid day tomorrow would open a huge door.

— Kelly Tilghman (@KellyTilghmanGC) July 17, 2014
The door was blown off the hinges.
McIlroy fired six birdies on the day to distance himself from the pack, greatly furthering the chance he will become just the third player with three or more major wins by the age of 25—the other two being Jack Nicklaus and Woods.
Speaking of Woods, he appeared to inherit the struggles McIlory typically faces this year. After a strong opening round that saw him just three shots from the lead, Woods self-combusted on Friday, starting things off with a double bogey and bogey on the first two holes, respectively.
Woods then shot perhaps his worst hole in the past decade on 17, as Golf Channel's Jason Sobel illustrates:
Tiger Woods triples the 17th hole. Looks like he might need birdie on the last to make the cut. Oh, and he doesn't have a birdie yet today.

— Jason Sobel (@JasonSobelGC) July 18, 2014
Perhaps sensing the end was near, Woods pulled a birdie out of his hat on the final hole.
The problem is, upon close analysis, this is exactly how Woods has played the course since 2007, for whatever reason. As ESPN's Bob Harig breaks down, he's prone to coming out looking explosive before diving out of the plane without a parachute:
| | | |
| --- | --- | --- |
| Round | To Par | Scoring Avg |
| 1st | -11 | 68.6 |
| 2nd | +5 | 71.8 |
| 3rd | Even | 71.0 |
| 4th | +5 | 72.3 |
ESPN
It's interesting, because the thought was that recent surgery had cleared up any lingering issues that had spurred this breakdown in past years. Woods himself was on board with his newfound health after Round 1, as captured by Harig:
I knew I could do it. That's why I was telling you guys it was so important for me to play at Congressional. The fact that I was able to recover every day, and the fact that I was stronger, more explosive the more days I played. I'm only going to get better from that point. And I'm getting stronger, I'm getting faster, I'm getting more explosive. The ball is starting to travel again.
Woods' plight alone is worth it for viewers at this point, although recent history clearly is not on his side this weekend.
If anyone stands a relative strong chance at stopping McIlory at this point, it appears to be the aforementioned Johnson, who shot the lowest score on the day at 65 and is in sole possession of second place as a result.
As ESPN Stats & Info notes, that's a great clip for the American:
Dustin Johnson shoots a 65, matching his best career round in a major (3rd round of 2013 PGA Championship). #TheOpen

— ESPN Stats & Info (@ESPNStatsInfo) July 18, 2014
If any player is going to take the course and complete a full round Saturday, though, Mother Nature will have to play along.
BBC Weather shows a strong chance of rain in the forecast, and the tournament's Twitter account has noted that officials have bumped up the tee times to compensate:
2 tee start tomorrow at 9am due to inclement weather forecast including thunder & lightning. Some sunshine promised too. #TheOpen

— The Open (@The_Open) July 18, 2014
A messy, windy weekend means the best truly will rise to the top of the leaderboard and the packed bunch that it is entering Saturday will be no more rather quickly.
As the quest for the Claret Jug continues, fans are once again armed with the perfect resources to keep track of all the action—no matter how hard the weather tries to interfere.