Given the Netherlands head coach Louis van Gaal's dismissive attitude toward the third-place play-off fixture this week, fans could have been forgiven for expecting Brazil to triumph over a side whose mind was already elsewhere.
It took just three minutes for any such thoughts to be thrown out the window, as Thiago Silva fouled Arjen Robben to concede a penalty and hand Robin van Persie the chance to open the scoring.
Brazil were fortunate not to lose their captain, but it was a decision indicative of what was to be a woeful overall refereeing performance.
Daley Blind added a second after 20 minutes, and the game was over. The Netherlands may have the second-youngest squad at the World Cup, but they gave Brazil a lesson in organisation. The Selecao, for all their legitimate appeals for a penalty themselves, rarely looked like testing Jasper Cillessen in the Dutch goal.
Brazil's supporters had lost patience by the end of the tie. Some had chosen to leave early, while those who remained chose to voice their displeasure at the ineptitude of Luiz Felipe Scolari's side.
#BRA's 13 goals conceded at this tournament is the most at a single World Cup by any team since #BEL conceded 15 in 1986.

— Dale Johnson (@dalejohnsonESPN) July 12, 2014
By the time that Georginio Wijnaldum added a third for a Dutch side that had barely shown an interest in adding to Brazil's woes in the second half, the pain was complete. Louis van Gaal was able to bring on Michel Vorm in goal to ensure that all 23 men in his squad had appeared at the competition, and Brazil left to reflect on 10 goals conceded in two games.
Boos and jeers predictably greeted the final whistle.
"We haven't ended the competition well," Scolari said, per FIFA.com. "We had the impression that it was going to be a very even game, but we conceded an early goal and that tipped the balance in their favour."
The Selecao had more possession for much of the game, but they can never claim to have had any control on the game. Once more, the side's lack of ability to create and manipulate the ball in midfield was evident.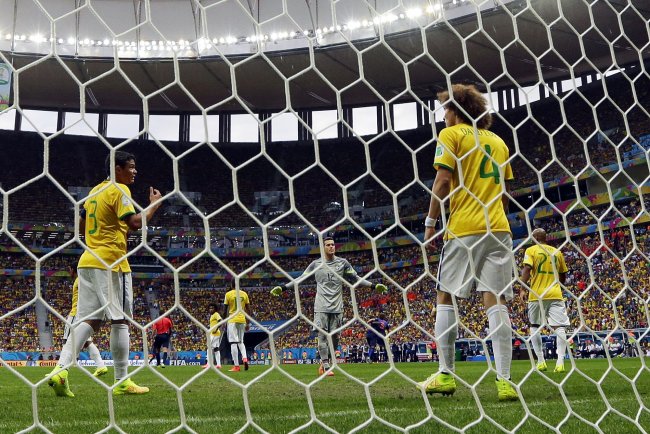 Andre Penner/Associated Press
While the Netherlands continued to be content to allow Brazil the ball, they managed to look threatening on the counter-attack. Robben was a thorn in the side of the hosts throughout, and it is fair to say that the Selecao's much-maligned defence looked little better than it had against Germany.
Maicon will not reappear for Brazil, while Maxwell is also unlikely to do so due to his age. However, the performances of Thiago Silva and David Luiz will be a major concern given that the pair are expected to continue as a partnership long-term.
ITV's Matt Smith began his post-match coverage by describing Brazil's display as "pitiful," and he was not exaggerating. There are problems running throughout both organisationally and technically.
Brazil are so bad it's hard to determine how good Germany are. Suppose we'll find out one way or another tomorrow.

— Tony Barrett (@TonyBarretTimes) July 12, 2014
The issues of Hulk and Fred have been highlighted throughout the tournament, but Jo fared no better up front on this occasion. At the same time, the introduction of a third central midfielder failed to add solidity to the team.
While there were players located in positions, it appeared all too easy for the Dutch. Structurally, Brazil looked bereft of ideas and conceded goals that came from simple defensive errors—the first from a long ball, the second from an awful David Luiz defensive header and, finally, from Hernanes failing to stay with Wijnaldum.
There were reports emerging of a touchline dispute by the end of the match which, if true, would be emblematic of what has been a dismal end to the World Cup for Brazil.
Alarming touchline footage of Scolari on Brazilian TV. Fred and Dante seemed to challenge him. 10 goals in 2 games a travesty. What a mess.

— Paul Hayward (@_PaulHayward) July 12, 2014
The soul-searching that the nation must do in the weeks ahead must extend beyond simply who the next head coach will be, with few outstanding candidates available. The domestic game needs examining.
Tomorrow's papers will doubtless bring more hyperbole and proclamations of doom, but it must be a catalyst for improvement.
That will be the real legacy of the 2014 World Cup in football terms if it happens, but there has been a tendency to ignore issues in the game over recent years. Never before, though, has the Selecao hit such lows—despite their best World Cup result since 2002. This was humiliation.