Germany's 7-1 thrashing of World Cup hosts Brazil goes into the annals of football as a record-breaking night on multiple levels, but away from the pitch, the stunning result smashed its way through social media numbers previously posted by Twitter.
Everybody's favourite 140-character stream of consciousness revealed no other individual match has received the level of attention as the Germans' historic semi-final win, per Twitter Data:
With 35.6 million Tweets, #BRA v #GER is the most-discussed single sports game ever on Twitter. #WorldCup pic.twitter.com/pRjssAZmhg

— Twitter Data (@TwitterData) July 9, 2014
According to CBS News, the prior top Twitter moment came after Brazil's penalty-shootout win versus Chile:
Almost 389,000 tweets were generated in the minute after Chilean defender Gonzalo Jara's penalty shot hit the right post and allowed the five-time World Cup champion to avoid an early exit from the tournament that it's hosting for the first time since 1950.
Before that? Super Bowl XLVIII, when approximately 382,000 tweets were registered after the Seattle Seahawks' Percy Harvin returned a kickoff 87 yards for a touchdown versus the Denver Broncos. In total, the Chile match garnered around 16.4 million tweets, while the Super Bowl tallied nearly 25 million.
Take a look at how the tweets broke down geographically:
Considering the Brazil-Germany match lasted approximately 92 minutes, per WhoScored.com, this works out at roughly 6,449 tweets every second during play.
This was an encounter where the team ethic and individual quality of Germany fused together to overcome a Brazilian group whose footballing nature appeared to collectively disappear.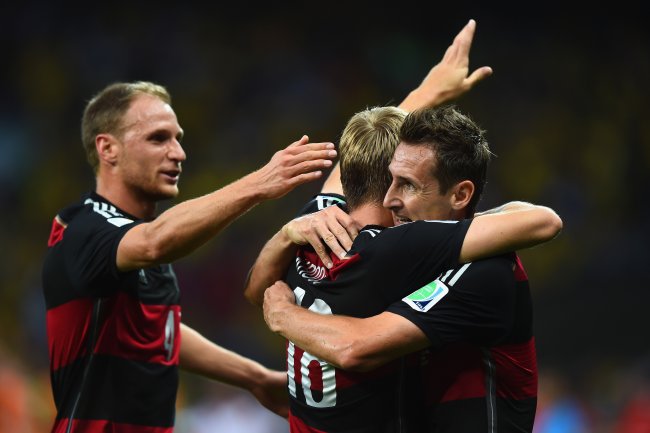 Buda Mendes/Getty Images
Usually reliable players such as Fernandinho and Luiz Gustavo lazily gave away possession; the Samba Boys' full-backs, Marcelo and Maicon, marauded up the pitch but jogged back; and David Luiz's positioning remained selfish to his team-mates throughout.
On the other side, Miroslav Klose underlined his name in the record books by scoring his 16th goal at the World Cup finals, a number that eclipses Brazilian great Ronaldo on his own turf (and while the retired striker was in the stadium). As such, Klose ranked as the most mentioned player from his team, according to Twitter Data:
See which #BRA v #GER players were most-mentioned on Twitter during the match #WorldCup pic.twitter.com/icCA8lfzJ9

— Twitter Data (@TwitterData) July 9, 2014
Germany's first-half excellence brought Joachim Low's side four goals in six minutes after Klose disposed of the record in the 23rd minute. This understandably caused a major reaction on Twitter, where people struggled to believe the ease of the European side's demolition, per BuzzFeed's Matt Lynley:
The Twitter activity around Germany's goal flurry looks insane http://t.co/fuF0UZ8ZY3 pic.twitter.com/o0mDGtvhg6

— Matt Lynley (@mattlynley) July 9, 2014
OptaJoe focused purely on the German achievement, noting the nation's stereotypical efficiency may be acknowledged for a reason:
7 - Germany are the first team to ever score seven times in a World Cup semi-final. Heaven.

— OptaJoe (@OptaJoe) July 8, 2014
8 - #GER will play their eighth #WorldCup final - more than any other team. Mannschaft.

— OptaJoe (@OptaJoe) July 8, 2014
The moment that prompted most people into tweeting was the fifth goal, which concluded a crazy five-goal haul before the 30-minute mark at the Estadio Mineirao, according to Twitter Data:
The #BRA v #GER match also set a TPM record: Khedira's 29' goal (0-5) saw 580,166 TPM. #WorldCup pic.twitter.com/188YGgrgZg

— Twitter Data (@TwitterData) July 9, 2014
For Brazil, the loss is as dramatic and devastating as their exit from the tournament ever could be.
Although Luiz Felipe Scolari's team failed to produce a consistently excellent performance during their own festivities—and certainly didn't manage to recreate last year's Confederations Cup form—nobody expected such a hammering.
The coach acknowledged this loss will live on forever, per Eyewitness News:
#WorldCup Brazil coach Luis Felipe Scolari on their 7-1 humiliation at the hands of Germany pic.twitter.com/HEiPFX2Oo4

— EWN Sport (@EWNsport) July 9, 2014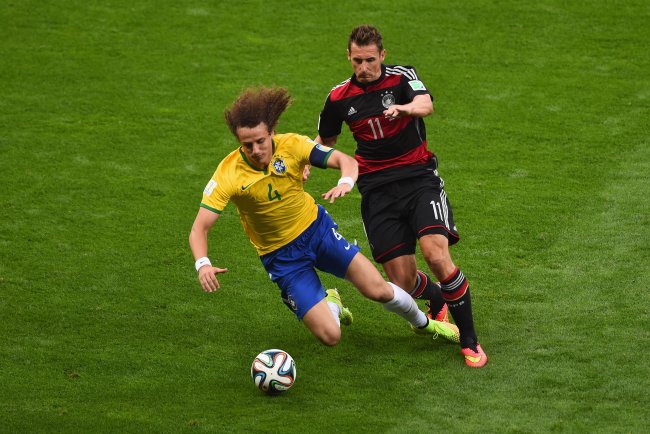 Jamie McDonald/Getty Images
Will Germany win the 2014 World Cup?
A first competitive home defeat in 39 years, which also happens to be Brazil's largest-ever World Cup loss, will live long in the memory.
An already thoroughly enjoyable competition now has a game with which it will most likely be remembered, as noted by the remarkable interest shown on Twitter.
While Scolari may struggle to pinpoint exactly where it all went wrong, he should advise his players to stay off Twitter in a battle against further humiliation.