In a matchup between the established veteran and young superstar, Petra Kvitova showed Eugenie Bouchard why Wimbledon is her favorite Grand Slam event by disposing of the 20-year-old in straight sets to capture her second title at the All England Club.
More impressive than Kvitova's victory was the ease with which she managed it. The match barely took an hour to complete, and Bouchard was out of rhythm all day. Some of that might be Bouchard's youth, but Kvitova was just the better player from the start.
We've got a recap of Kvitova's triumph, complete with highlights and analysis from the event, coming up right now.
2014 Wimbledon Day 12 Scores - Ladies' Final

| | |
| --- | --- |
| Match | Score |
| No. 6 Petra Kvitova def. No. 13 Eugenie Bouchard | 6-3, 6-0 |
Wimbledon.com
Petra Kvitova, the Two-Time Champion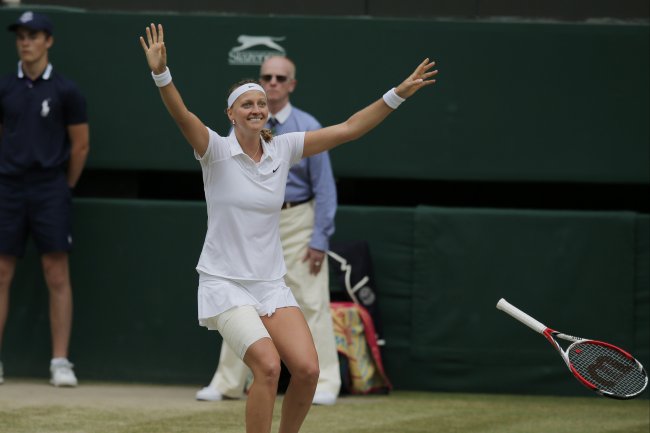 Pavel Golovkin/Associated Press
It took three years and a lot of adjustments, but Kvitova has proved that she is not just a one-hit wonder. The 24-year-old captured her second Wimbledon title by disposing of Bouchard in dominating fashion.
The moment of joy, relief and happiness was captured perfectly by the cameras at the All England Club, via Wimbledon's official Twitter feed, after Kvitova hit the final winner down the line.
WATCH: @Petra_Kvitova wins her 2nd #Wimbledon title and climbs to her box to celebrate. http://t.co/ylu3Md2RYs

— Wimbledon (@Wimbledon) July 5, 2014
Fellow tennis player Mahesh Bhupathi noted how strong and powerful Kvitova's serve, which has always been her calling card, looked in this victory:
Hitting the ball hard is one thing, but hitting it this heavy and this accurate in a @Wimbledon final is absurd...unstoppable!! #Kvitova

— Mahesh Bhupathi (@Maheshbhupathi) July 5, 2014
That wasn't just hyperbole, either. The stats from this match paint a picture that supports just how impressive Kvitova looked, via Wimbledon's official Twitter:
Powerful play by Petra #Kvitova: 28 winners, 4 aces & she won 82% of points when she got first serve in vs #Bouchard pic.twitter.com/Cq0qduC1Tm

— Wimbledon (@Wimbledon) July 5, 2014
Even though there wasn't a lot of drama to the match, there was a moment early in the first set where Bouchard had a chance to keep it close. Kvitova was up 2-1 and had the advantage in the fourth game, which was followed by a terrific rally and glorious backhand winner.
WATCH: Point of the match when @Petra_Kvitova rips a backhand winner after a great rally for game point. #Wimbledon http://t.co/qDNVhbYfTp

— Wimbledon (@Wimbledon) July 5, 2014
The big knock against Kvitova in her career has been that she doesn't return well or fare well in rallies, but she put those questions aside for at least one day.
On the other side, Bouchard clearly has a bright future ahead of her. She continues to take steps forward and will win many Grand Slam events soon. This was the third consecutive major tournament in which the young Canadian star made it to the semifinals and her first career final.
It just wasn't meant to be on this day. Kvitova deserves all the accolades for her performance on Saturday and throughout the tournament.
If you want to talk sports, hit me up on Twitter.