There is a special relationship between Neymar and Brazil.
In the 22-year-old, the world's most passionate football nation sees itself, perhaps not as it is, but as it wants to be seen. Neymar is an idyllic figure—successful, good-looking, rich. But he also encapsulates the intensity and emotion of his homeland. You can see it on his face when the national anthem is sung, or when he breaks down in tears after a penalty shootout against Chile.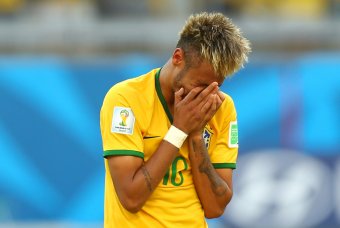 Ronald Martinez/Getty Images
Neymar is the mirror that always reflects the ideal picture in the most flattering of lights. He is the postcard Brazil wants the world to see.
That his countrymen feel such ownership of him is because he became what he is in Brazil, not abroad or at Barcelona or in the Champions League. He was a superstar when he left. A champion. And that he won't be able to guide his national team to the most exalted championship of all is heartbreaking.
BREAKING: Neymar has been ruled out of World Cup w/ a fractured vertebra. » pic.twitter.com/QOJxe89q2h

— SportsCenter (@SportsCenter) July 4, 2014
In the final minutes of Brazil's quarter-final win over Colombia on Friday, Juan Zuniga dug his right knee into Neymar's back and shoved the forward to the ground by his neck. By the time his teammates were celebrating their 2-1 victory at Estadio Castelao, the former Santos attacker was on his way to a Fortaleza hospital, where a crowd of onlookers quickly assembled. The news wasn't good.
Here's a vine on how Zuñiga injured Neymar. No where near the ball. He jumped directly on his back. https://t.co/FmdMl0oqIT

— Seleção Brasileira (@BrazilStats) July 5, 2014
"Unfortunately, he's not going to be able to play [the rest of the World Cup]," revealed team doctor Rodrigo Lasmar, according to FIFA.com. "It's not serious in the sense that it doesn't need surgery, but he'll need to immobilise it to recover."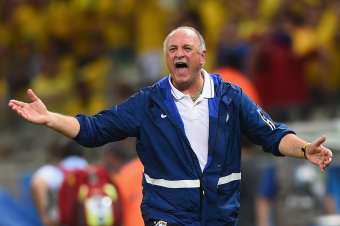 Laurence Griffiths/Getty Images
The diagnosis: a fracture to the third vertebra of Neymar's back, and an injury that might have been prevented had match officials been more vigilant, according to Brazil manager Luiz Felipe Scolari.
"Neymar was going to be hunted," the 65-year-old remarked, as per the BBC. "For three matches that has been happening."
He added: "Not even a yellow card. Nothing."
According to WhoScored.com, Brazil and Colombia combined for 54 fouls on Friday—31 of them committed by the host nation. Colombia's James Rodriguez was a frequent target, and Brazil midfielder Fernandinho might have been booked on several occasions for repeated fouls on the 22-year-old.
But referee Carlos Velasco Carballo kept his cards in his pocket until the 64th minute, by which time neither he nor the players on the pitch had the slightest idea of what was permissible and what was not.
Of course Zúñiga is responsible for vicious plays on Neymar/Hulk. But referee helped create environment where players didn't fear cards.

— Grant Wahl (@GrantWahl) July 5, 2014
Zuniga's foul on Neymar certainly wasn't, but Carballo had already lost his grip on proceedings and could only watch as the Castelao pitch became a war zone. In that, it was reminiscent of Howard Webb's adjudication of the 2010 final in South Africa. It was sloppy, reckless and dangerous.
And Brazil, as a result, will go into a semi-final without their best player and spiritual leader.
Courtesy of BBC: fans wait outside the hospital in Fortaleza where Neymar was taken pic.twitter.com/7goXMUBweL

— Andi Petrillo (@AndiPetrillo) July 5, 2014
That the Selecao have fed off the zeal of their fans has been evident throughout the tournament, but rarely so clearly as in Fortaleza. Colombia were visibly intimidated by the home support at the Castelao, and the fervour from the stands helped Brazil apply the early pressure that resulted in the opening goal.
No one player so channels that emotion into on-field performance as Neymar. And whether Scolari opts to deploy Willian in his stead or completely change tactics with a bolstered midfield, Brazil will be missing something both tangible and intangible in Belo Horizonte against Germany.
Júlio César on Neymar: "It's an enormous sadness. We all know how determined he was to shine, how he brings joy to the #BRA people."

— Jack Lang (@snap_kaka_pop) July 5, 2014
Neymar is the heart of this Brazilian team. Or, at least he was.
If Brazil go on and win the World Cup, they'll do so by letting the crowds beat the rhythm for them—by becoming, each for himself, a Neymar.