As the United States men's national team prepares for the final match of play in Group G, there are a few concerns about how the team will rebound from the 2-2 draw with Portugal.
One of those concerns is the play of Geoff Cameron at center back. Against Portugal, Cameron's botched clearance gave Nani an opportunity to score in the fifth minute, but that wasn't the Stoke City player's only defensive failing that night.
With time winding down in the match, Cameron and Fabian Johnson failed to track Silvestre Varela's run into the box before he nodded home the late equalizer that handed Portugal a lifeline in the race for the knockout round.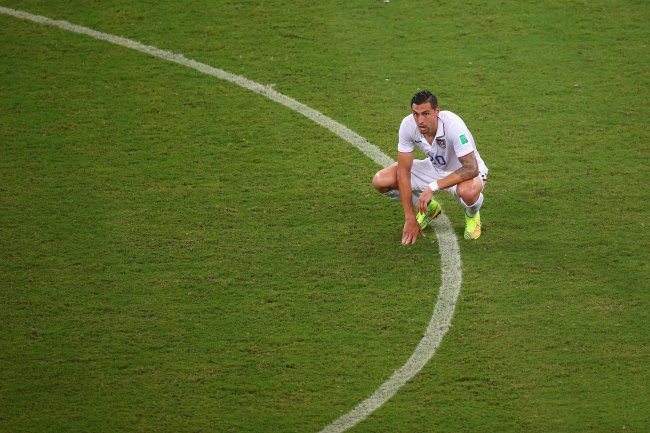 Elsa/Getty Images
Things will not get any easier for Cameron against a German side that possesses not one, but two forwards who know a thing or two about scoring goals at the World Cup.
Thomas Muller, who is likely to start up front for Joachim Low's side, was the winner of the Golden Boot in South Africa, and he already has three goals to his name in Brazil.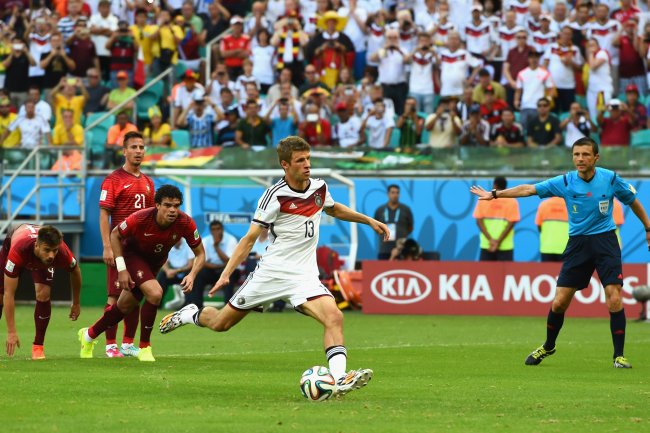 Stu Forster/Getty Images
Off the bench, Germany can rely on Miroslav Klose, who is tied with Ronaldo for most goals ever in the World Cup with 15. One has to think Klose will get a shot to break the record sooner rather than later.
Other than those two goalscoring threats, Cameron will also have to deal with the movement of players like Mario Gotze, Mesut Ozil and Toni Kroos, all of whom have the potential to strike at any second.
In the games leading up to the World Cup, Cameron was seen as the more reliable of the two center backs, but his play was very shaky against Portugal, which leads some to worry about his confidence heading into the clash in Recife.
Confidence, as we know, can play a huge role in the mindset of a goalscorer, but it can also affect the performance of someone on the back line, which is why the focus must be on Cameron.
If Cameron is able to draw confidence from his showing against Ghana, where he shut down Asamoah Gyan, instead of focusing on the lapses against Portugal, he should be fine when he takes on Germany.
Adding to the pressure of his two mistakes against Portugal is the performance that Matt Besler turned in at the Arena Amazonia Sunday night.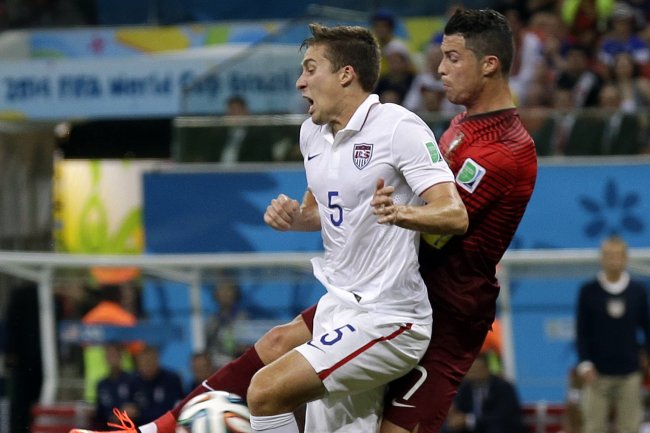 Martin Mejia/Associated Press
Besler, who looked nervous at times during the three-game send-off series on home soil, showed no fear in defending a Portuguese attack that had the potential to score in a heartbeat.
The good news for Cameron is that his starting spot is not in danger for the Germany game, but if he continues to make defensive errors, manager Jurgen Klinsmann may be forced to pull the trigger and sit him.
On the bench, Klinsmann does have two other options at center back in John Brooks and Omar Gonzalez, both of whom have appeared as substitutes in Brazil.
Brooks came on for Besler in the Ghana game because he was a left center back, which means Gonzalez would be the natural replacement for Cameron if a switch had to occur.
Should Klinsmann Still Feel Confident in Cameron?
Starting Gonzalez, who was once seen as the most consistent defender on the team, would strike fear into American fans because of his recent showings.
Cameron's starting job is secure, but with so much weighing on the result of the Germany game, he must be able to recover from the mistakes that handed Portugal their two goals.
While there will be plenty of concern about Cameron before kick-off, he should be able to go out on the pitch and perform to the best of his abilities, just like he did at Stoke City in the English Premier League this past season.
Cameron brings a solid mindset to the back four, and he has been able to recover from mistakes at the club level before, which is something every defender goes through in his career.
Germany will pose a massive threat to Cameron at center back, but with a spot in the knockout round to earn, he should come through for the Yanks in Recife.
Follow Joe on Twitter, @JTansey90.